Cozy concepts: using image analysis to measure the aesthetics of coziness
We gave Pulsar's image-analyzing AI over 1 million posts to understand the characteristics of coziness.
During this time of soaring global temperatures, there may be nothing further from your mind than the fuzzy aesthetic of a crackling fire, turtleneck sweater and hearty meals. 
However, whatever the weather, the cozy lifestyle lives on online all year round – and coziness is one of those ideas best captured in an image. We partnered with Elle Decor to use Pulsar TRAC's image processing powers to analyze over one million Pinterest posts in a one-month snapshot. These posts were overwhelmingly liked, with 92.2% being measured to have a positive sentiment.
As more of us spend more time at home with the rise and [solidification] of home-working, feeling comfortable in our living spaces is more important than ever. The idea of cozy, coziness and cozy living is one way that audiences online are taking control of their homesteads and aestheticising their lives.
Blue isn't the warmest color
First up, we used Pulsar TRAC's image processing tools to find the coziest colors out there. Over 50% of pictures were categorized as having warm, earthy tones, with nearly a third being black or white. This indicates a correlation of coziness with warmth and earthiness but also with simplicity. This sets the foundation for everything we need to know about coziness…
The categories of coziness
We used Pulsar TRAC's image processing tool to get an idea of just what we're looking at when we look at coziness. 
Despite garden design being very popular on the Pinterest platform in general, it's no surprise that outdoor spaces don't feature so heavily in cozy-posting – after all, there's not much about the endless expanse of the open sky that would make one feel snug and cozy.
Interiors isn't a surprising category to appear too heavily, but style, fashion and food is a surprisingly present genre of coziness, with audiences seeking this Etsy-cutesy coherent aesthetic across their whole lives.
Getting cozy indoors
When Pulsar TRAC analyzed the images of interiors, we see that fresh, outdoorsy vibes also don't give coziness when brought indoors. Coastal and preppy (read: sporty) styles don't feature much in the cozy-posting world.
We can also see interior design styles that are usually very popular on Pinterest like minimalism and eclectic design don't perform well at all. Some massively popular design styles such as contemporary, mid-century and modern don't even feature – Pollock- and Warhol-inspired interiors evidently don't give people that fuzzy feeling.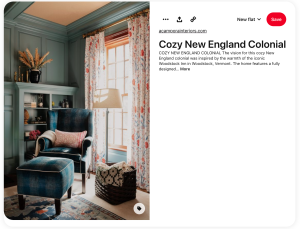 There are interesting correlations between country-inspired aesthetics such as rustic, farmhouse and Southwestern being popular. However, unlike cottagecore aesthetics where rural vibes reign supreme, coziness is associated most with bohemianism and globalism. This could raise some questions about cultural appropriation within coziness in a way that cottagecore doesn't.
If you're interested learning more about this dataset, or discovering how social data can lead to insights across technology, consulting and a number of other spaces, simply fill out the form below.