Who makes up the #MarketingTwitter community?
The topics marketers talk about online as the #MarketingTwitter hashtag soars and stabilizes.
The sudden emergence of #MarketingTwitter in 2020 led it to quickly become a central hub for marketers looking to find jobs, advice, materials or even friends. Since the birth of advertising, marketers have been seeking each other out and finding ways to foster community – the International Bill Poster's Association of North America was founded in 1872, back when the only form of marketing available was poster creation. What a natural continuation of this historical trend, then, that marketers have turned to Twitter.
Since June 2020, over 45.3k unique posters have mentioned the community over 324k times. We used Pulsar TRAC to dive into who they are and what they're talking about.
The use of the hashtag is in decline – but this does not necessarily reflect the medium-term prospects of the community itself. With a fall in numbers, we see a stabilization of the community. And there are certain types of conversation that are sticking around.
Unsurprisingly, #MarketingTwitter isn't exactly enamored with traditional (print, TV, billboard) advertising. These folk are chronically online – they're SEO aficionados, social media moguls and email engineers.
The core community that remains shows less concern with search optimization and web development, and more of a focus on social media, emails and copywriting. These types of marketing require a nuanced understanding of one's audience to use content and copy to engage their attention. There has even been a small but notable uptick in conversation around traditional marketing.
That stabilization and contraction of the community has brought with it a focus on human-focused marketing is not itself surprising – #MarketingTwitter are, after all, a people-focused bunch.
Shortly before the steep rise in #MarketingTwitter traffic in December 2020, marketer member Jeffrey Mack expressed to the then-tiny community the need for a #MarketingTwitter members list. After all, why wouldn't the small, slowly growing community want a place to find each others' content outside explicit use of the hashtag itself? 
I think it's time to put together a #MarketingTwitter list. If you'd like to be added and receive access to it, reply to this tweet. I'll compile it over the next few days and share. Please retweet to share the love!

— Jeffrey Mack  (@jeffreymack) December 5, 2020
The list calls itself 'the definitive list for marketers talking about marketing with other marketers' and has 1.7k members as of July 2022. Its creation and subsequent sharing picked up a niche virality in the Twitter marketing field, boosting its popularity and providing an entry point for individuals who had previously not even heard of the hashtag.
In the Last 12 hours, I had about 40 new followers all because of one thing:

I said hi to #MarketingTwitter.

Best bunch of people on here.

— Jason Vana (@jasonvana) December 20, 2020
Existing community members were overwhelmingly supportive of the explosive growth, bringing fringe members into its core and actively encouraging 'lurkers' to join the self-styled family. 
Marketing Twitter IS like a family

💛 you folks https://t.co/tcjKcE7Ghr

— Katelyn Bourgoin ⚡️ (@KateBour) December 8, 2020
Unlike the Roys of HBO Succession fame, this is a business-based family that gets on pretty well. There's little drama, little swearing (see: 'rants' below) and a general atmosphere of support. Many even profess their 'love' of the individuals in the community. Over 40% of the conversation across the entire community contains instances of behavior designed to to elevate one another via job listings, article sharing or direct advice.
There's also a humor (or at the very least, a tongue-in-cheek sarcasm) that pervades the general tone across a large portion of Marketing Twitter – they are undoubtedly less boring than '1.2% humor' suggests. In #MarketingTwitter rants only make up 0.7% conversation – this is a community focused not on shared frustration, but on support.
After an initial inclination towards sharing articles and reading material, such recommendations started declining precipitously in late 2021, leaving advice as the most prominent supportive behavior.
One element that pervades the #MarketingTwitter community is its sense of friendship and camaraderie – not what one might expect from a hashtag based around professionalism and industry knowledge. At its highest peak, during the Super Bowl LVI commercials, marketers were tweeting in their hoards about the world's biggest event for advertising – positioning it as an event enjoyed in a unique and distinctive way by the community.
Happy Super Bowl Sunday to #MarketingTwitter

It's our Oscars; I'll be in my sweatpants

— Ko Im, 임 고운 (@koimtv) February 7, 2021
At each trend spike, we see plentiful examples of the Marketing Tweeters reaching out and 'finding their people'. On 24th November 2021, the day before Thanksgiving, a fundraiser was circulated for Julian Gamboa, popular member of #MarketingTwitter community and former marketing manager at AdWeek. The fundraiser collected $17,114 for his medical care – 5.7x more than the $3,000 goal.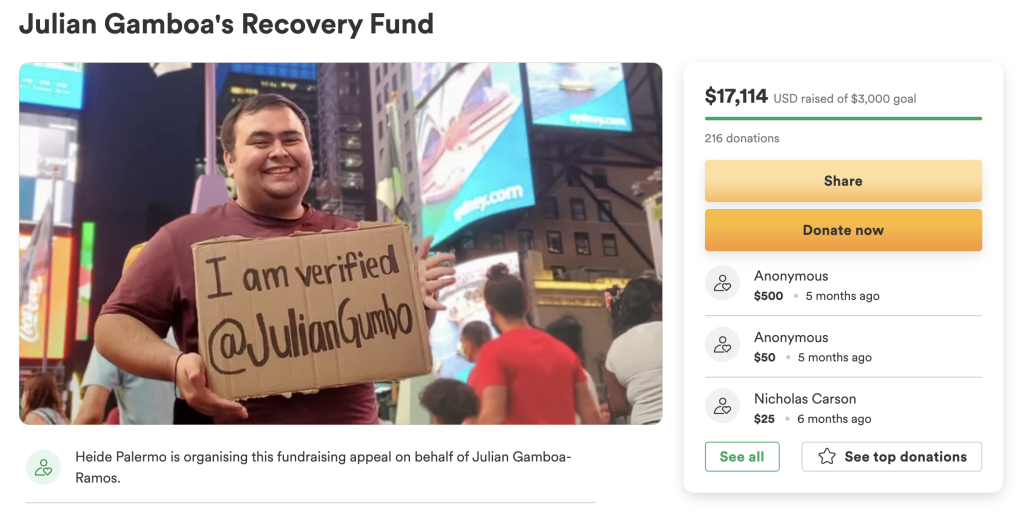 #MarketingTwitter time to stand up and send love, prayers, support, energy, and vibes to one of our own, @JulianGumbo . Get better soon, so U can get back in these influencer streets, Name Bro! 🙏🏾💪🏾🙏🏾💪🏾🙏🏾 https://t.co/l6ENVtlvOf

— Julian Duncan (@jdhtown) November 24, 2021
It's this attitude that helps unite disparate international audiences under the #MarketingTwitter banner.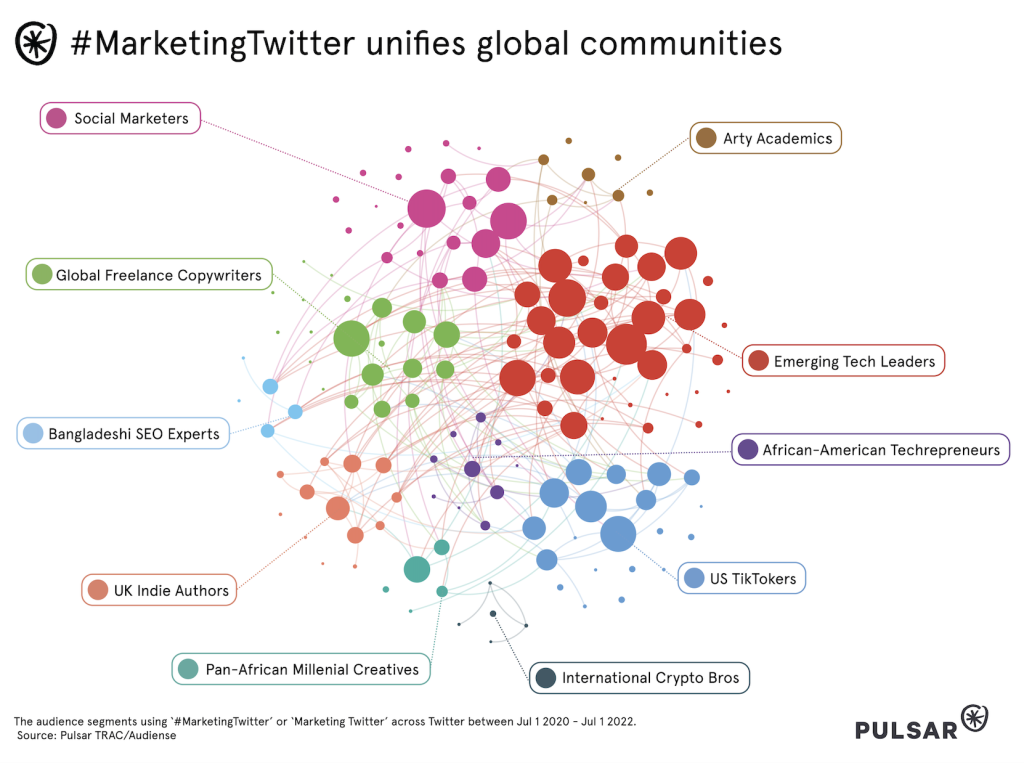 These communities engage with each other in various ways. International Crypto Bros and African American Techrepreneurs are leading the way on hiring behaviors. Bangladeshi SEO Experts and Global Freelance Copywriters are asking and giving the most advice. Emerging Tech Leaders are sharing the most reading content with their fellow #MarketingTwitter members.
Marketing Twitter has seen so much change in less than two years, and with the wider community dispersing, which audiences stick to the hashtag? Will one group dominate the conversation or will marketers find a new way of gathering online? 
---
If you're interested in diving deeper into this dataset or would like to learn more about how Pulsar can help your brand understand audiences and emerging trends, just fill out the form below.