The latest from the Brand Misinformation Index: Tesla & Coca-Cola
Tesla has entrenched its place at the very top of Pulsar and Newsguard's Brand Misinformation Index, as culture wars around Elon Musk drag the company in their wake. 
Following on from previous articles about product faults, high-profile departures and the company's position within the global EV market, Tesla's elevated position is this week driven by its founder's relationships with both his father and Wikipedia founder Jimmy Wales, as well as news that the company has signed battery deals with two Chinese companies.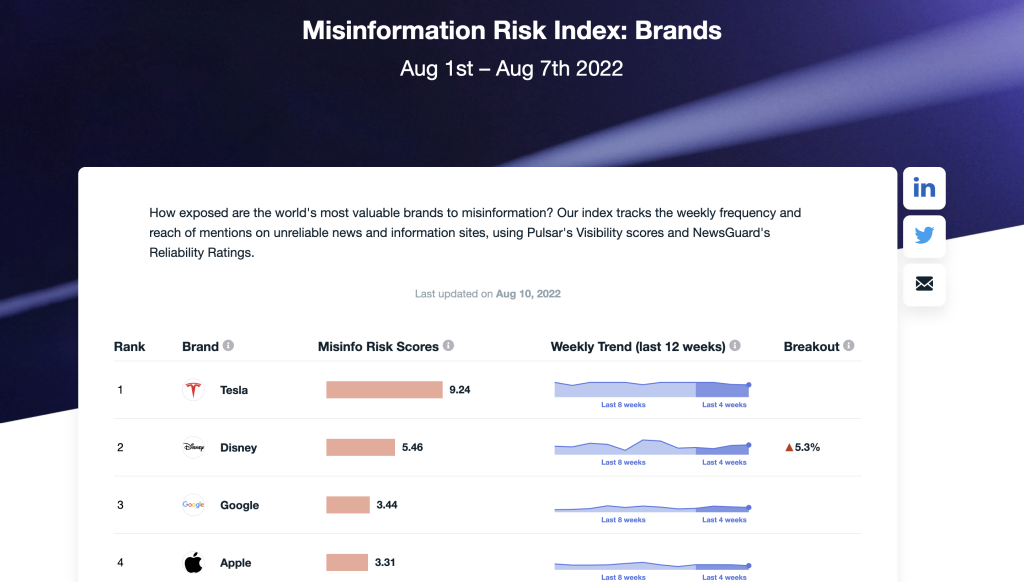 You can access the live index, updated weekly, by clicking here. 
The index itself leverages a product integration between Pulsar and experts in misinformation NewGuard, in which the latter's journalistic analysis is made available as a source on Pulsar's audience intelligence platform. The integration is the only one of its kind. 
Away from the very top of the chart, we see a number of different narratives play out around other brands, with Coca-Cola's own misinformation risk rebounding after time spent out of the headlines. 
The most recent coverage across untrustworthy sites came in two distinct strands. One affiliated the brand with Sustainable Development Goals, which the publication in question, Sott.net, labelled as a 'war on farmers' backed by Chinese interests. 
In the other example, Breitbart's coverage of Brighton Pride framed Coca-Cola as a 'woke' brand, utilising emotive and unattributed language to describe a politicised issue.
---
If you would like to learn more about the Misinformation Risk Index, or how access to this data can help you to safeguard your own brand, simply fill in the form below.