The latest from the Brand Misinformation Index: Google & Facebook
We continue to measure how exposed the world's leading brands are to misinformation
The latest update from the Brand Misinformation Index focuses on the two companies who bookend the FAANG acronym: Facebook and Google. 
But why have both these companies seen such significant uptick in their exposure to untrustworthy sites? In both instances, the answer is rooted in how each company choose to present or censor information.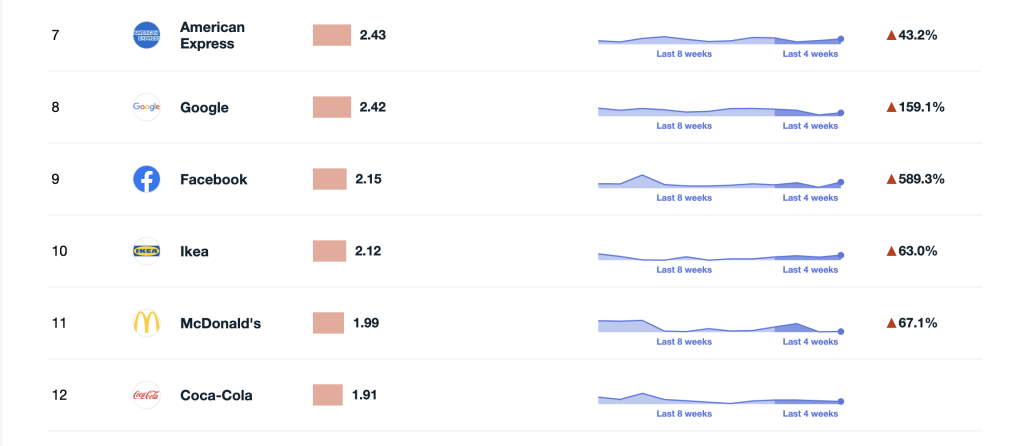 You can access the live index, updated weekly, by clicking here. 
The index itself utilises a one-of-its-kind a product integration between Pulsar and experts in misinformation NewGuard. By leveraging the latter's journalistic analysis as a data source, it's possible to visualize and understand how misinformation starts, spreads and impacts narratives. 
In the case of Facebook, this increase in exposure stems in part from the banning of controversial kickboxer and media personality Andrew Tate from Instagram, and ultimately all mainstream social media, in a move labelled 'Orwellian'.
Previously, the company had experienced a high exposure spike in June, also down to Breitbart coverage.  In that instance, the publication's coverage focused on both the censorship of a Republican politician's 'RINO-hunting' (Republicans In Name Only) video, and a study which cast the metaverse as an inherently unproductive for work.
Over the same period, Breitbart have advanced a narrative that Facebook suppressed information around Hunter Biden over the 2020 election, and subsequently had a decisive impact on that election's outcome. The intermittent recurrence of such narratives is a large factor behind Facebook's volatility in the index.
Google, meanwhile, has been thrust into the spotlight due to an update in which abortion clinics and pro-life pregnancy centres are labelled as such. The move has been framed as an attempt to dissuade women from visiting pro-life charities, and is implicitly linked by sites such as LifeNews to Democrat politics. 
---
If you would like to learn more about the Misinformation Risk Index, or how access to this data can help you to safeguard your own brand, simply fill in the form below.