The latest from the Brand Misinformation Index: Amex & J.P.Morgan
We continue to measure how exposed the world's leading brands are to misinformation
It's apparently a taboo to talk about money. If that's true, then no one has told the news and blog sites who have, this week, catapulted both AMEX and J.P.Morgan up into the upper echelons of our Misinformation Risk Index. 
This should alert the brand and communications teams at both brands. But why has it happened? Are new, harmful narratives forming about both companies? And to what extent are such narratives tied to real world events or a simple matter of framing?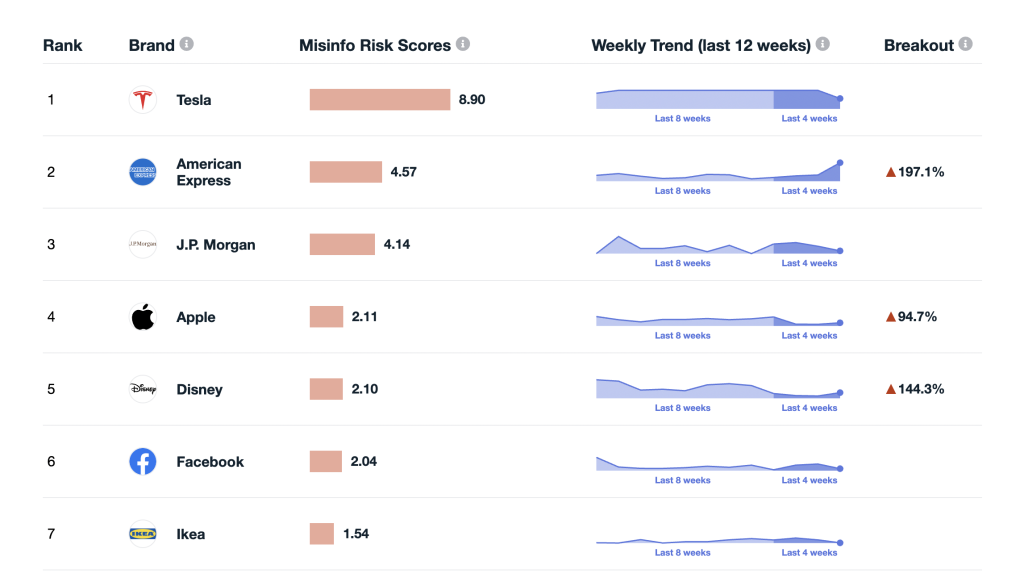 You can access the live index by clicking here. 
The index is updated each week, and is the result of a singular product integration between audience intelligence platform Pulsar and NewsGuard, in which the human intelligence of journalists is made available as a additional source of analysis on the Pulsar platform. 
And one thing this analysis surfaces is the level of risk impacting AMEX, which has seen a spike of 197.1% in its misinformation risk score.
What's behind the spike?
To a large extent, the change has been driven by AMEX putting in place a new merchant category for gun sales. A number of sites ranked by NewsGuard as untrustworthy have elected to frame the story using the National Rifle Associations denunciation of it as 'an erosion of Second Amendment rights'.
At the same time, the brand finds itself under attack for 'woke racism' following the allegation and lawsuit brought by a former employee. This was picked up first by activist group Citizens for Sanity, and communicated to a wider audience by Breitbart. 
And it's not just AMEX who have seen their misinformation score tick upwards in recent months.
A number of stories and narratives have negatively impact the brand safety of J.P.Morgan. These include becoming embroiled in the
Musk Twitter takeover
, being identified as
part of a 'woke cartel'
alongside other companies on the S&P 500's ESG Index (again, by the Tesla co-founder), and reports that detail how several former metals traders have
stood trial for racketeering
.
Over the course of the last week, however, J.P.Morgan have enjoyed a period of comparative calm, with their risk score dropping to its lowest point yet in mid-September. The brand's communication teams will be hoping that this spells a sea-change, rather than a brief lull. 
---
If you would like to learn more about the Misinformation Risk Index, or how access to this data can help you to safeguard your own brand, simply fill in the form below.