Pulsar at SXSW: The Rise of Headless Brands
Centralised brand narratives are being disrupted
Pulsar co-founder and CEO Francesco D'Orazio joins a panel at SXSW that includes Cartesi Head of Marketing Nathalie Brähler and Christian Ward, Head of Multimedia at Stylus Media Group, to discuss the rise of headless brands.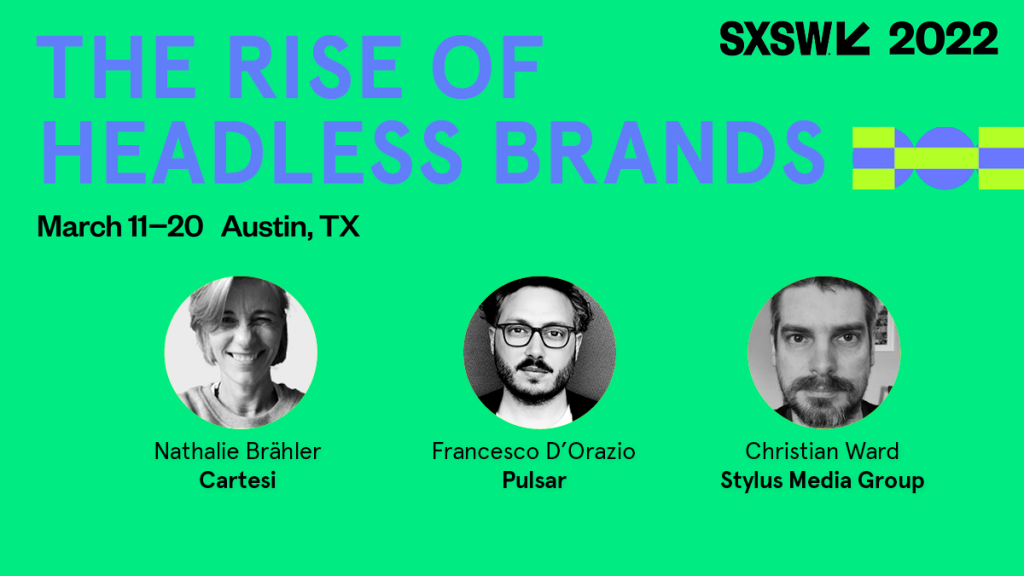 Headless brands challenge the very idea that a brand is centralised, and our assumptions about what a brand is and how it works. The concept hinges on community-driven brand dynamics, without a centralised managerial body.
In the SXSW panel, Francesco and the panel will illustrate the various stages of a possible headless brand's life cycle; look at the wider context of evolving brand-consumer relationships; and explore how fandom, communities, cryptocurrencies, and decentralisation are transforming the very nature of what a brand can be.
For more information on the event, and on attending, you can visit the event page on SXSW. If, however, you're unable to get to Austin this year, then you will also be able to learn more about the ideas raised in the panel in a follow-up blog – simply sign up using the form at the bottom of this page to have it sent to you.
And that's not all we'll be doing in Austin this year. On March 13 you'll also find us at Brand Innovators' Marketing Innovation event, where Francesco will be moderating a fireside conversation with the CEO and Chief Growth Officer of ecosystem-based beverage business Harmless Harvest.
---
Simply fill in the form below to receive the follow-up blog encapsulating the thoughts and ideas covered at the SXSW Rise of Headless Brands Panel: