What's happened to #hotgirlsummer?
How the meme means different things on different social platforms
#hotgirlsummer holds within it a whole host of different associations.
Whether its viewed as an affirmation of self or else as a tired bandwagon, as an extension of a rapper's personal brand or else as common parlance, #hotgirlsummer is an indicator as to the attitudes and behaviors of the young, mostly female communities who comment on it.
Originally the title of a Megan Thee Stallion song, which hit the airwaves in summer 2019, the term has since crossed over into mainstream consciousness, and is used by people who wouldn't know the original artist from Seabiscuit.
We can highlight this using search and social data.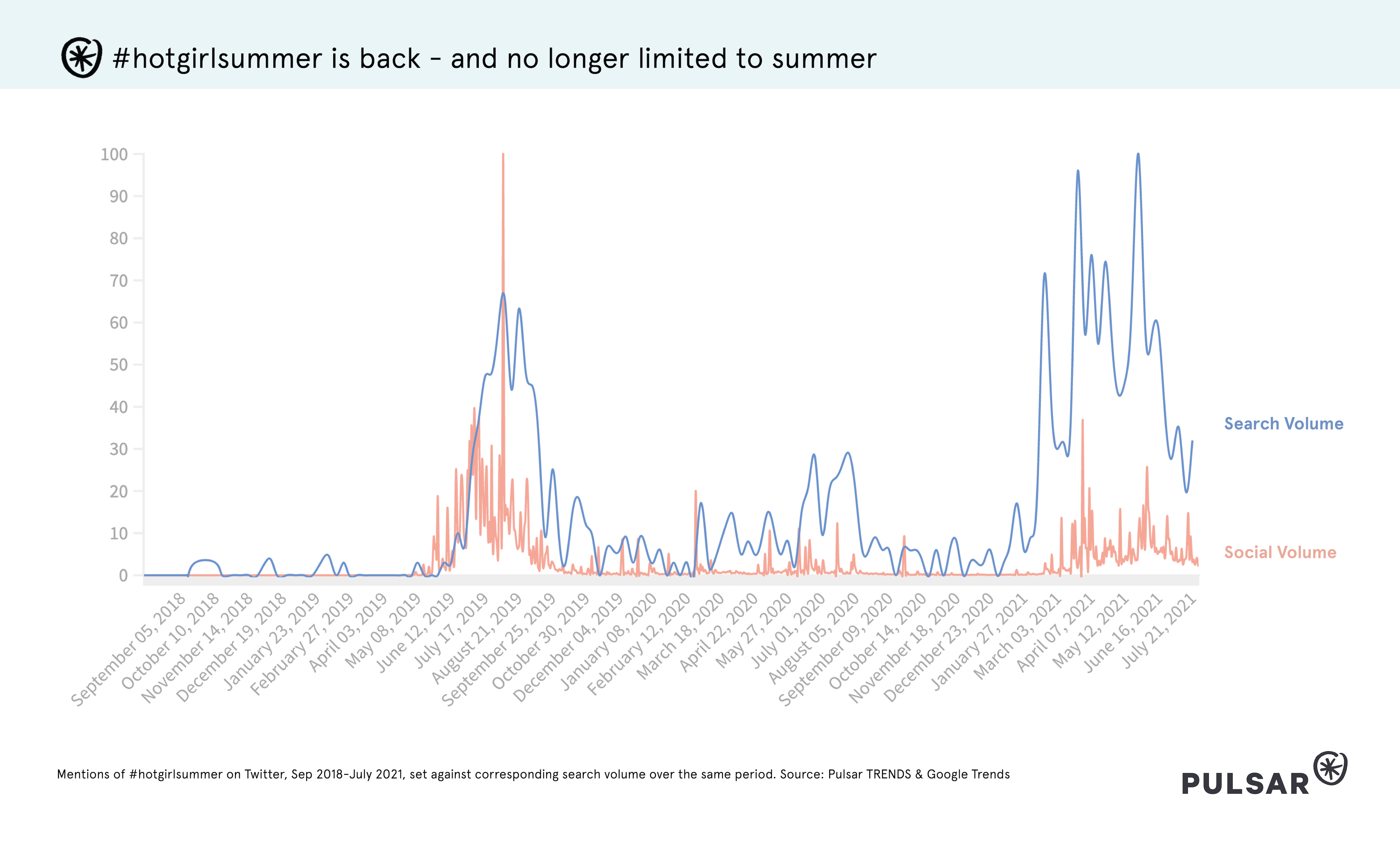 The original peak, which was more pronounced on social, indicates the popularity of the original song. In the summer of 2021, we see social interest explode, in a sure indicator of the song-turned-trend attracting mainstream attention.
References to Megan Thee Stallion become few and far between, with the meme acting instead as an umbrella for all kinds of lifestyle, beauty and fashion content. What exactly, a multitude wants to know, is a #hotgirlsummer? 
It's also worth noting that, while the social interest has not clocked the same peak as in 2019, it has began increasingly earlier each year, as anticipation builds around summer plans and individuals start sharing plans for their own versions of #hotgirlsummer. This was understandably muted in a largely locked-down 2020, but has exploded back into life as individuals plan their 'release' from a year and a half of restrictions.
Utilising Pulsar TRAC, we can dive deeper into the conversation on both Instagram and more text-based platforms like Twitter, Blogs and Forums, to analyse what types of posts are associated with the meme.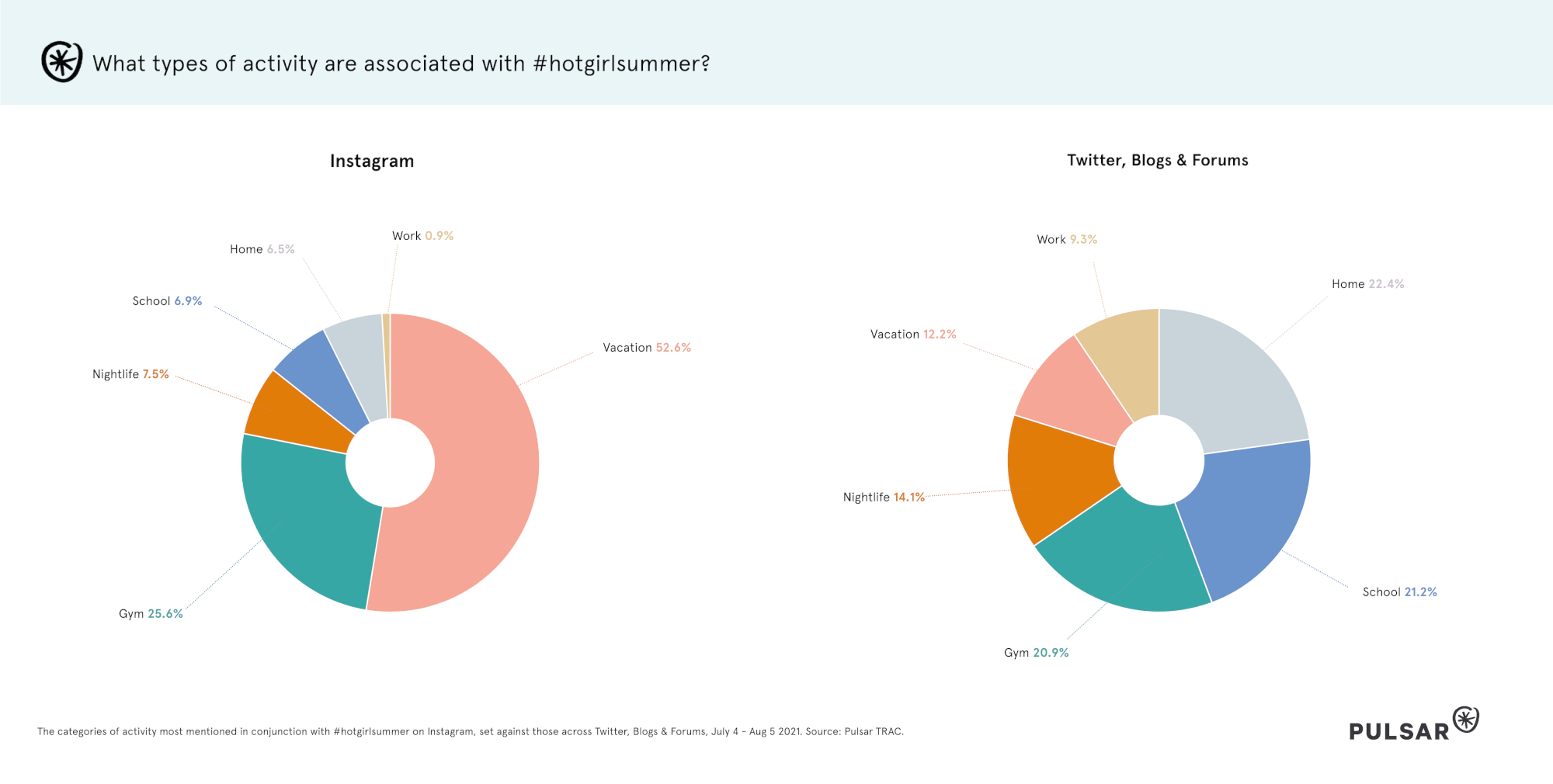 The most immediately obvious trend is the prominence of vacations in the Instagram-based conversation. 
This makes sense in the context of research that suggests Instagram houses more aspirational content. The top hashtags used include #fashion, #explore and #ootd (the 'outfit of the day' fashion trend). On text-based platforms, however, some of the most used hashtags include #onlyfans and #sexy, in addition to those magnified by fans of Love island and anime art. 
Performing a semantic search of 'virtuous' terms versus those associated with partying, excess and laziness, meanwhile, sees Instagram posts emerge as 30% more 'virtuous', with celebrations of fitness and body-types largely driving this.
As such, Vacations and the Gym account for almost 80% of total mentions on Instagram. But if travel is such a priority, which locations are the most mentioned on the platform?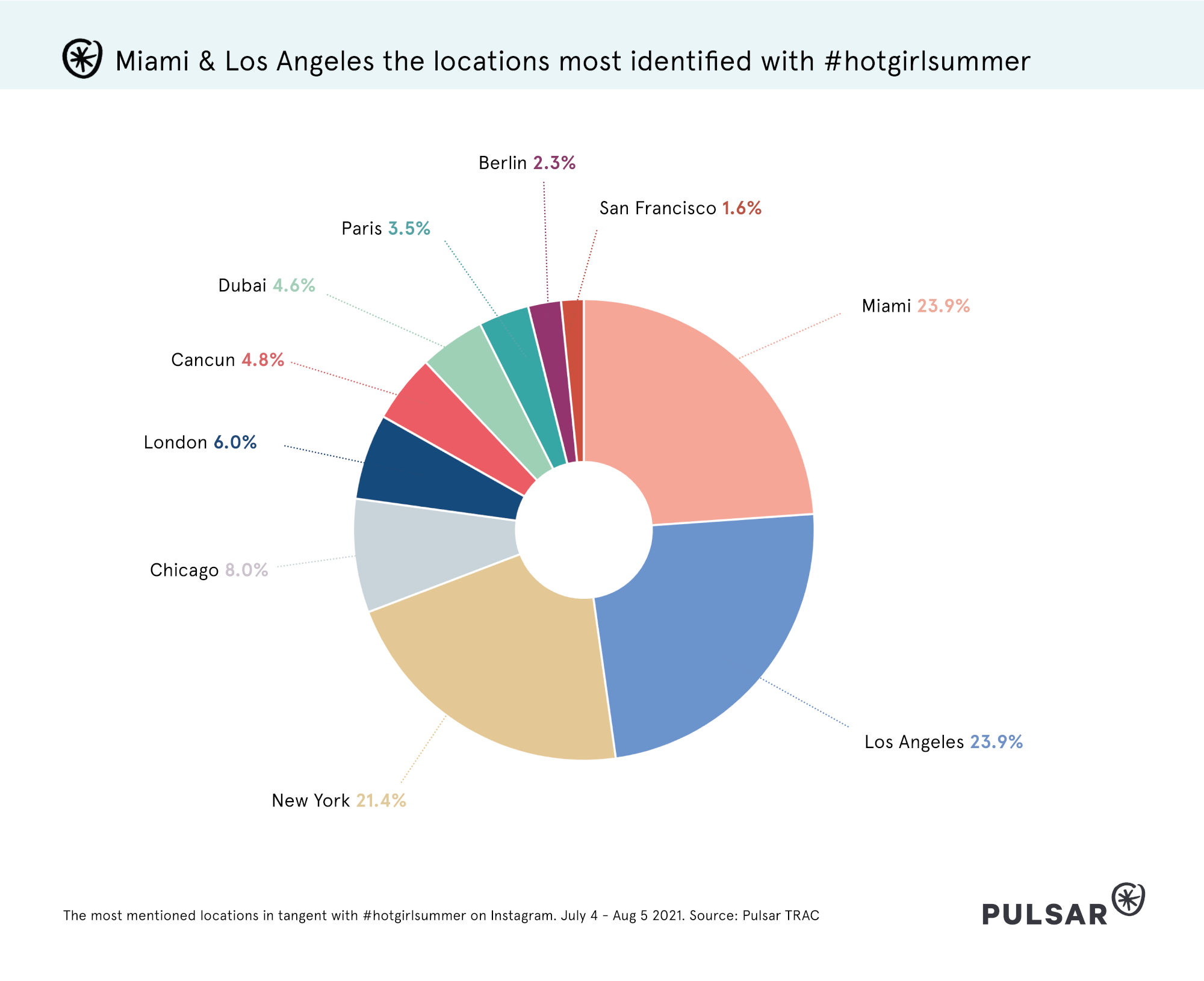 Given that this conversation is largely US-based, and international travel restrictions remain, its perhaps unsurprising that it's US holiday locations that emerge as the most mentioned.
 

 

View this post on Instagram

 
Naturally, #hotgirlsummer isn't just about what you're doing, and where, but also about how you express yourself.
On a textual – and more profound – level, this can emerge via messages of self-affirmation. And, across the different social platforms that made up this analysis, messages of empowerment are much more established on Instagram, where variants of 'black girl magic' alone make up 2.2.% of the conversation studied. 
LGTBQ+ terms of self-identification, meanwhile, are eight times more likely to occur on Instagram than on the more text-based platforms. 
To steer away from meaning and into the actual nuts and bolts of communication, we can employ Pulsar TRAC's emoji analysis to highlight the most-used emojis within the conversation. 
As our previous research has primed us to expect, what we see on Instagram…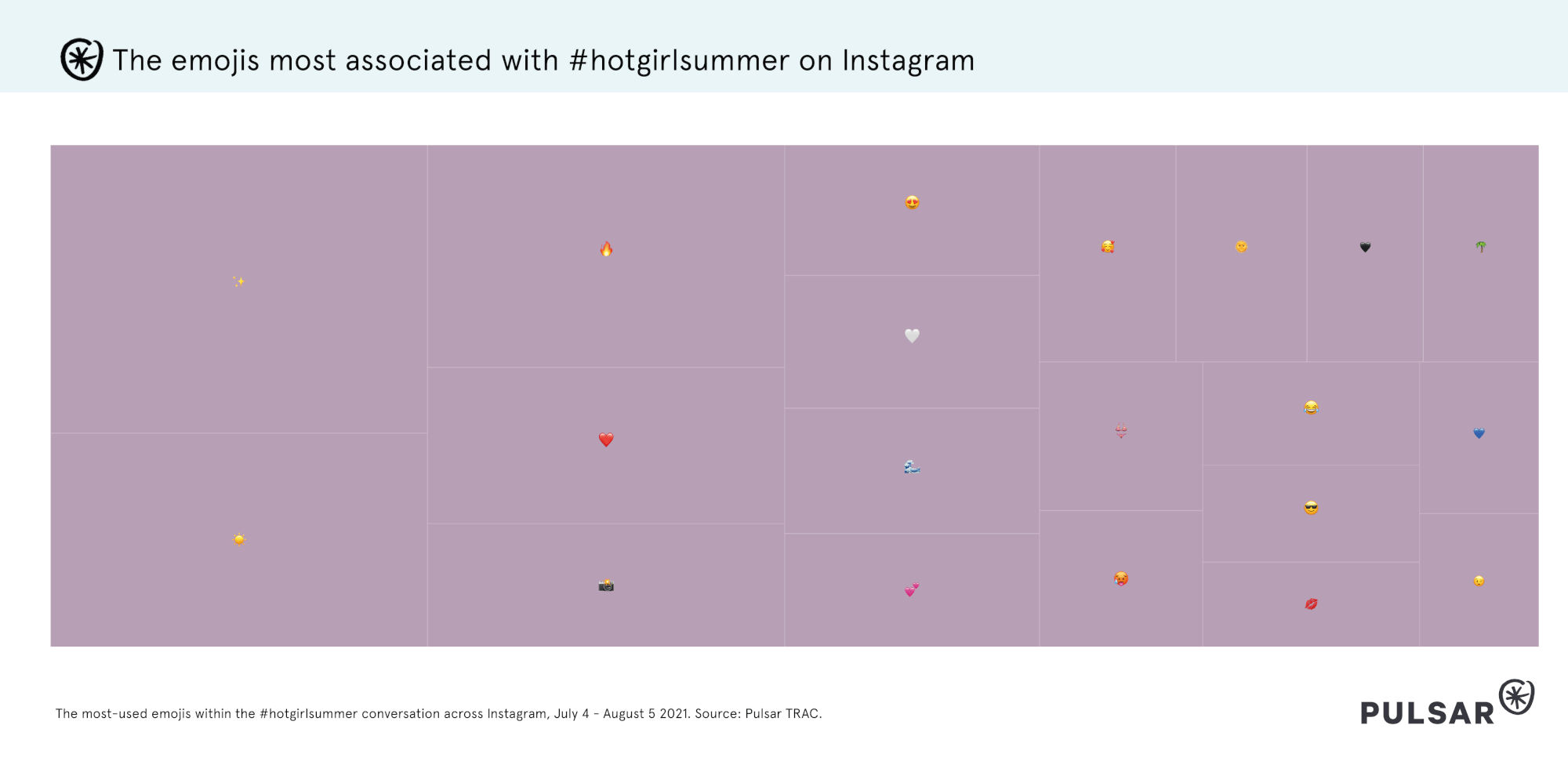 … where holiday-centric imagery like suns, waves and bikinis account for a large percentage of conversation, is removed from what we see on Twitter, blogs and forums.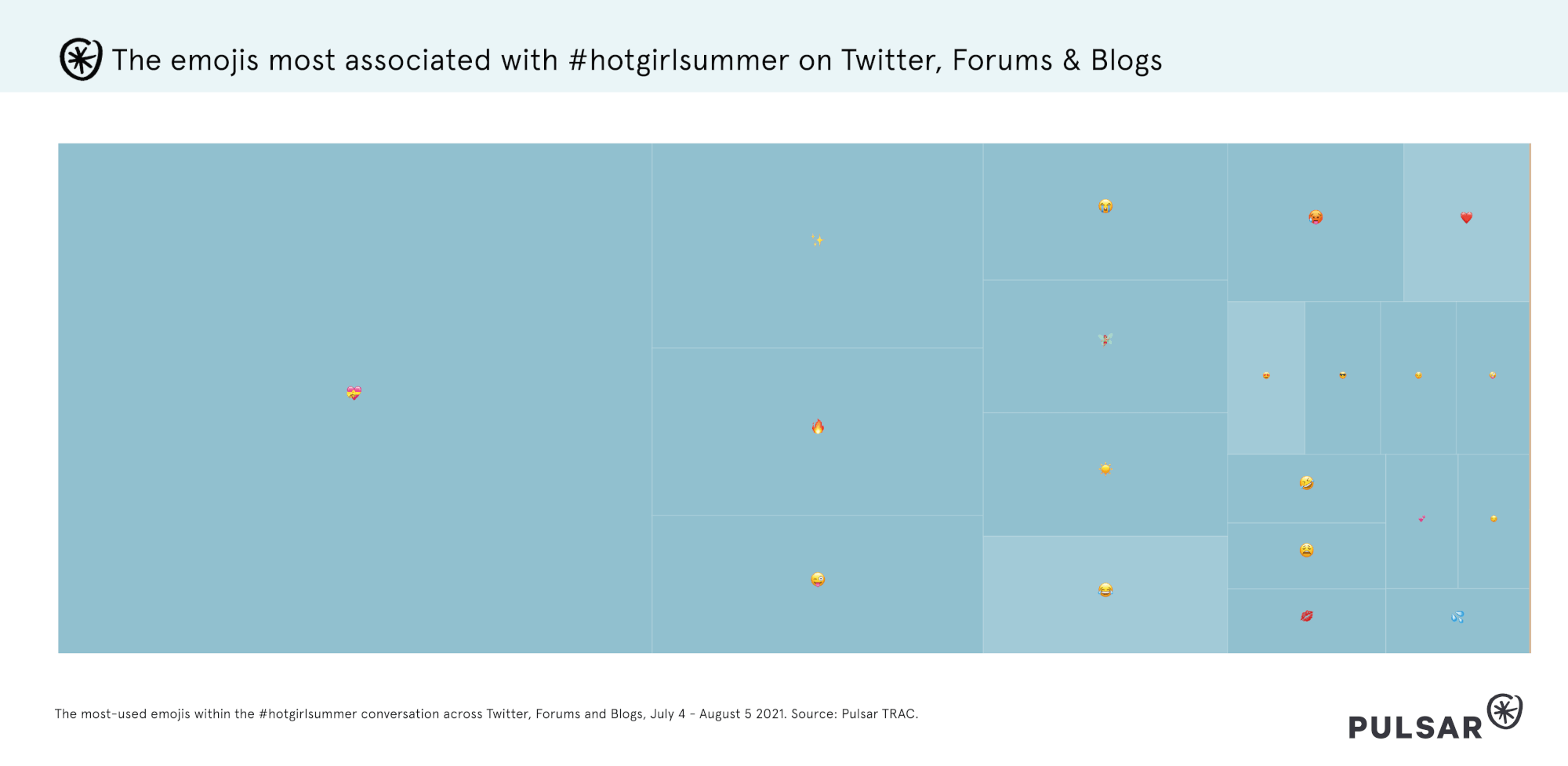 Emojis signifying cheekiness and disappointment indicate a conversation carried out a different pitch, while the popularity of the 💝 emoji is largely attributable to Dolly Parton's viral post below.
It's always #HotGirlSummer for my husband, Carl 💝 Happy birthday my love! pic.twitter.com/utz7Atpk3F

— Dolly Parton (@DollyParton) July 20, 2021
Several emojis crop up across both, however, such as the 🔥 and ✨, suggesting a universal language around #hotgirlsummer, in spite of its many different meanings and connotations.
---
If you'd like to learn more about how Pulsar can identify emerging trends across TikTok, Twitter and a whole host of different data sources — which can be analyzed using audience segmentation, AI image recognition and more — you can request a demo by filling out the form below.