The Cultural Influence of a TikTok Virtual Influencer: FN Meka
The maker of absurd cultural and brand remixes like the AirPod shotty
Virtual Influencers have been around for years now – you're probably familiar with Lil Miquela, and you might even follow a few of them on Instagram.
But robot rapper and virtual influencer FN Meka mostly hangs out on TikTok – a platform he's using to project immense cultural influence by inventively remixing fashion, gaming, automotive and consumer culture, while partnering (or so it seems) with brands like Play Station, Louis Vuitton, Bugatti, Starbucks, Lamborghini, Utah Jazz and Rolls Royce. 
Whether you've heard about him likely depends on what age group you fall in, where you hang out online – and, if you're a strategist and researcher, on what kind of audience intelligence tool you use (hint hint: we make one).  
FN Meka's TikTok videos splice together memes with those familiar brands in unfamiliar ways, utilising CGI graphics to showcase an anarchic approach to copyright and IP that leads to such frankensteined-together creations as the Starbucks PS5 and the Doge Rolls Royce.
Most famous of all, however, is AirPod Shotty, in which a crewmate from popular survival game Among Us, decked out in Louis Vuitton, is shot in half by a AirPod-Shotgun hybrid, revealing that he's made of cake. That's a lot of popular culture to squeeze into a ten second video.
Surfacing these kinds of trends, influencers and cultural moments is not obvious or easy – it requires planners, researchers & marketers to look at online conversations with a specific lens, and access to the right kind of data sources (Pulsar TRAC added the ability to track TikTok conversations last year). 
We discovered AirPod Shotty while researching the trends and cultures taking place across
AirPod conversation
in early 2021. It turned out that this piece was by some distance the most popular video that related to the hearables, and that's not even counting the numerous TikTok duets that resulted from individuals recording their own reactions to, or takes on the meme.  
FN Meka's videos are all popular, clocking upwards of 10 million impressions per video. But AirPod Shotty stands head and shoulder above the rest of FN Meka's content in terms of engagement on TikTok itself, with almost 100 million distinct impressions. 
Clearly, celebrity of this magnitude cannot be entirely contained on a single platform like TikTok, and we've seen user generated content emerge across Twitter and Reddit, taking the form of anything from mocked-up Magic: The Gathering Cards: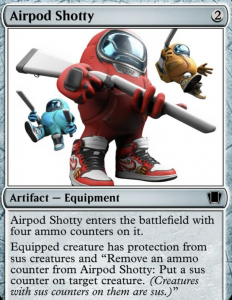 to anime fan-art:
and NFT sneakers:
We made some new Apple inspired sneakers to go with the Airpod Shotty #airpod pic.twitter.com/hZ1h5GV7cA

— RTFKT studios (@RTFKTstudios) December 28, 2020
But can we provide a quantitative measure as to how these memes travel outwards from TikTok? 
By tracking mentions of AirPod shotty and the FN Meka handle itself, we can see at which points in time the content flowed into more mature platforms, which have distinct user demographics.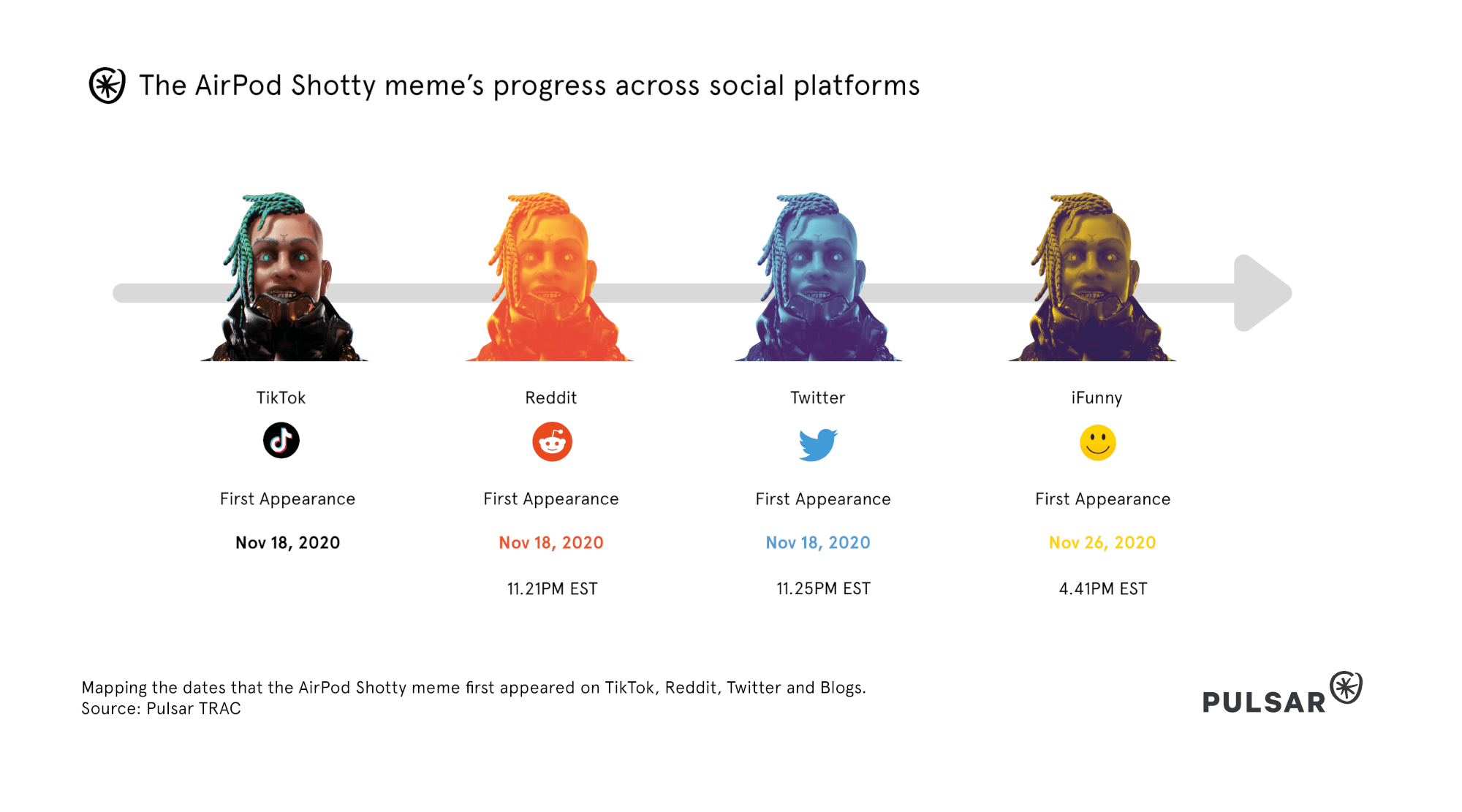 The meme crossed over onto Reddit and Twitter almost immediately, with the latter winning out by a matter of minutes.
where can I purchase an airpod shotty

— Based Smile Boy (@Distorticon) November 18, 2020
It was on the forum iFunny, however, which did not experience any such mention for a week, that the meme was enthusiastically seized upon and made part of wider online discourse. That first mention came as a comment in a discussion as to whether West or East Germany had the better Cold War-era uniforms. 
It becomes clear that outside of TikTok, the AirPod shotty meme has become detached from the 'creator' behind it, and taken on a life of its own. If the conversation on Twitter does not come close to the quantity of that on TikTok, it provides an opportunity to investigate the make-up of the communities engaging with its anarchic brand of humour.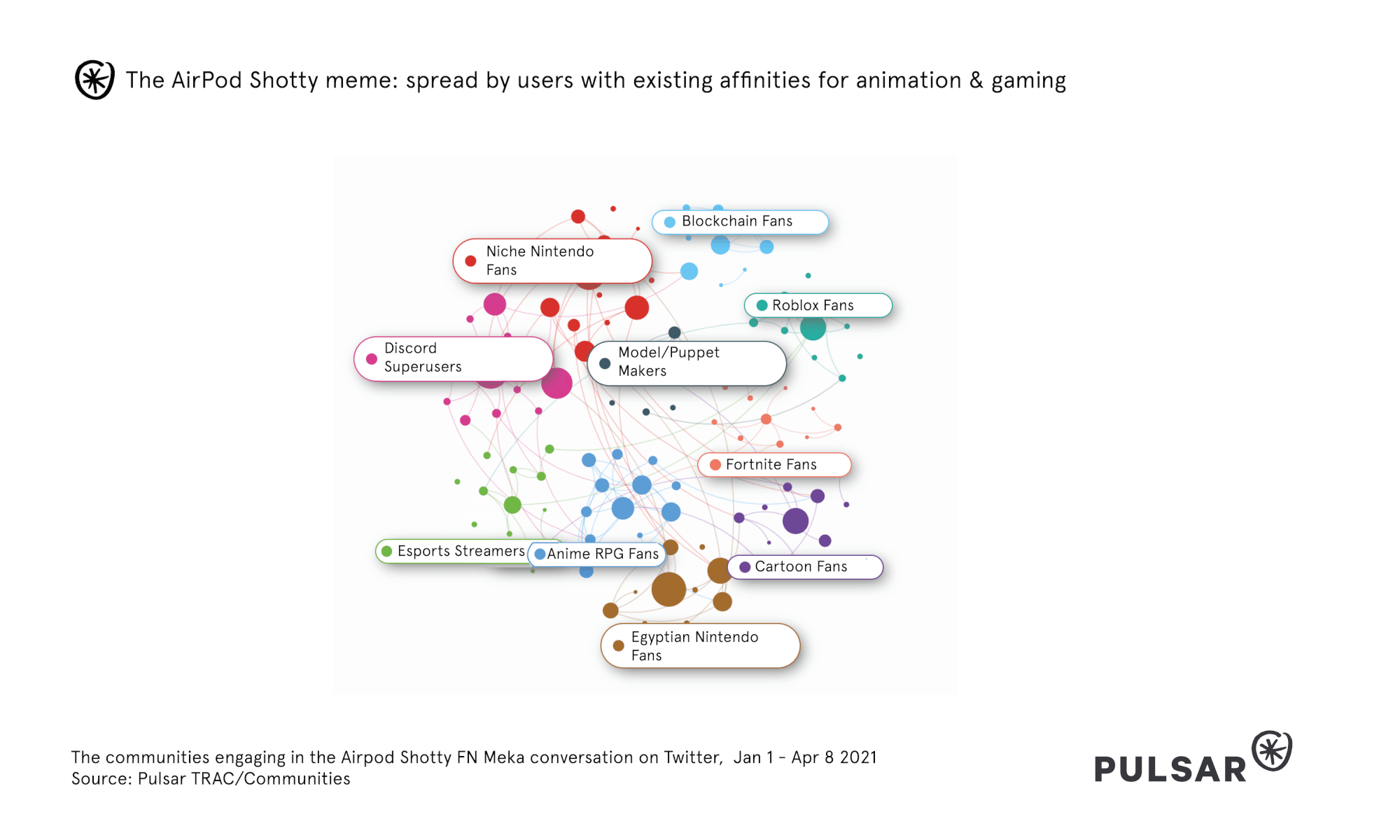 Not only do these fanbases all skew young and male, they also exhibit strong affinity for animated fictional characters. While these characters are drawn from more traditional media forms, such as Nintendo, anime or even puppets, they laid the foundation for today's audiences to identify with and find personality within an entirely manufactured being. 
The difference now is that manufactured being has broken out of the confines of fiction,  and into the social networks we use to communicate with one another.
We'll continue to use audience intelligence to monitor these new forms of celebrity and influence, while simultaneously fantasising about all the different luxury brands we could edit the Pulsar logo into.
---
If you'd like to see how Pulsar could help you, as a marketing, comms or strategy professional, track a topic or brand across TikTok, Twitter and beyond, you can reach out for a demo by simply filling in the form below.