Giving Tuesday: How a charity hashtag turned into a global movement
An evolution in both audience composition and network effects
Fundraising is, increasingly, an activity that takes place online. 
This has significantly impacted the way we give, and we've covered elsewhere the different causes and types of appeal impacted by the evolution in behaviour. 
But what does this mean for individual charities? 
We teamed up with Pulsar client Giving Tuesday to examine their rise from hashtag to international institution, and how this epitomizes several key trends. 
Philanthropy is becoming more and more democratized 

Virality drives charitable behavior

Giving 'moments' steer grassroots activity
Using Pulsar TRAC – with its access to every Tweet made since the site's inception, capacity for exporting animatable network graphs and affinity-based audience segmentation – we compared behavioral patterns from 2012, the year #GivingTuesday started…
Official website launch is happening VERY soon… make sure you sign up so you know when we're up and running! http://t.co/u1NV3RQ6

— GivingTuesday (@GivingTuesday) August 16, 2012
…to 2020, a year that both accelerated global digitalisation and laid bare the need for charitable organizations.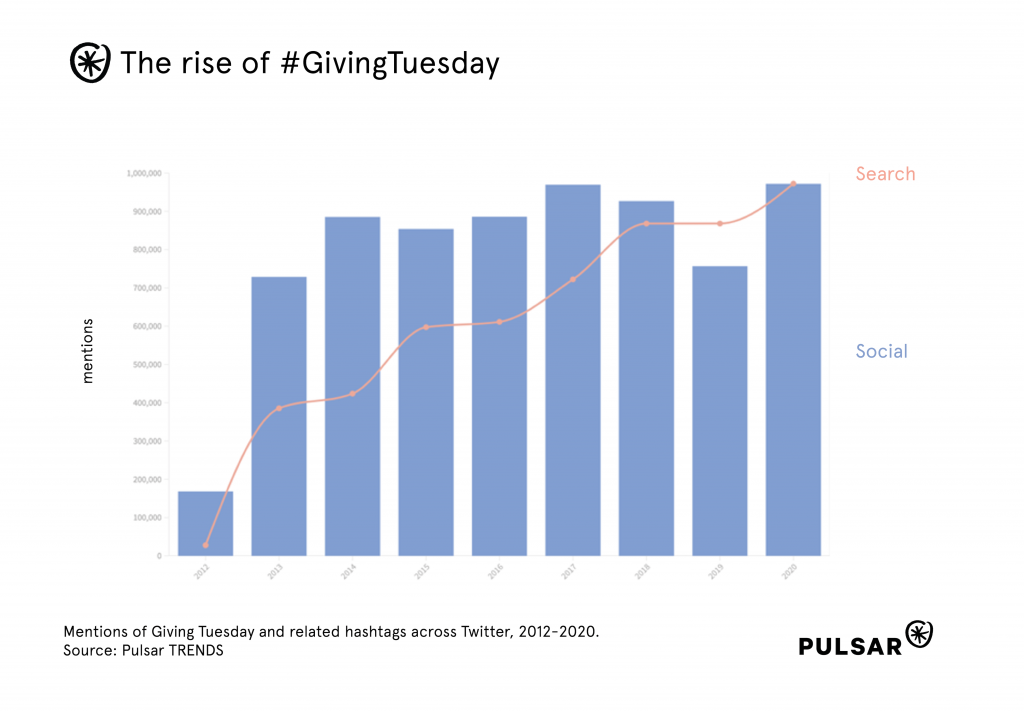 The #GivingTuesday story is one of fast growth on social channels, followed by stability at a high level of prominence. 
If the upstream social audience remains relatively stable, with a broadly consistent number of communities engaging with the topic each year, then the still-growing search interest suggests scope for growth among broader, mainstream audiences not yet familiar with the organization.
The 2012 #GivingTuesday Campaign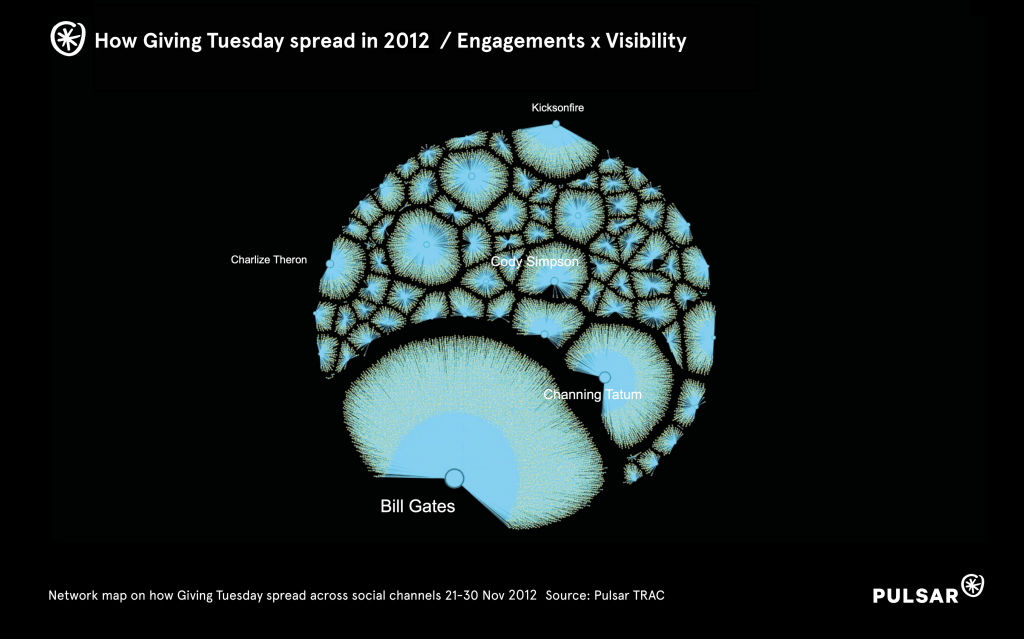 The inaugural Giving Tuesday campaign was boosted by the involvement of Bill Gates, whose early contribution helped bring the movement to the attention of new audiences. Similarly, a post from Australian singer-swimmer Cody Simpson helped introduce the idea to both younger communities, and to the southern hemisphere. 
Given that the #GivingTuesday hashtag had comparatively little brand recognition at this stage, however, it was also vulnerable to 'hijacking'. Kicksonfire, for instance, used it to promote a commercial deal on shoes, which contributed to the hashtag travelling whilst also confusing its meaning.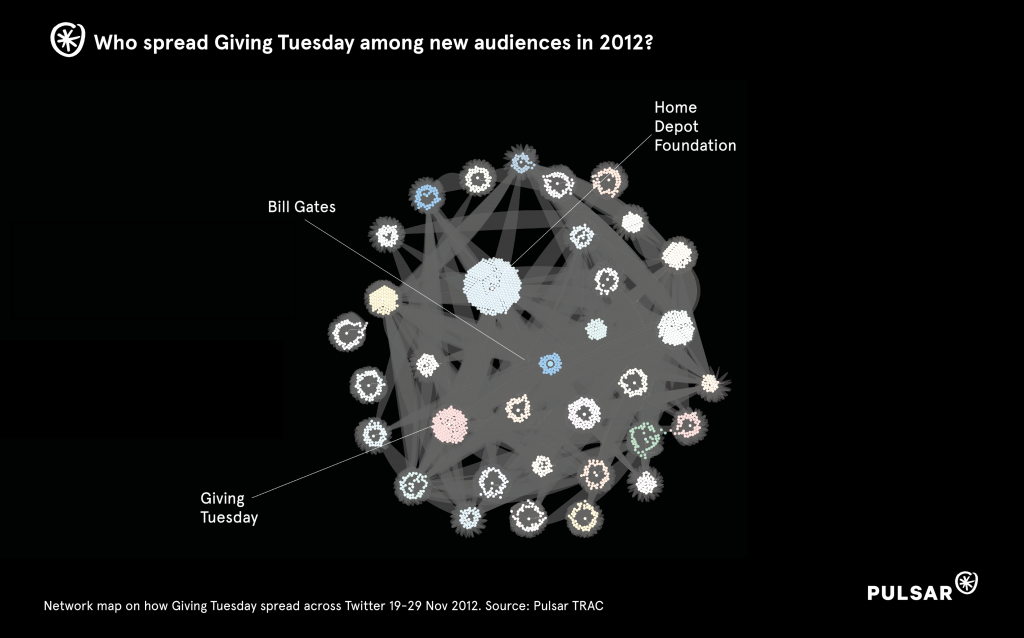 For the most part, however, this was very much a conversation shaped and guided by charitable voices, including Giving Tuesday's own official account.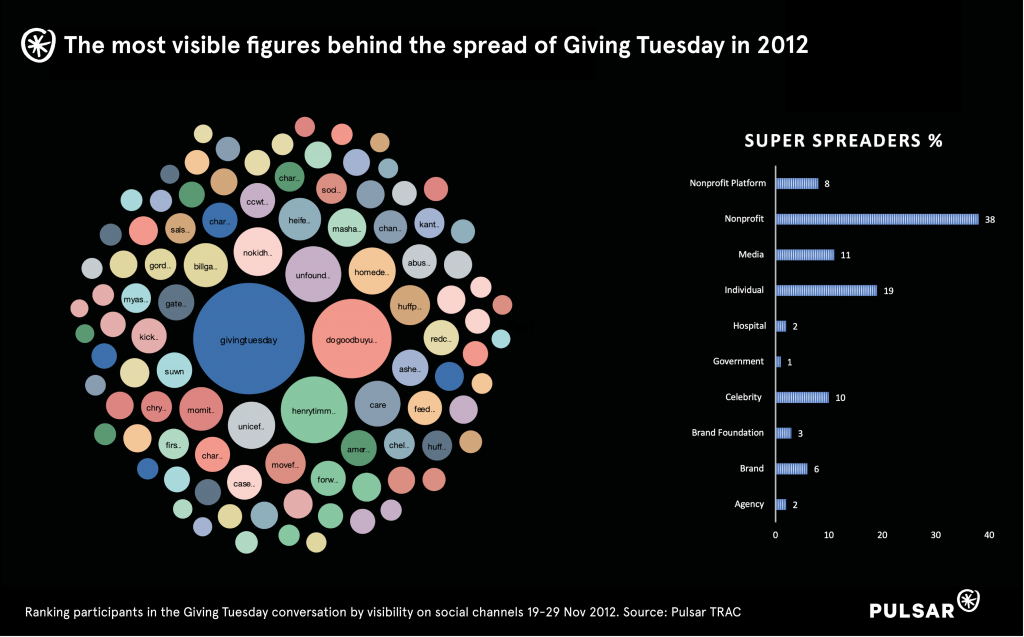 Using Pulsar's bespoke visibility metric, which measures the impact of a piece of content on the social web, we were able to isolate the most 'visible' posts and organize them according to their overarching category. And nonprofits emerge as the leader by some distance. 
The 2020 #GivingTuesday Campaign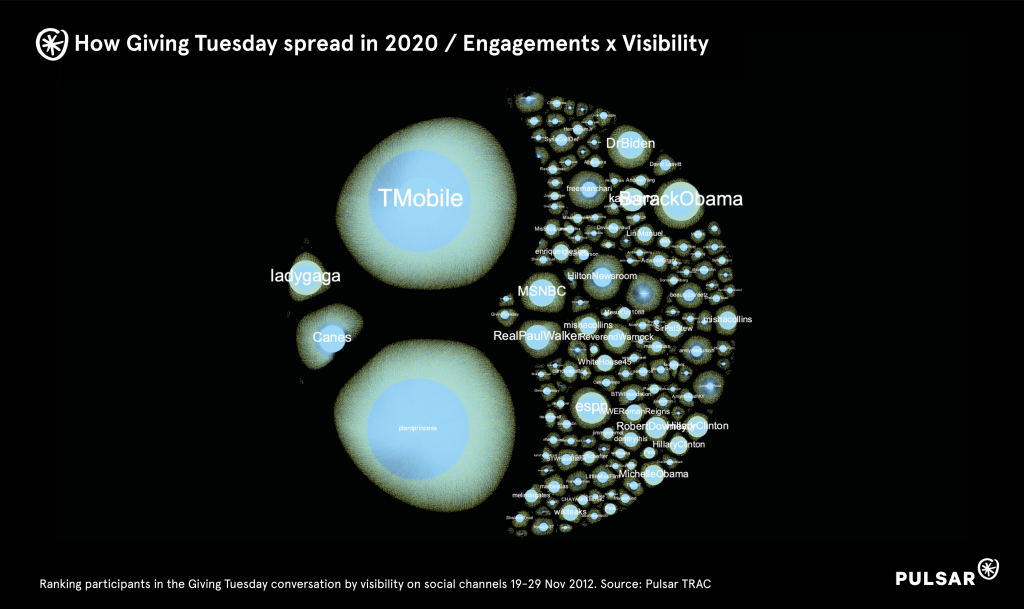 2020 saw a completely different dynamic. Compared to the Giving Tuesday of eight years prior, there are a higher number of unique gatekeepers activating their own audiences. What's more, average engagements are several magnitudes higher than those of the previous map. 
We also see brands assert themselves in the conversation, with T-Mobile the organization responsible for the greatest number of #GivingTuesday engagements over the time period.
The official Giving Tuesday account plays a less integral role in spreading awareness, with media organizations like ESPN and a statesperson like Barack Obama able to leverage their own status and follower count to drive awareness.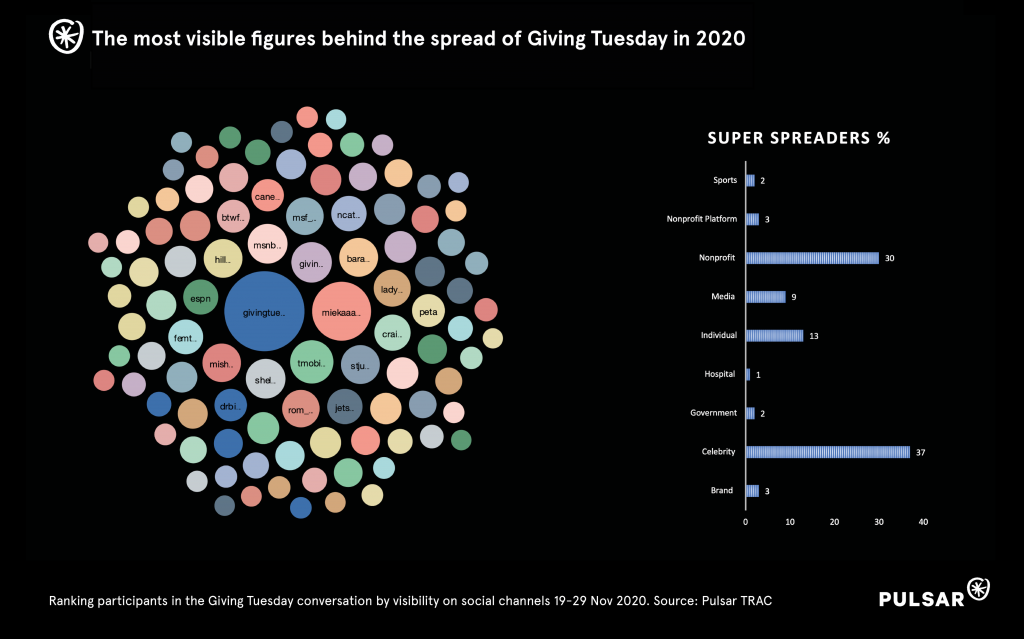 The balance has shifted completely from non-profits to broader society and the cultural mainstream.
Not that the movement is driven by celebrity recognition alone. Grassroots activists, such as Chamieka, posted 633 times in a day using the hashtag to promote her Snack Sack charity. 
@AmandaJoDJ Please consider supporting The Snack Sack (https://t.co/EpqRwFFZjo) this #GivingTuesday: https://t.co/0xbvABBULT🍎 Please join us in supporting marginalized families facing food insecurity without you. https://t.co/2hzvrwxJYu

— Chamieka, The Snack Sack (@Miekaaaa) December 1, 2020
So if the spread of information – and its vectors – looks different now, have we seen a similar change take place among the audience make-up for #GivingTuesday?
There are several immediately identifiable differences.
For one thing, the conversation has become more global as it grows, moving beyond the United States. The US's share of participants drops from 80% to 71%, while Canada doubles to reach 8%, and the UK triples to hit 9%. At the same time, Spain and France begin to emerge, in another indicator of global growth potential. 
The audience segments outlined above, which define communities according to shared affinities, also show an increase in internationalism, with groups such as UK Charities and Global NGO expats (with workers based across the world) well-represented.
On top of this, the conversation has also become more gender-balanced. Having initially possessed 53 women for every 47 men, the two become more evenly matched in 2020. And yet, while the conversation at large has become more gender-balanced, various audience segments remain more ostensibly gendered, with Mainstream Sports Fans and US Christians largely male. 
The conversation at large has also grown less charity-specific and more political. So, there's less affinity for Bill Gates and his eponymous foundation, but more for the likes of Joe Biden, Kamala Harris and Alexandra Ocasio-Cortez.
And, finally, the proliferation of the #GivingTuesday hashtag, and the variety between the different causes to adopt it, means that the more general philanthropy seen across 2012 has been replaced in part by an archipelago of focused communities. These are tied to such causes as healthcare reform, ecological activists, evangelical christians and location-specific charities. 
---
If you'd like to learn more about how Pulsar can identify long-term behavioral trends, both within the non-profit space and elsewhere, using a variety of different data sources, you can request a demo by filling out the form below.