European Super League Fan Reaction: which clubs gained & lost fans?
Here's what fans are saying about the Super League plan
The proposed European 'Super League', in which leading football (soccer) teams from Spain, Italy and the UK would break away to form a closed 'American-style' competition, has succeeded in unifying divided football fanbases around a few common enemies. 
The Super League plan, which reflects the wealthiest sports teams' shifting business focus, left longtime supporters of many clubs irked at their categorization as 'legacy fans'. Those fans reactions took place across social platforms – and by using Pulsar CORE and Pulsar TRENDS, we identified three of the primary ways in which UK supporters have expressed their opinions and future intention. These include:
Unfollowing club accounts 
'Ratio-ing' individual posts 
Framing the decision as one motivated by greed in their own posts
Here's what we discovered.
Fans unfollowing football clubs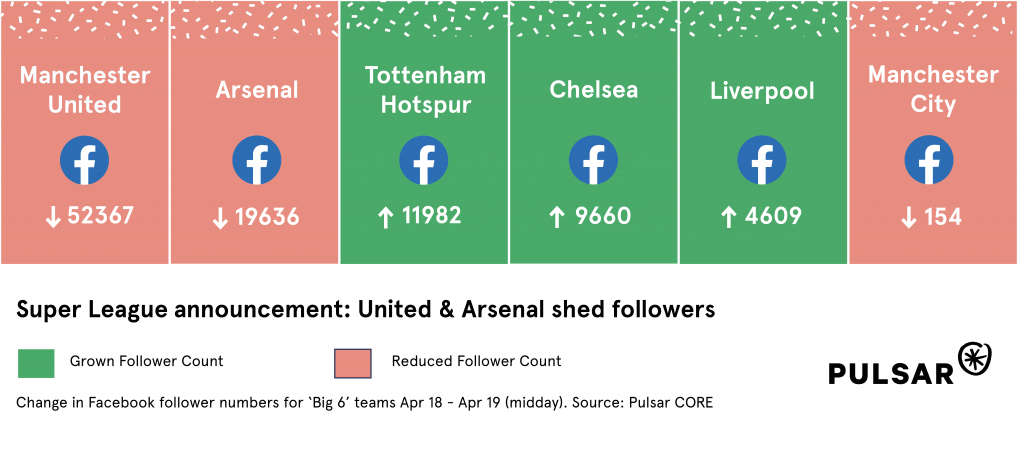 Out of the 6 UK clubs participating in the Super League, Manchester United took the biggest hit, with the immediate condemnation of former captains Gary Neville and Roy Keane a contributing factor.
Gary Neville is the people's hero right now. Unreal piece of television about the European Super League. pic.twitter.com/ypdQbdQfs7

— Football Tweet (@Football__Tweet) April 18, 2021
Arsenal also lost almost 20k fans, while Chelsea and Liverpool seemed to have benefited from the extra exposure. But Tottenham Hotspur are, according to this metric, the major beneficiaries, able to expand upon a social following that sits some way below that of their rivals. 
But that's not the entire story.
Ratio'd Club Posts
Each of the premiership teams to offer an update on the announcement became targets for fans to express their disappointment via comments. On Twitter, a clear indication that specific post has attracted the ire of a fanbase is 'ratio-ing', in which comments outnumber likes.
And, while North London rivals Arsenal were able to keep their ratio just the right side of acceptable, the same couldn't be said over at the Tottenham Hotspur stadium.
Leading European football clubs announce new Super League competition. #THFC ⚪️ #COYS

— Tottenham Hotspur (@SpursOfficial) April 18, 2021
In fact, this likely underestimates the extent to which established fans wanted to make their voices heard, as the same day sacking of José Mourinho attracted numerous posts on the Super League, with speculation that it had been a contributing factor in the Portuguese managers' exit. 
Engaging in critical conversation online
In mapping out the shape of public's reaction to the announcement, greed emerges as one of the greatest descriptors.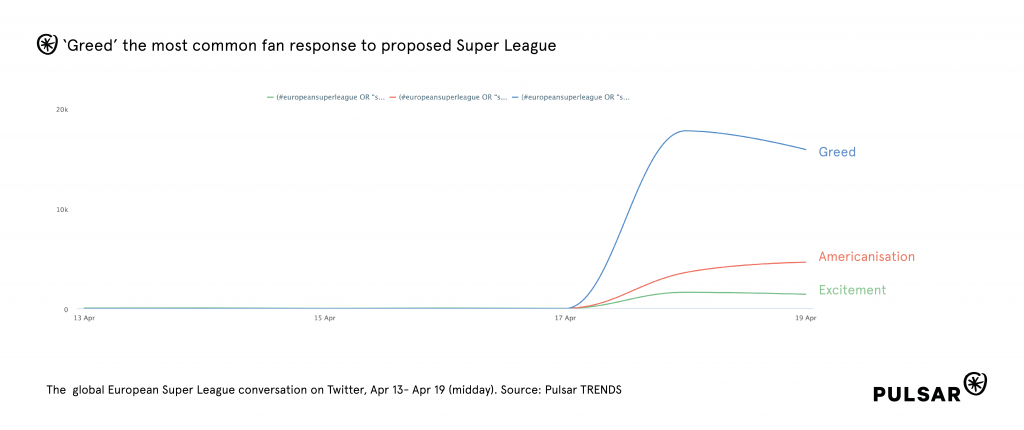 Americanisation (or 'AmericaniZation' as our US editor would have it) also accounts for a growing proportion of the conversation, an allusion to different operational models and ownership of several of the football ('soccer') clubs involved in the secession. 
Excitement, on the other hand, is decidedly limited. When positivity does occur, it tends to take place outside of these club's traditional UK fanbases, in a sign that the scheme would depend on global consumption shifting from occasional to regular.
On our Football Trends twitter account, fan reactions also popped up, with some fans pointing out that the 'big 6' have far from the most engaged fanbases out there, something we've observed over the course of the years we've been running the Fan Engagement Table.
The so called Big 6 are 7th, 8th, 9th, 11th, 12th and 20th. Tell them to fuck off

— Glen Hodgson (@GlenH84) April 18, 2021
In the meantime, while the 12 clubs experience the wrath of fans, commentators, and institutions alike, other clubs are seeing an opening to 'steal' some of their fanbases. 
Dear AC Milan, Arsenal , Atlético, Chelsea, Barcelona, Internazionale, Juventus, Liverpool, Manchester City, Manchester United, Real Madrid and Tottenham fans,

If you need a new club to support, we're always here for you.

Kind regards,
FC Spartak Moscow.

— FC Spartak Moscow (@fcsm_eng) April 18, 2021
After all, supporters can't necessarily switch clubs – but consumers certainly can. 
---
This analysis was carried out using Pulsar CORE and TRENDS. Owning a complete picture of how individuals interact with your brand online helps grow communities, avert pitfalls and spot new opportunities for interaction & growth. To learn how Pulsar could do this for you, just fill out the form below.