Booktok: how TikTok and Gen Z re-invented the book club
A new type of community born from the intersection of society's oldest and newest media types
Once upon a time, social media appeared anathematic to hardcore readers. 
But, thanks to literary fandom communities finding each other on social and online platforms, as well as a boom in podcast culture and self-publishing, books are back in the mainstream.

TikTok, the latest social platform to move the dial on how we consume media, has produced an entirely novel subculture — BookTok.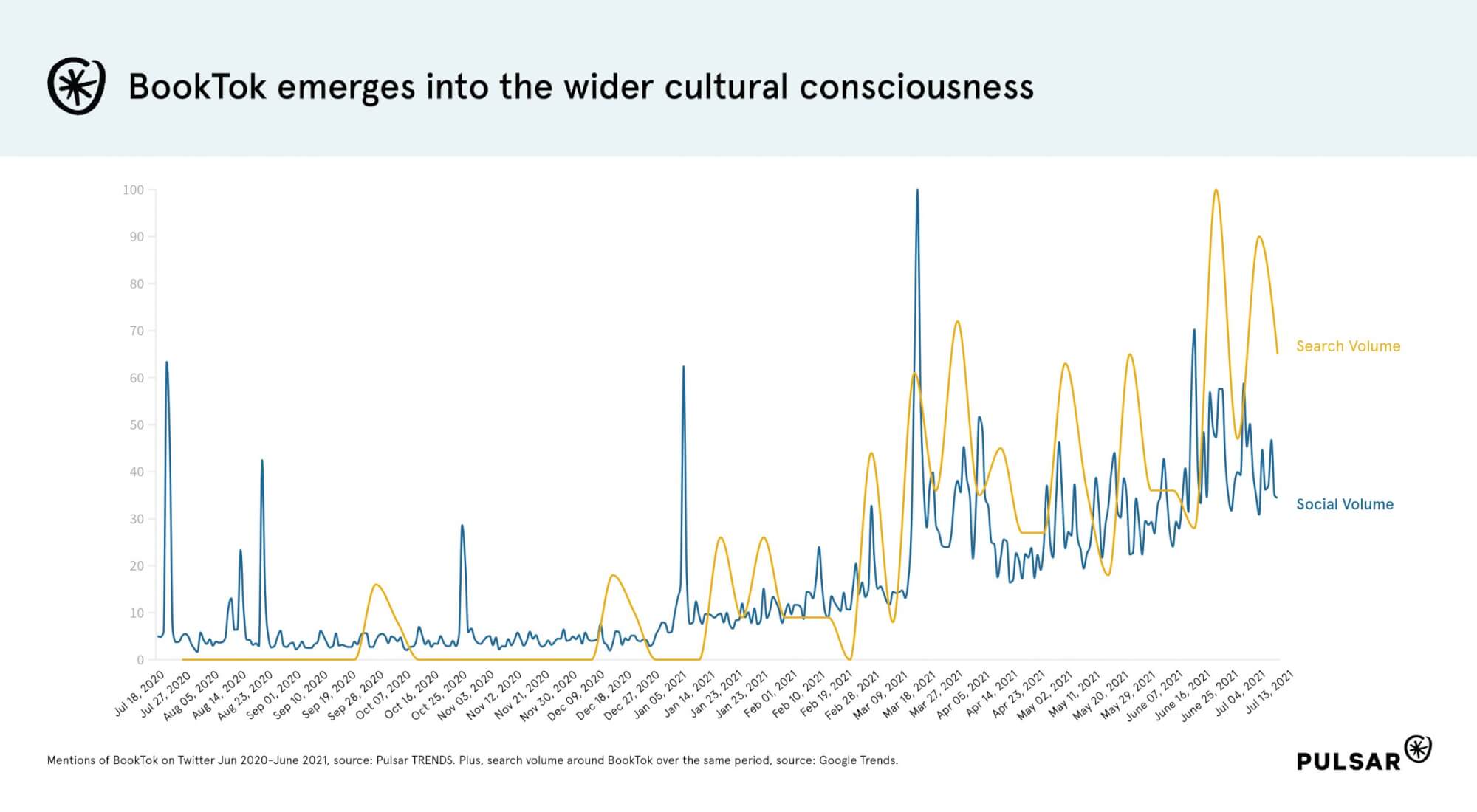 Dubbed the 'last wholesome corner of the web', BookTok is indicative of how trends and communities formed on TikTok enter the public consciousness, as they move onto platforms that support different user bases and behaviors. 
Using Pulsar TRAC, we can map both how the conversation played out on TikTok, among its youthful and highly engaged user-base, before making its way onto Twitter.
As the community's epicentre, TikTok plays host to the most-engaged-with content, which takes in straight reviews, readings, comedic skits and everything in-between.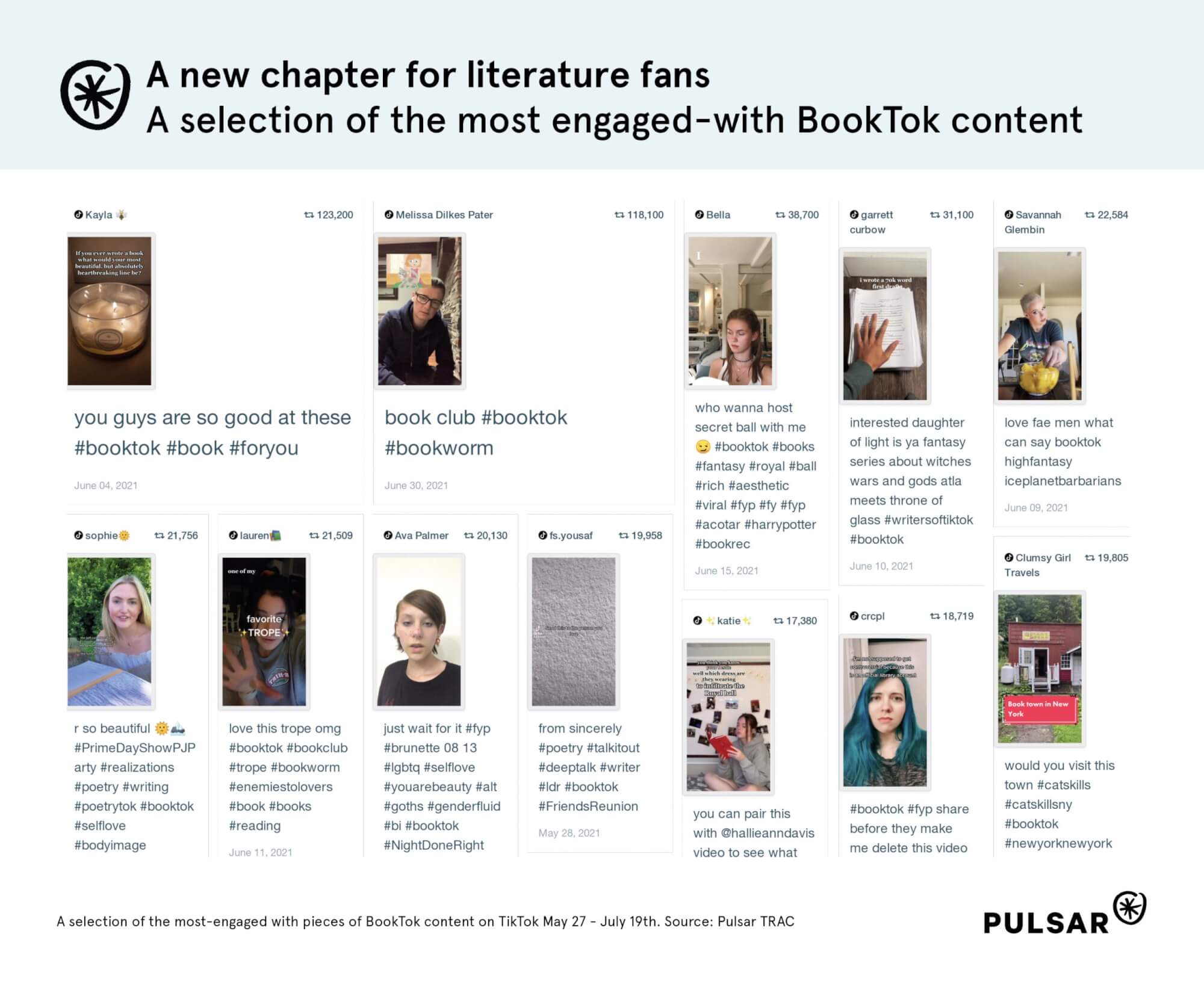 Naturally, books are the most-discussed topic within this community. So which series and titles sit front-of-mind? 
Young Adult fiction emerges as the genre of choice, with a particular focus on magic, ensemble casts and titanic battles between good and elemental evil, from the Grishaverse to the Potterverse, which continues to exert the kind of staying power that suggests Horcruxes in publisher's offices
Often, as above, these series are referenced in content that is more generally around literary tropes or habits, as a common vernacular.
The Potterverse, in particular, is utilised as a kind of master lore that anyone within the target demographic possesses an existing understanding of, even when elements are shorn of context. 
This conversation flows downstream to Twitter, and an older user base that's quick to both support and critique the nascent community. 
this is what it's like to watch a booktok as a booktwitter person https://t.co/hF8SV1jnpc

— em 🐈 (@emilygeneric) May 27, 2021
One immediately obvious takeaway is how little actual TikTok content is reposted on Twitter, with only 3% of all BookTok-aligned Tweets containing videos. For the most part, Twitter hosts a lively discussion about BookTok, or rather the perceptions of it.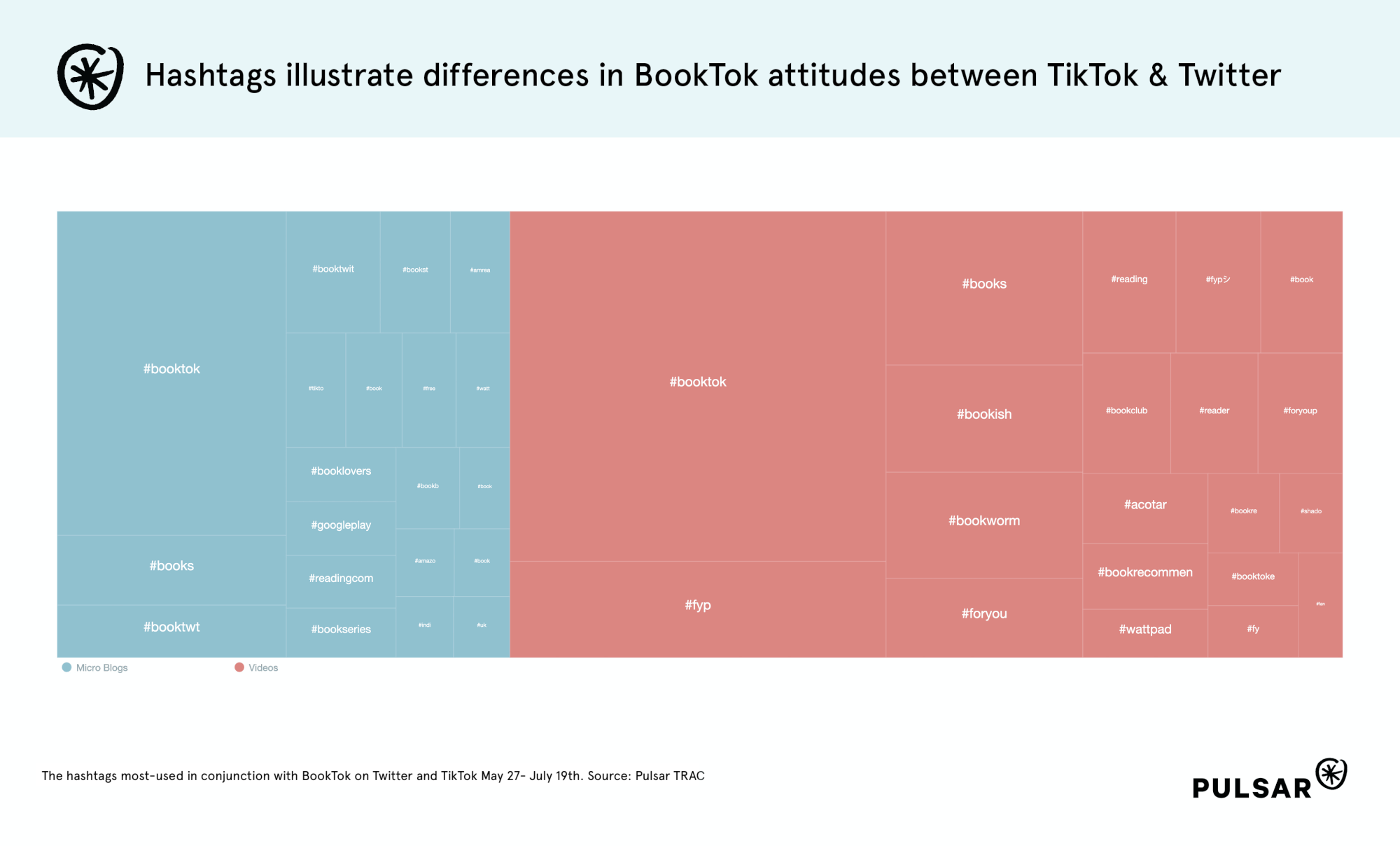 The leading hashtags across the two platforms also illustrate similarities and points of difference. 
Both contain numerous variants on books, but whereas TikTok possesses hashtags native to the platform (#fyp, or 'for you page') and indicators as to content type (#bookrec), Twitter both features more overt commercial hijacking (#free) and merges the topic with its own native #booktwt category.
When Twitter references BookTok, however, the focus is not so much on the titles actually being spoken about, but rather the 'TikTok Books' most closely identified with BookTok culture from the outside.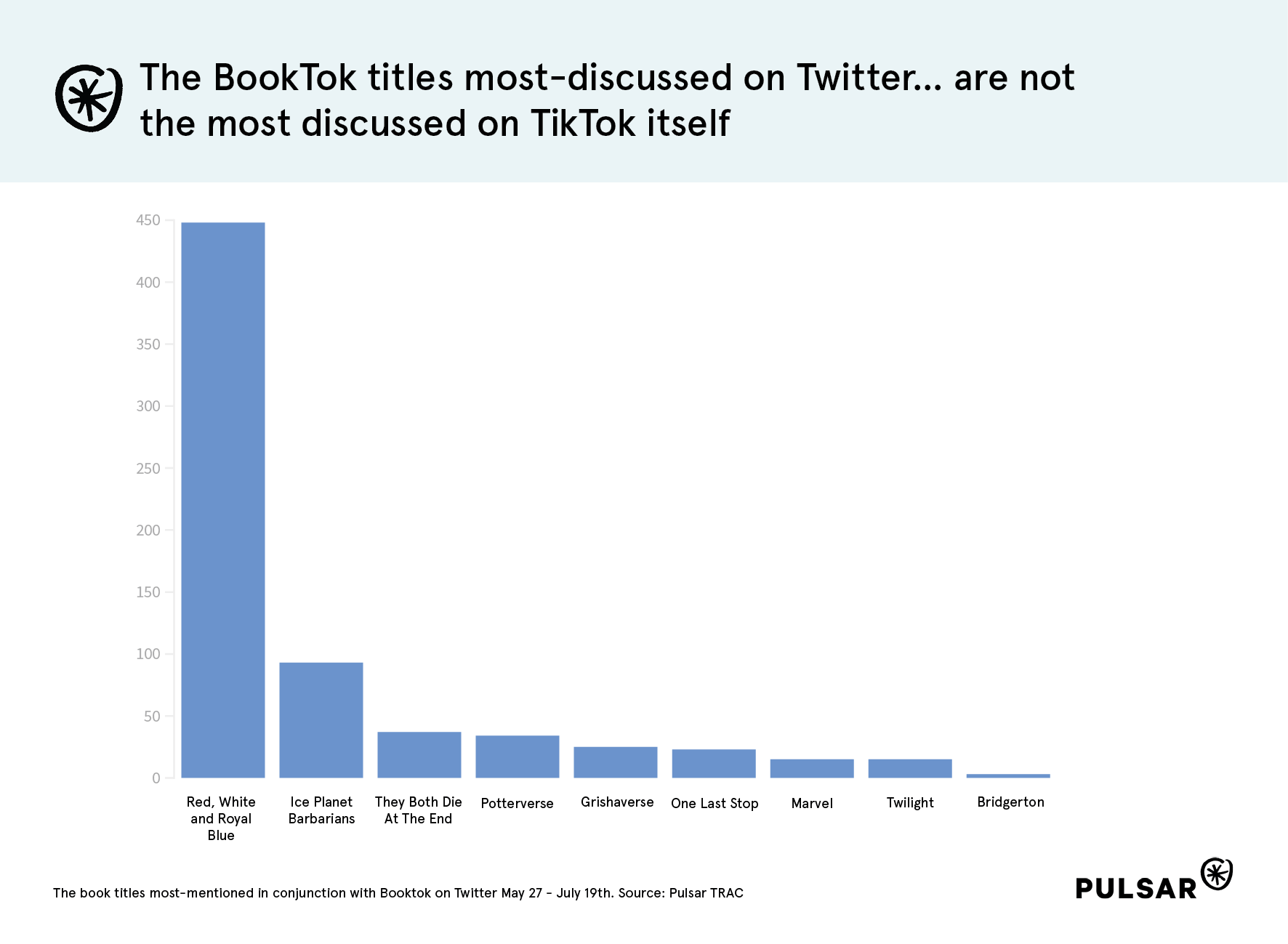 Our TikTok analysis suggests that young adult fiction is a key driver of conversation. Over on Twitter, however, users tend to identify the culture less with these kinds of titles (despite a substantial Grishaverse fandom), and more with contemporary novels whose popularity is more tightly tied to BookTok. 
Notable examples include the erotic (Ice Planet Barbarians), LGTBQ+ titles (They Both Die At The End) and, notably, a book that exists within both spheres: Red, White and Royal Blue. 
But who is it exactly who's talking about BookTok as a phenomenon? We take a closer look at the most prevalent segments within the Twitter audience.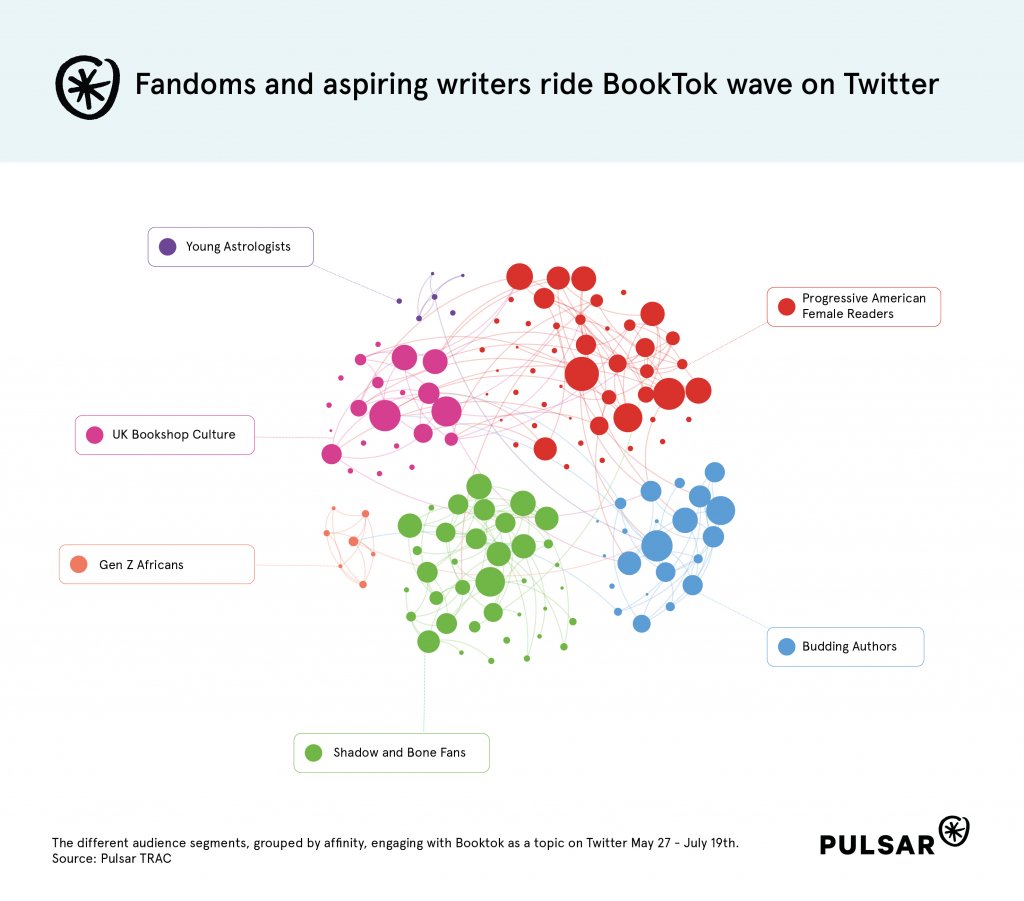 Almost half this Twitter audience is under 25, while over 80% are under 34. Even upon moving to Twitter, and being viewed less as a community to take part in and more as a phenomenon to be observed, the audience for the topic remains youthful. 
Progressive American Female Readers drive much of the criticism around representation, diversity and fetishisation, particularly around Red, White and Royal Blue.
that booktok girl was the only one who was stupid enough to say it out loud, but so many people (especially straight white girls) fetishize red white & royal blue because they find the main (male) characters attractive that it's creepy, and nobody really ever talks about it

— dee | #1 kanej stan (@likefirings) June 19, 2021
UK Bookshop Culture, meanwhile, is keener to capitalise on a trend that could either rejuvenate their industry or see them supplanted entirely from their role as arbiters of book culture. 
Another large audience segment is Budding Authors, who self-identify as writers and show an affinity for genre authors who have found success outside major publishing houses. They are representative of a wider trend within BookTok, and culture at large.
We've previously seen Wattpad emerge as one of the leading hashtags on both TikTok and Twitter, and the platform – which hosts user-generated content – helps populate the space between published authors and passive readers. This space is filled by writers who, with no or next-to-no presence on physical bookshelves, can build dedicated followings by placing their writing online. 
So prevalent is this trend that Wattpad has attained more mentions than reader-specific platforms across both Twitter and TikTok.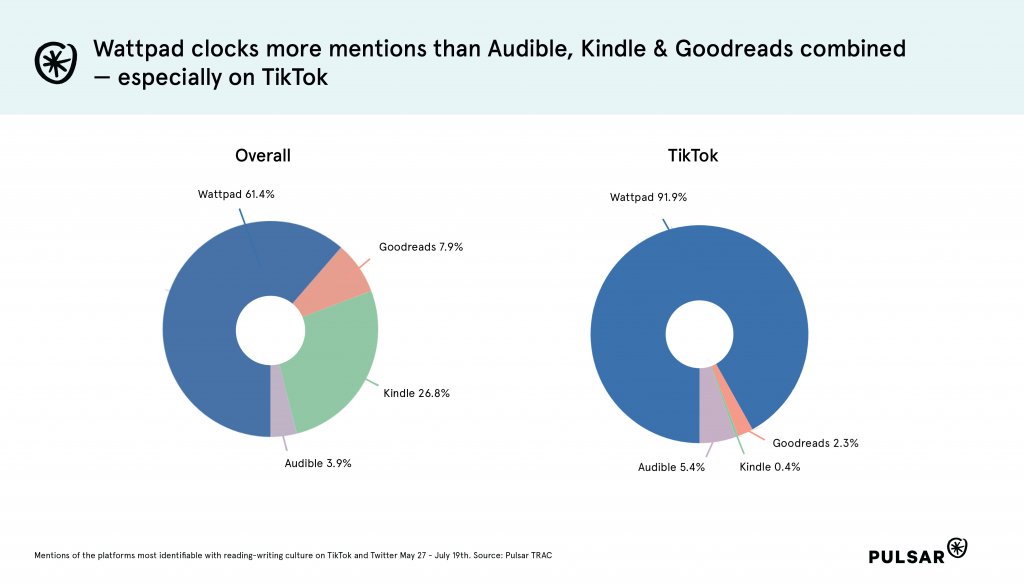 Booktok helps further elevate fanfic, short stories and other such unpublished work into the mainstream. 
This is because the community establishes its own parameters for what qualifies as creativity, just as it supplements longstanding favorites such as the Potterverse with the kind of titles not normally found within bookshops, reading groups or literary shortlists. 
As a result, new authors, new creators, and new ways of interacting with a deeply familiar topic are disseminated throughout culture, from TikTok to Twitter and beyond. 
---
If you'd like to learn more about how Pulsar can identify emerging trends across TikTok, Twitter and a whole host of different data sources — which can be analyzed using audience segmentation, AI image recognition and more — you can request a demo by filling out the form below.