Apple vs Facebook: Brand Personalities in 2021
Using Pulsar's Social Brand Personality Index, we map the evolving perceptions of the Big Tech giants
The 'great man' view of history suggests that certain individuals can bend global narratives to their will. In which case, Apple and Facebook are the great brands of history.
Because as well as posting enormous profits, driving technological innovation, and redefining the global perception of American entrepreneurism, both companies have produced category-defining products that govern how we interact with the world at large. A user simply has to share an opinion, chat with a friend or check on the latest news to experience numerous different touch-points with the Apple and Facebook brands.
Which is all very well when each brand had the thrill of the new about it. But, as dorm-room innovation gives way to hugely complex institutions, and the idea of lone genius to corporate grandstanding, we explore how the perceptions around both have changed.
With the two FAANG giants continuing to bare their teeth at one another, who emerges better from the court of public opinion?
We analysed the public perception towards both brands using the Social Brand Personality Index.
Developed by our in-house research team, the method combines Jungian archetypes with Jennifer Aaker's 1997 Brand Personality Dimensions, to produce a qualitative mode of analysis rooted in semantic signals. It charts positive & negative sentiment towards each brand, the traits & archetypes each is associated with, and how this evolves over a period of time. 
In this study, we compare all mentions of Apple and Facebook from May-June 2019, across Twitter, Blogs, Social and Forums, with the equivalent period in 2021.
Apple
As the brand becomes less immediately identifiable with the triumvirate of Mac, iPhone and Steve Jobs, what impact does this have on its overall perception?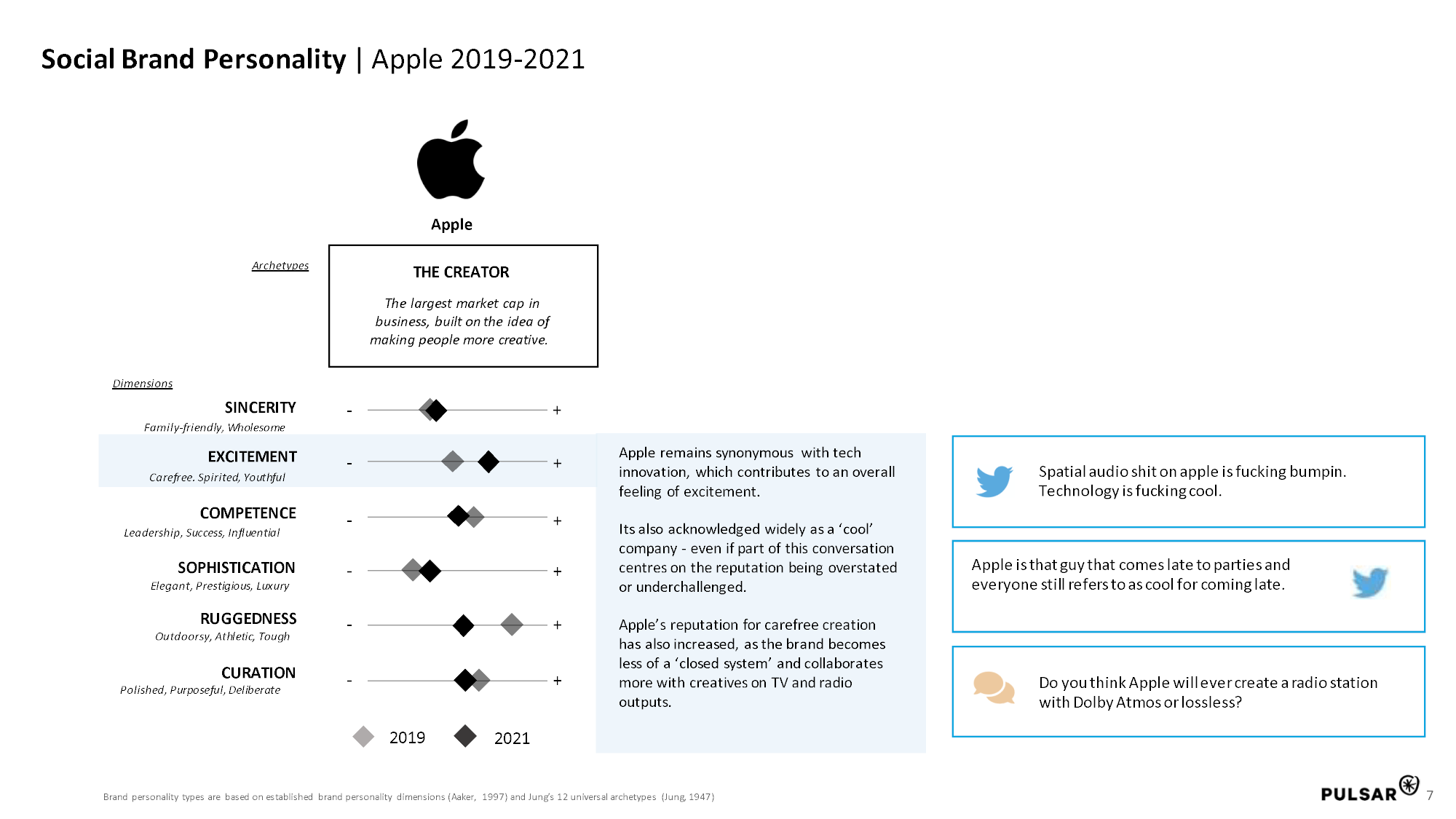 Apple is still able to generate mass excitement, even as its most iconic product launches become an increasingly distant memory. This is because excitement is more evenly spread between numerous smaller announcements and innovations, from memoji to audio tweaks.
In particular, the addition of movies and tv shows, and the collaborations behind them, inspire anticipation, even if the final results are mixed. 
Facebook
Unlike Apple, which couched its clarion call to 'think different' within what was, at first, a relatively conventional technology company (and has always been explicit about its products' premium nature), Facebook's unfamiliar business model, free-to-use and rooted in 'connection', has left it far more open to  a backlash.
One of the most damning shifts for Facebook concerns the drop in competency. This is rooted less in simple technical complaints, however, which the company has scaled its infrastructure upwards to fix.
Instead, the public finds Facebook's infrastructure and practices around misinformation and platforming to be severely lacking. While some of these complaints relate to processes, accountability and consistency, the fact that many emanate from factions across the political spectrum only highlights the unlikelihood of an entirely satisfactory solution.
---
You can download our full 10-slide presentation by filling out the form below. To find out more how the Social Brand Personality Index might help your brand, you can book a demo with one of our specialists here.