US Primary Index: Warren surges, but it's still Bernie's race 🇺🇸
Ahead of the Nevada Caucuses, a possible turning point for Elizabeth Warren's campaign
It's starting to look like a real comeback: after a bold performance during the Democratic Debate in Las Vegas, online audiences have shifted their attention to Elizabeth Warren again, in what could be a turning point for her campaign ahead of the Nevada Caucuses on Saturday, according to our US Primary Index. 
"Warren emerges as the clear winner of the Vegas debate, generating the most total buzz from February 19th-20th, the first time in 2020 we've seen any candidate drive conversation faster than Bernie. Our model suggests that this reversal of momentum could be her turning point moment," said Marc Geffen, Pulsar's VP of Research & US Strategy.
Bernie Sanders in the meantime, has hit new highs in terms of total conversation volume, and continues to show positive momentum week after week: he is firmly the leader of the pack.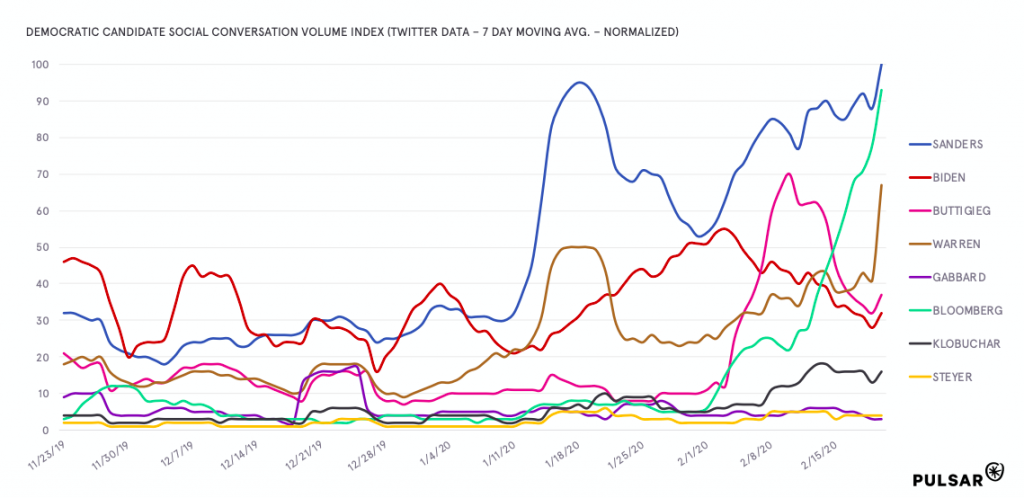 "Bernie continues to drive the most buzz and has raised the ceiling of our Index in the past week, hitting a new peak in volume, while leading on nearly all of our virality metrics: he is in a very healthy position," said Geffen. 
But what about Michael Bloomberg? The former NYC mayor also saw massive growth in mentions over the past few days, but much of it for the wrong reasons.
"Bloomberg has achieved a huge increase in the past week, certainly stealing mind share and gaining a foothold in the public consciousness. His influencer outreach and meme strategy are paying off, however his buzz is muddied with mixed sentiment – many "Bloomberg" mentions in the past 24 hours consist of attacks on his candidacy and reactions to his rough night in Vegas."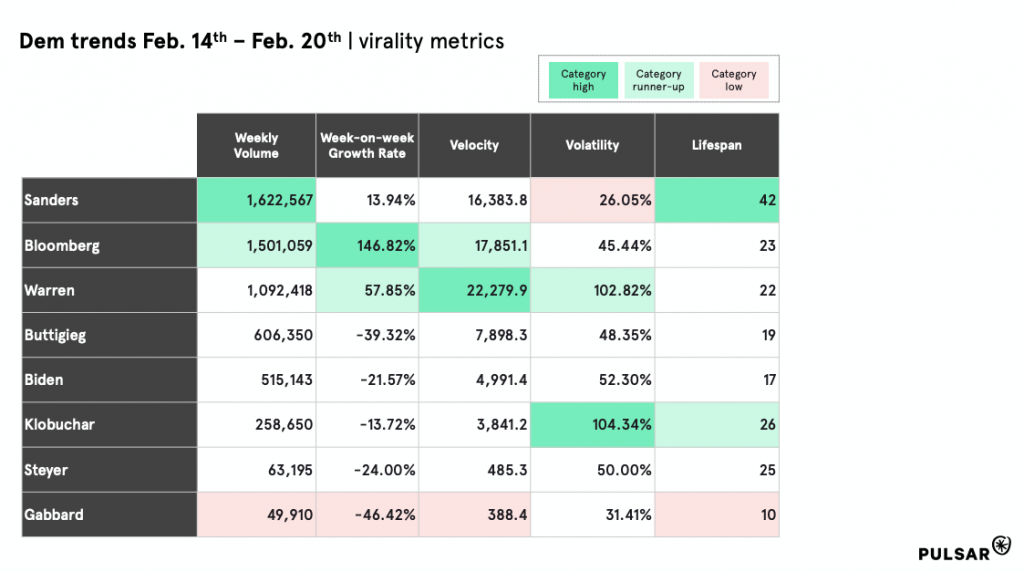 On the other hand, conversation about Buttigieg, who was going viral just 10 days ago, has seen a massive cool-off, with the slide continuing after his middling performance in the Nevada debate Wednesday night. 
"This slide raises questions about whether he can sustain enough organic interest in his campaign between primaries and caucuses," said Geffen. 
The Pulsar Index is based on the weekly measurement and analysis of millions of social media posts over a period of a week (in this case, Feb 14-20th).
It takes into account five different factors, including: how much buzz has a candidate generated in the most recent period; how much momentum has this candidate recently acquired; how much buzz can this candidate drive in a given hour; whether the conversation about this candidate is stable and consistent, or highly variable; and to what extent is the buzz about this candidate maintaining high volumes over time.