US Primary Index: Biden finally wins over online audiences, but COVID-19 looms 🇺🇸
After virtually locking in the Democratic nomination, Joe Biden has finally broken through Bernie Sanders' seemingly insurmountable lead in terms of online buzz, according to our Primary Index.
But the crisis around COVID-19 is distracting audiences from the primaries, and safety concerns over large gatherings loom over Tuesday's primary contests in Arizona, Illinois and Florida, which so far have not been cancelled.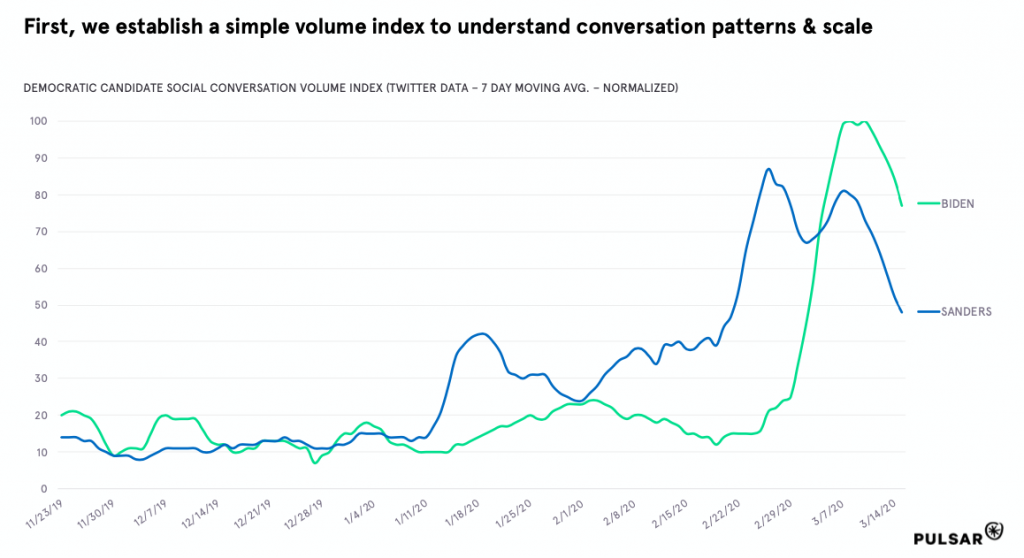 Marc Geffen, VP of Research and US Strategy at Pulsar commented: "We're seeing a dramatic drop-off in buzz for both candidates over the last week as the Coronavirus situation has shifted attention away from the primaries. This includes a tame social media response to the Sunday night Washington D.C. debate." 
Biden's online breakthrough came right before Super Tuesday on March 3rd, when Biden won 10 states to Bernie's 4.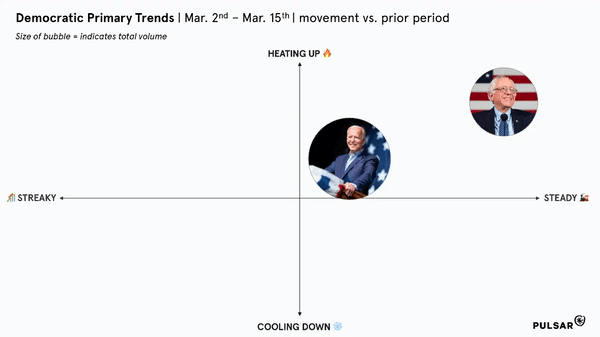 "After a slow start to the year Biden's managed a complete reversal by winning South Carolina and consolidating the democratic field and endorsements leading into super Tuesday: Biden's buzz went vertical as of March 1st and overtook Sanders within a few days," said Geffen.   
Just like at the polls, Biden overtook Sanders online by almost all of the metrics we were tracking, unseating what had been the undisputed leader over the past months.  
"What's striking in our virality tracking is that Biden's also generating higher velocity, a momentum metric that Bernie had consistently owned until the last couple of weeks. This signals that Biden is now able to attract a critical mass of audience interest in any given hour," said Geffen.  
The Pulsar US Primary Index is based on the weekly measurement and analysis of millions of social media posts over a period of two weeks (March 2-15th). It takes into account five different factors, including: how much buzz has a candidate generated in the most recent period; how much momentum has this candidate recently acquired; how much buzz can this candidate drive in a given hour; whether the conversation about this candidate is stable and consistent, or highly variable; and to what extent is the buzz about this candidate maintaining high volumes over time.