Understanding student priorities during COVID-19
The real-time reaction of Britain's university population to the pandemic
Around the world, students were among the first demographics to feel the consequences of the COVID-19 crisis, as universities quickly sent students away from campuses and moved classes online.
Social data allows us to see how university students' concerns moved throughout this most unusual semester, from study abroad plans falling through, to exams taking place in uncertain conditions, to the gradual realization that they missed campus life.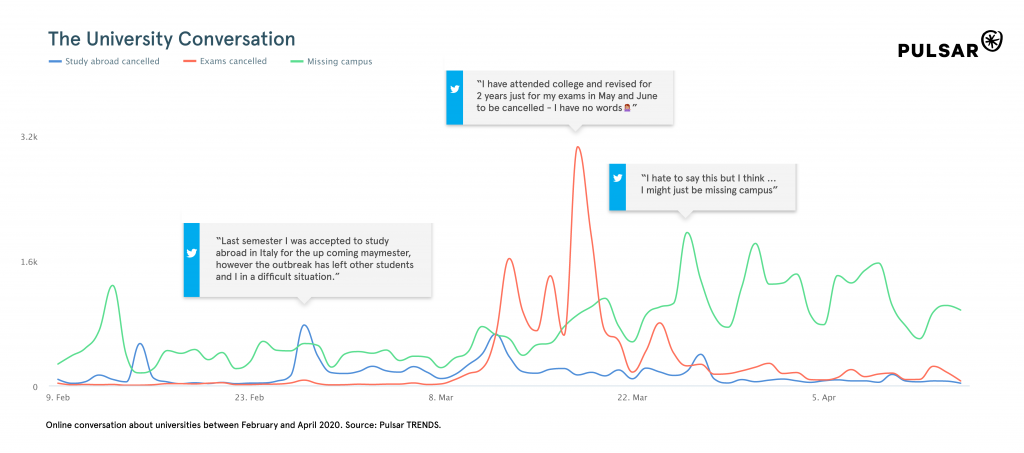 Students with a vested interest in study abroad programs were the first to show concern, as the spread of the coronavirus beyond China triggered a gradual tightening up of border restrictions. In many ways, these internationally-minded students and their long-term plans involving travel served as the 'canary in the coal mine' for the student populace as a whole.
My sister got accepted into a study abroad to Europe YESTERDAY. Today she got an email saying the entire study abroad was cancelled due to the coronavirus

— Becca Villarreal (@BeccaV_232) February 27, 2020
Studying abroad as a topic peaked again in early March, but this time was dwarfed by the sudden interest in exams cancellations. The reason? Universities had begun suspending face-to-face teaching, and speculation was rampant.
This speculation did not last long, however, as universities made it clear that exams were not expected to take place in the summer of 2020. Social media was therefore full of students reacting in real time to announcements that seemed to run counter to all expectations of university life.
I miss uni and people roasting me for dressing up as a meme pic.twitter.com/PFUFOL4v96

— rat (@brownaima) May 11, 2020
While there was certainly an emotional aspect to many of these earlier posts, the focus was primarily on logistics. With the majority of the student populace returning to their family homes, however, expressions of feeling replaced demands for answers.
If the conversation of only a week before had railed in the moment against university authorities curtailing the year, then a little time and perspective saw universities switch in the popular conversation from opaque institutions to much-missed centres of community.