The Most Influential TikTok Collab Houses
Ranking TikTok Collab Houses by views & visibility
TikTok is ubiquitous, something that can't be solely attributed to a bitesize format and musical plug-ins, features also present in predecessors Vine & Dubsmash: the platform's success appears to be intertwined with that of its top creators, whose devoted fanbases occupy a space somewhere between boyband stans and reality TV audiences.
TikTok creators have spent the past year dividing themselves between rival 'Collab' houses: collectives that spring up when creators pool their fanbases, creativity and resources into lavish, largely LA-based properties that moonlight as film set, production studio and — most recently and controversially — party hotspot. 
Aside from providing the kind of real estate exhibitionism older generations will remember from MTV's Cribs, the creators that take up residence in these houses influence how the platform is adopted and used. Fans follow their favorite creators onto rival platforms, are exposed to different degrees of advertising and partnerships, or simply make it a habit to check in with their favorite houses. 
Here's our ranking of top Houses by video views from June 10th to August 13th. 
Alternatively, we can look at houses ranked by on our own visibility metric, which factors audience size, engagement rate, format and channel into an algorithm-derived score to measure the impact of any piece of content.
By this measure the top 2 stay the same, but Sway seems much closer to reaching the influence of Hype, while Bytesquad and Clubhouse Next both climb in the rankings, making the top 5 a bit more international than in the US-dominated ranking by Views.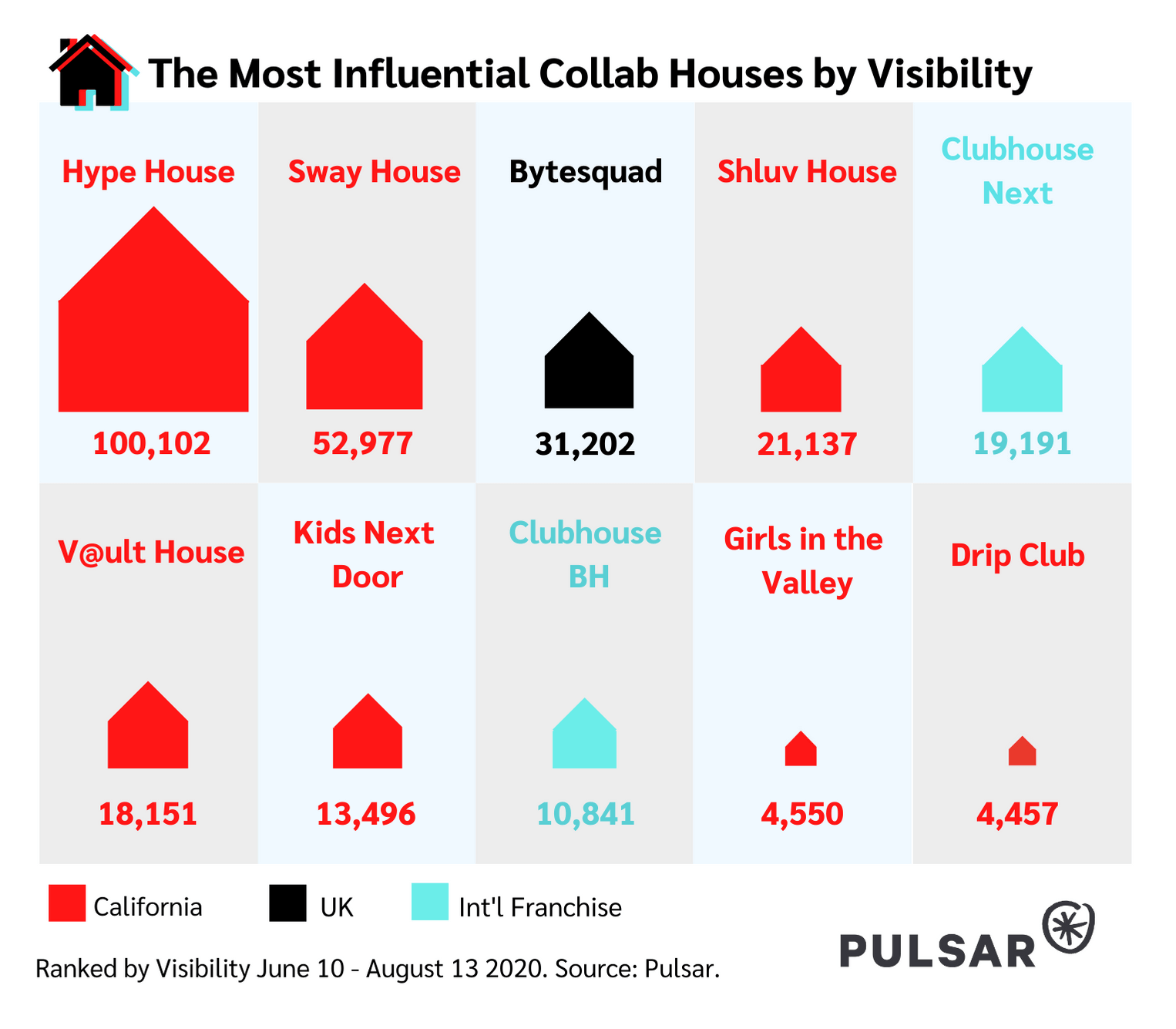 Let's learn a bit more about each top 10 house, and about the top creators in each. 
Hype House 
@addisonre

it's the faces & stickers on the nails for me

♬ Money trees – aesthetix_editxx
Top Creator: Addison Rae
Unsurprisingly, Hype House comes out top. Not only is it the house with the most members, it was also one of the earliest movers in the space, as well as being home to some of the platform's most recognizable personalities, Addison Rae. 
In recent months, however, the house has started to unravel with comparable speed to which it formed. Founding member Daisy Keech defected, while, in a massive loss to house kudos, sisters Charli and Dixie D'Amelio split over the summer, complaining that the house was being run like a 'business'. 
Similar noises have gathered around top creator Rae. Hype House will hope she sticks around, if they're to avoid being overtaken by…
Sway House
Top Creator: Bryce Hall 
Sway House might sit second in the ranking for impressions, but they've made a push for number one in the notoriety stakes lately by throwing a very unsocially-distanced party at their residence. 
The house might not be the only one to have done this — Hype House invited YouTuber James Charles to another lockdown-defying gathering — but the potent fusion of reality TV stars, strippers dressed as police and then the prompt arrival of actual police has prompted speculation that the local authorities may cut off essential utilities to the house. 
Presenting yourselves as the bad boys of TikTok makes sense right up until your internet connection goes down. 
Bytesquad
Top Creator: Shauni Kibby
In case the names Shauni, Loz and Monty weren't clue enough, Bytesquad is the UK-based answer to a movement that's almost entirely rooted in LA.
It's not just the rainier backdrops that set them apart, though, with videos of top creator Shauni King tending more towards how-tos and pop science (although the dance-along videos remain a non-negotiable staple). 
Shluv House 
@justmaiko

THANK YOU FOR 25M💙 WE BACK BABYY🤪 @itsjonathansworld
Top Creator: Michael Le
Each of the houses attempts to position themselves as a 'family' of sorts — which makes sense, given the success that creators like the D'Amelio sisters have had in leveraging their actual flesh-and-blood connection. 
In this case, however, it's shades close to reality. That's because founder Michael Le inserts his much-younger brother Jonathan into many of his videos for added cuteness-factor. Thus far, it seems to have worked — his account is responsible for the platform's single most-viewed video — but his own impressions have taken a dip as he pivots towards heartfelt appeals and more naked advertising. Regression to the mean, or a sign that breaking away from set personas can be hazardous on TikTok? 
Clubhouse Next 
Top Creator: Ahlyssa Marie 
The Clubhouse 'brand' is looking to go global, an ambition only partially stymied by the coronavirus. Many of the creators on the roster of both Clubhouse BH and Clubhouse Next are also involved with Clubhouse Explore, a 'roving' house that recently visited Tulum, Mexico, with Hawaii, Bali and Reykjavik in sight.
LA may have been where it started, but TikTokers' ambitions are international.
@devvyyy_

not me almost knowing vinnie out😭 @vhackerr @terinjoseph
Top Creator: Devyn Winkler 
Run by influencer marketing agency Six Degrees of Separation, the [email protected] House collective is one of the houses that shades closer to manufactured pop group than a bunch of creators pooling audiences and ideas.
Devyn Winter is the house's leading light, with only Mariana Castano (thatwhitelatino) getting anywhere near her numbers. Like many of her fellow 'tokkers, she's ready to speak up on issues of social justice, the black power fist on her profile picture being the most obvious instance of this. 
Kids Next Door 
@beasteater

How would you react…💀😩 @marcusolin (read bio)
Top Creator: Stephanie Margarucci 
Neon dye jobs and in-house relationships are the order of the day for The Kids Next Door.
Everything from the house name to the Fairly Oddparents in top creator Stephanie Margarucci's profile nods to cult kids' TV, a cutesy aesthetic at odds with the internecine feuding that culminated in the ejection of Jesse Underhill. 
Clubhouse BH 
Top Creator: Daisy Keech 
Clubhouse BH was formed by erstwhile Hype House-r Daisy Keech, who — with her skits, TikTokker boyfriend and Bang Energy partnership — might as well be from TikTok central casting. 
The 'BH' in the name might refer to Beverly Hills but, just like it's cousin 'Next', this is a house with one eye set on world domination. 
Girls in the Valley 
@its_nupur

This is what it's like living in Bella thorn's (girls in the valley) content house.
Top Creator: Nupur Sharma 
All-woman collective Girls in the Valley are one of the newer names on the list, meaning that they formed just in time for lockdown to turn their new collab house into an admittedly quite deluxe isolation zone. 
Having come through this, however, the house will hope that the Disney connection of house member — and, incidentally, owner — Bella Thorne will open up opportunities not available to rival houses. Legacy media isn't the be-all and end-all in a TikTok house, however, and it's actually rising star Nupur Sharma who holds the mantle of Girls in the Valley's top creator. 
Drip Club 
Top Creator: Abel Carden 
An identical twin is a godsend when it comes to creating bitesize content that's either comedic or built around musical routines. Sharing an account, however, means limiting potential for engagement, which might be one reason why the well-established Spence Twins aren't able to help top creator Abel Carden lift Drip Club up from the canvas of our top ten.  

How the Top 10 Houses Post
So what trends do we see emerge by looking at what and how TikTok's top houses and star users are posting?
Quality over quantity
On the one hand, Hype House posts the most. On the other, their number of posts per member are actually relatively low — certainly when compared to more trigger-happy houses like Bytesquad and The [email protected] House.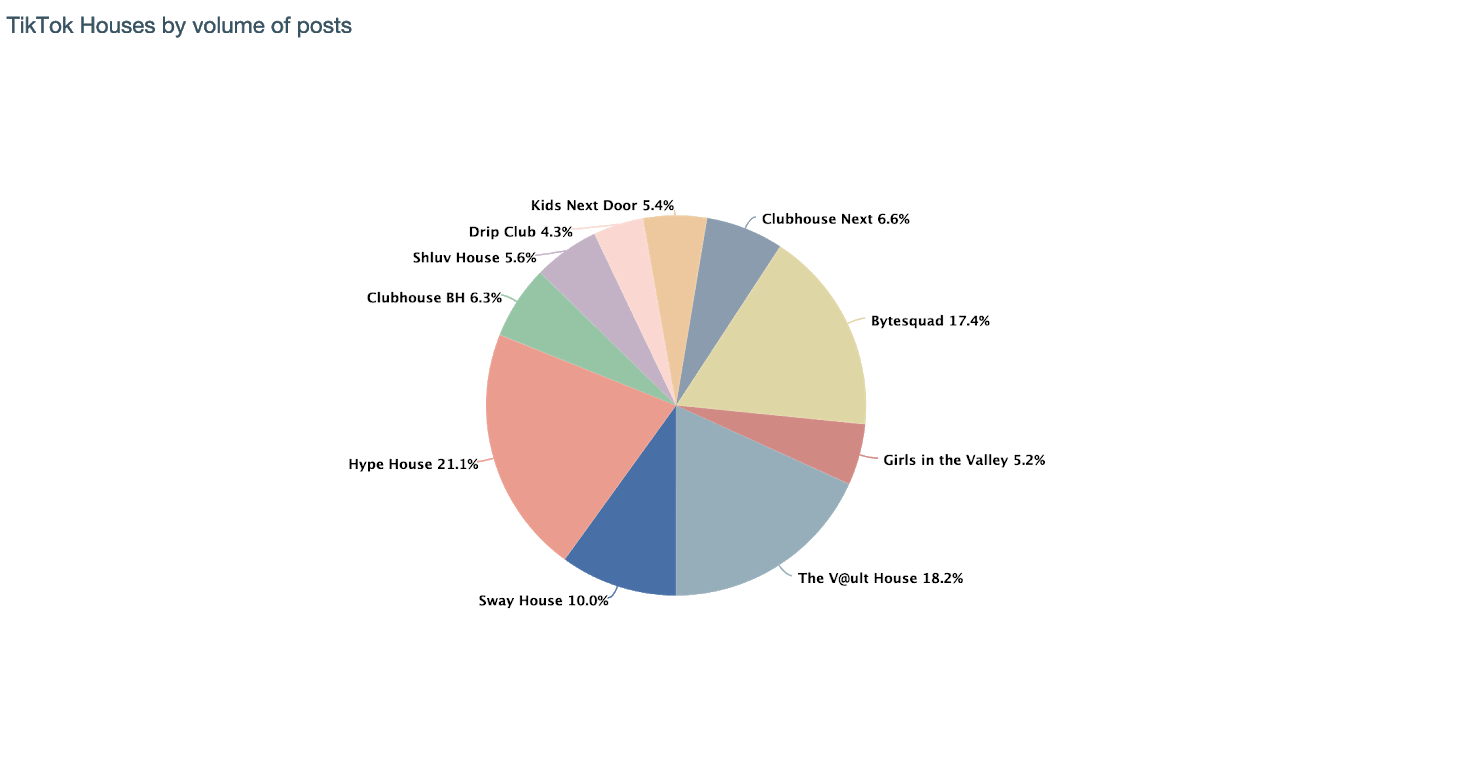 This more-is-more approach massively helped the UK challengers, but Shluv house's similar ranking resulted from their posting around 5% of all TikToks over the period. There's no formula for successful posting, although having the last name D'Amelio helps…
The same few names dominate top-performing posts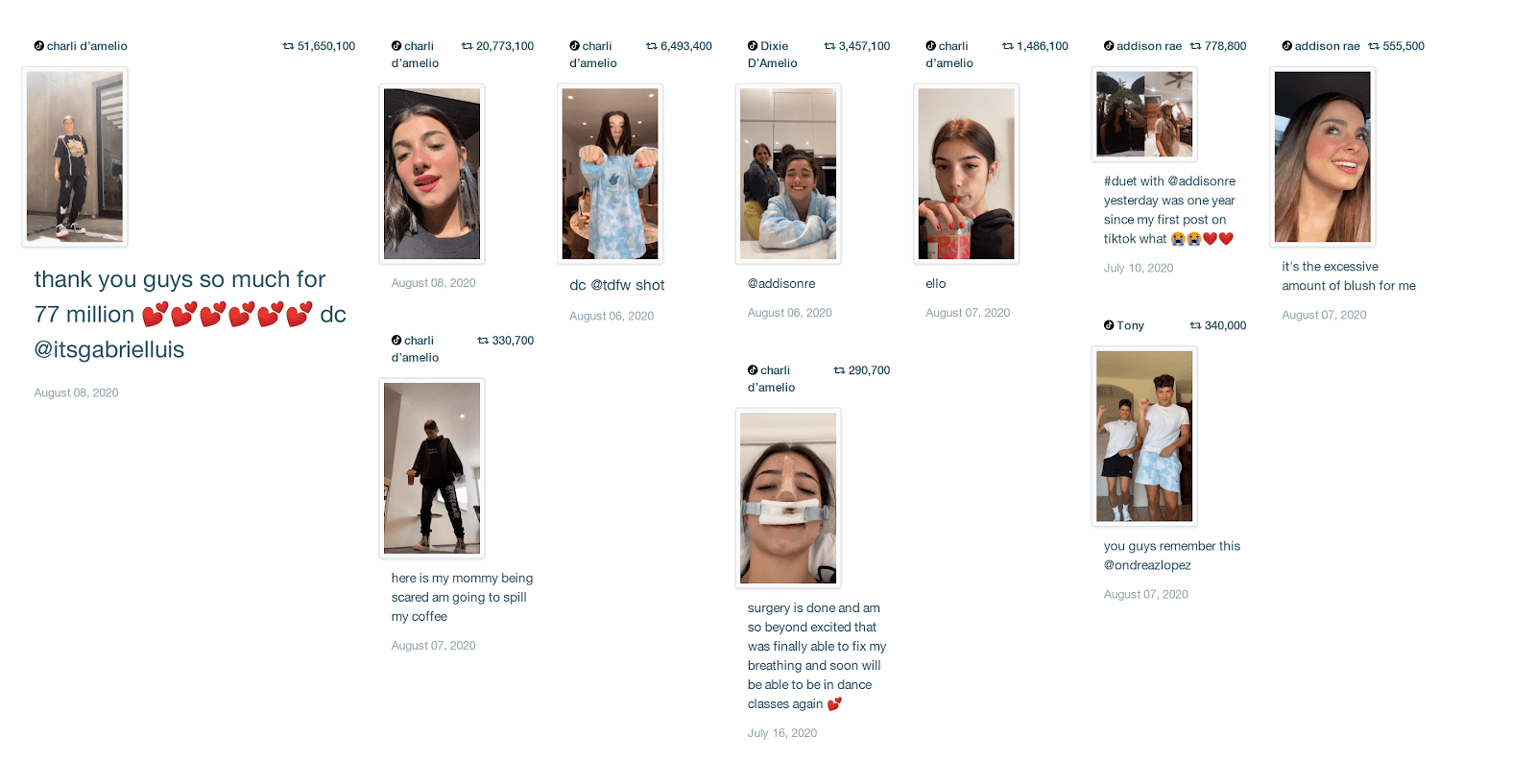 For all that TikTok is associated with youth and dynamism, a certain hierarchy appears to hold sway with regards to best performing posts. Looking at the output of current and former house members across the summer, Charli D'Amelio accounts for a significant number, a hot streak that saw her overtake onetime Hype House housemate Addison Rae. 
One-off entries from more minor TikTok nobility, Tony Lopez and Dixie D'Amelio, only reinforce this sense of dominance. Clearly, personal branding has come to dominate TikTok far quicker than it did in other social platforms. 
Tried and tested Formats 
Breaking down the most regularly occurring formats, as labeled in the video captions, helps us discern 3 main types of content.
Firstly, there are the TikTok-specific words: plenty of references to 'dance, but also to 'dc' or 'dance challenge', a content type that leans on the platform's function for overlaying pop songs.  
Second, there's the instructional, which inform audiences how to experience a video, ie: 'watch to the end' or 'read bio'. 
These are often included to direct attention towards a commercial element, which accounts for the third type: the more business-like language we see on TikTok, such as 'CEO' or 'ads'. Energy drink Bang Energy is the paid partnership that most regularly emerges across the channels of house creators.
Placing money in property was always a very sensible bet, while placing it in tech the most ripe for reward. In TikTok Houses, we see a little of both, as well as a youth-oriented movement that interacts with users and devotee fans in entirely original ways. 
––––––––
If you'd like to see this dataset first-hand, or understand how audiences on TikTok talk about topics which matter to your organization, you can request to book an appointment with one of our specialists by filling out the form below.