Christmas Ads 2020: Controversy overtakes festivity (of course)
The debate around representation means food & shopping barely register as topics
Supermarket Christmas ads have become an entrenched part of the UK festive experience, with marketers working all year round on the anthropomorphised animal that will open hearts and wallets.
the best thing about the wait till Christmas is the John Lewis adverts. you cant tell me im wrong

— Amy🖤 (@yeahitsamy) November 15, 2020
This year, however, was always going to be different. And that's been reflected not only in the creative decisions taken by brands – more grounded, less cutsey – but also in the wider public reaction, which has barely touched on either food or shopping, and instead centred around different attitudes to representation on screens. 
Sainsbury's commissioned the ad agency Wieden & Kennedy London to produce a trio of ads that featured snatches of phone conversations, reminiscing about previous Christmases over apparent archive footage.
Just the thought of home-cooked gravy, poured over a piping hot Christmas lunch, is enough to get us excited 🍴🏠🌟

Food is Home. Home is Christmas.

Sound on for all the festive feels 🔊 #SainsburysXmas pic.twitter.com/qkCGXa8rGz

— Sainsbury's (@sainsburys) November 14, 2020
That the first of these adverts featured a black family triggered a rush of conversation that appeared out of all proportion to the piece's homely tone, titled 'The Gravy Song'. Criticisms of 'wokeness' were reported across national newspapers, which were then themselves subsumed in a wave of support for Sainsbury's across social media. 
This saw the brand account for almost twice as many mentions as its competitors combined.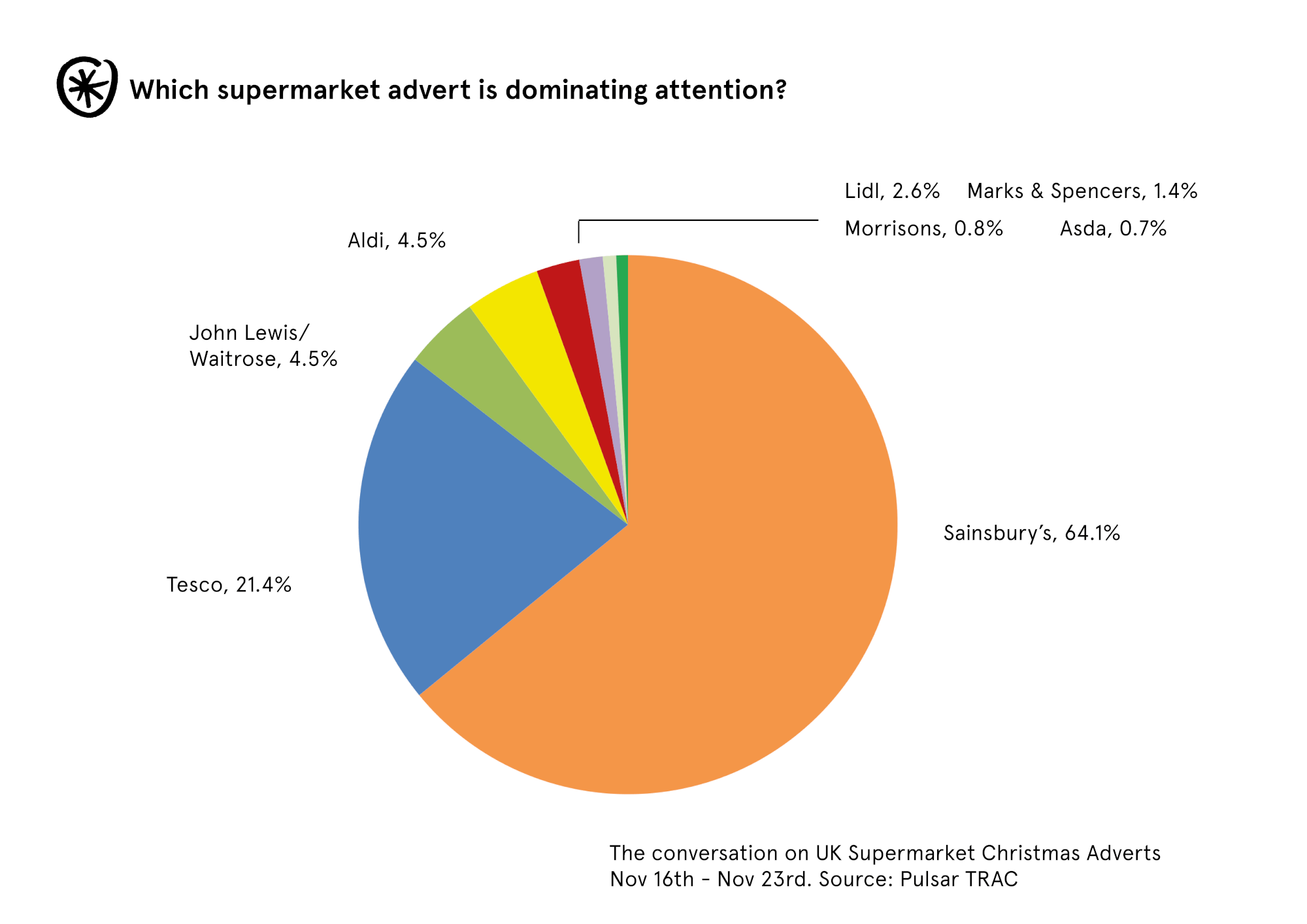 For all that race has emerged as the preeminent topic, however, this is not indicative of a debate evenly contested across online platforms.
Yes, individual posts criticising Sainsbury's have attracted high levels of engagement:
This Sainsburys Ad drama.
The only people I feel sorry for is, again, the further shop workers who will be made redundant after Sainsburys sales plummet, again, after Sainsburys plays, again, at being some woke corporation again.
Otherwise it's irrelevant.

— Lynn Glass (@GlassCorridor) November 18, 2020
But all of the online communities leading the conversation around the supermarket identify as being either BLM or liberal.
Critical posts are not only far fewer in number, but also less likely to occur within, and be magnified by, coherent online groupings. With less antagonistic material to address or quote tweet, users tend to make more general reference to 'racists' or 'people'
Don't know why so many people are upset about this advert. Clearly Sainsbury's used the type of family that is likely to visit all the aisles in the store…yes, that includes the aisle with seasoning and herbs 🌚

— machine gun Kele (@kelechnekoff) November 16, 2020
Additionally, the communities conducting this conversation are more than just politically aligned — there is also significant demographic overlap, with participants skewing younger and overwhelmingly female. 
But what happened to John Lewis, established in recent years as the gold standard?
With millions of consumers impacted by the pandemic and its economic implications, John Lewis and Waitrose exchanged the miniature mythologies previously created around dragons, monsters or old men on the moon – celebrating instead the universality of love.
But a share of voice of only 4.5%, and in the week following on from a much-trumpeted release, suggests an unfulfilled public hunger for escapism. 
Wasn't too moved by the John Lewis advert this year. I love the sentiment behind it, gotta love a bit of love. But it didn't strike a chord in my heart like it normally does. However I love this message and idea behind it pic.twitter.com/YrjQWdSJg0

— 𝓛𝓪𝓾𝓻𝓮𝓷 🦋 (@LaurenOlive01) November 22, 2020
Tesco, meanwhile, had reason to feel ambivalence about coming in second.
And that's because the response that greeted the statement of black model Vanessa Vanderpuye, who claimed to have been cut from the brand's advert, provoked a flood of universally negative posts. 
So Tesco cut out a black couple in their Christmas advert due to fear of backlash! This shows their company ethos on racial equality/representation is superficial and dependent on how they can use it to profit!

— 𝒥𝑒𝒶𝓊𝓍𝒶𝓃💎 (@J_eaux) November 18, 2020
This outlines the enormous influence of the Sainsbury's advert, which has not only dominated conversation but also preconditioned the response to other industry efforts.