New on Pulsar CORE: a bird's eye view of how your brand is doing
Monitor your content performance & brand audience growth, at a glance
Social, content and brand marketers use Pulsar CORE to monitor how their content is performing and how their brand audience grows across owned channels: from Instagram, Twitter, Facebook, and Linkedin all the way to measuring the impact social campaigns are bringing to their website, thanks to our Google Analytics integration. 
But with deep brand portfolios and so many channels, sometimes what you need is a full picture of how an entire brand is performing.
In one of the most significant updates to date, we're releasing the Brand Overview in Pulsar CORE: one complete dashboard that gives you a bird's eye view of audience growth and content performance, across all brand channels. Here's what it looks like 👇 

Yep, we did obscure some of that Google Analytics data 😉
AI-driven Content Strategy & Assessment 
This one 'master' dashboard for your brand analytics offers you a complete, strategic view, allowing you to make better decisions on how to optimize your social strategy and grow your audience.
Here's a few things you can do with it: 
Rank channels by size & growth to see which profiles have most potential (the largest profiles might not be the ones growing the most)
Visualize how different posts are affecting audience growth on each channel, to decide where to focus on
Leverage our recommended content AI to understand which copy and visuals work best, the best channel to post on, and even the best time of day
See and compare your Top and Worst performing content across all your profiles in one view
Compare how paid vs organic content are performing and make informed decisions on how to distribute your spend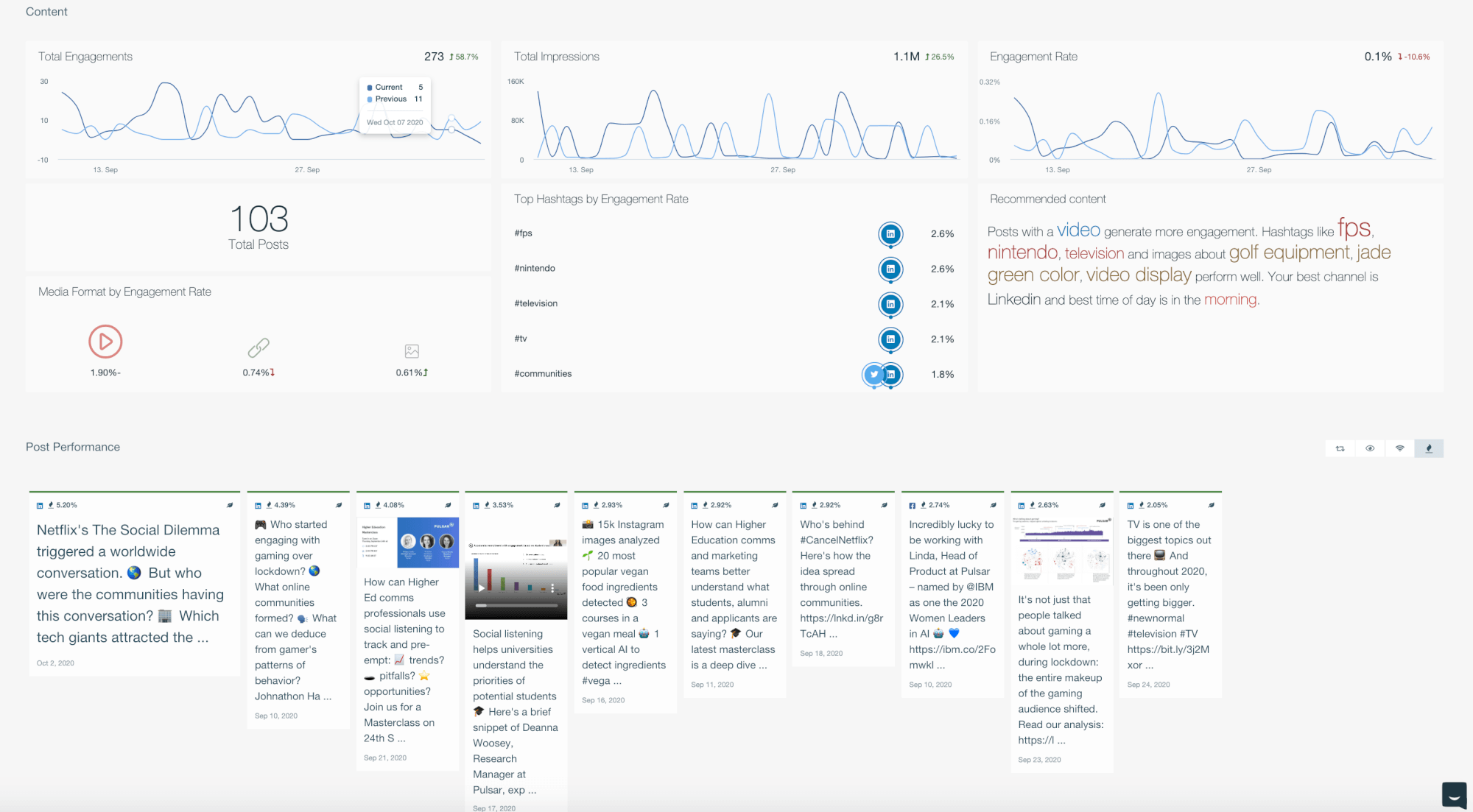 Easy Reporting & Tagging
The Brand Overview also simplifies the process of reporting on key brand metrics, content and team KPIs, while also making it easier to perform key actions in your social media management workflow like bulk-tagging, or exporting. 
Here's a few more things you can do: 
Get a single overview of all your brand content and audience KPIs, such as growth, engagements, engagement rate, impressions and visibility
Export the entire brand overview into an aesthetic and intuitive PDF, pulling together all the key information about your performance – no more fiddling with several exports per profile
See all your brand posts – across all channels – in one view, and bulk export them into an Excel spreadsheet in a single click
Easily bulk tag all your brand posts in one view, rather than profile by profile. This means you can now group your posts across all your channels in one click.
If you have multiple campaigns running across different channels, you can now tag them all at once and quickly assess the performance of your campaigns.
What people are saying about CORE
"Pulsar CORE has played a significant role in helping us shape our data driven strategy, contributing to us being named the best Instagram in UK retail."  — Darren Campbell, Chief Product & Marketing Officer, Dr. Martens
Read the case study
Competitor Monitoring, Benchmarking & Ideas
Last but not least – CORE allows you to monitor competitors and other public brands, with the ability to group them into brand-sets. 

The Brandset view on Pulsar CORE
With this update, you can now: 
Have one dashboard to track your competitor's overall audience size and growth for benchmarking
Understand on what channels they are investing the most, and understand the channel-level strategies they are implementing
If your competitors outperform you, understand how and with which posts they are driving the most engagement or visibility
Quickly spot any new content opportunities or untapped areas, and decide which will best reward your allocation of resources
And this is not limited to competitor analysis! You can track any public brand with a business profile as they share across Facebook, Instagram and Twitter. Here at Pulsar marketing for instance, we've used Pulsar CORE to analyze the virtual audiences for NYC Museums, top news organizations' social strategies, candidate social performance in the last UK election, and more. 
Want to see this in action? See how Pulsar CORE can help your content and brand strategy by getting a free tour with one of our specialists 👇