How to listen to Reddit Communities: Personal Finance Subreddits
The types of conversation you'll find in personal finance Reddit communities
Reddit is huge, and much more mainstream that many people imagine: ever since launching in 2005, the platform has been growing constantly and is now the 6th most visited website in the United States.
Its 430 million active users congregate into Communities (also known as a Subreddits) — large, heavily moderated forums where members surface, create, post, upvote and debate content focused around topics like GIFs (20.5m memebers), powerwashing (1m), medical conditions such as diabetes (63k), Marvel universe memes (576k), and sarcophagi (6.8k).
 
There are over 130k active Reddit communities, and their influence extends well beyond reddit.com. Reddit is an upstream platform where new content and behaviors emerge, get 'vetted' within each community, and then propagate throughout the Internet. Just on Twitter, a constant stream of about 100k posts and mentions of Reddit content appear each day. 
Many Communities have earned a cult following outside of the platform: take AITA ("Am I The Asshole"), a community of 2.3M dedicated to reflecting on your own behavior. The most popular life stories and everyday moral dilemmas surfaced in this community are piped over to a 400-thousand-follower-strong Twitter account for users to endlessly debate (sometimes meta-debates on the debates happening on Reddit).   
AITA for getting mad at my wife for having a secret savings account? https://t.co/QAfitU9b3T pic.twitter.com/JQhYIR9NpH

— Am I the Asshole? (@AITA_reddit) August 17, 2020
Many others turn to Reddit for legal advice. This community contains 1.3M members who use the crowd as their own personal legal advisors on disputes with companies and individuals, and which has also spawned a very popular account on Twitter surfacing the 'best of' legal Reddit:  Legaladvice_txt.
Each community has its own language, traditions and inside jokes: one recurring legal theme/meme, for instance, revolves around about neighbors cutting down trees – something that has very expensive legal consequences in the US, giving rise to the dedicated Tree Law community. 
A neighbour of mine cut down ~20 trees of mine while I was visiting my mum this summer. When confronted, she laughed in my face, and said 'it's not like you can do anything'. Is there anything I can possibly do so I can get any money for the trees? (self.legaladvice) pic.twitter.com/rlCcbb2mei

— r/LegalAdvice.txt (@legaladvice_txt) August 17, 2018
Others are more visually-oriented – from GIFs and memes to Data is Beautiful, a community that shares user-generated data visualizations.
[OC] A map of my School's network as "seen" from my dorm room from dataisbeautiful
Like any social platform, Reddit has a dark underbelly, and a particularly vocal one at that, given the platform's policy on anonymity. But that anonymity is the same feature that allows a default of 'there are no stupid questions',  and so ensures the blossoming of very passionate communities, many of which become crowdsourced expert hubs.
Work in progress: First time installing 1) Navien Combi-Boiler & 2) Inside a roughly 4 Ft Crawl Space. I'll be bracing everything properly, but how does it look so far guys? Thanks for any input from Plumbing
So Reddit is an interesting platform where great content originates. But how can you use it to understand the audiences you want to reach, and create messages that matter to them? 
Analyzing Reddit communities 
Pulsar has had Reddit social listening capabilities for years, but in August we introduced a whole new way to understand what is being said on this humongous platform: Panel Searches for Reddit Communities. 
This opens up an entirely new avenue for analysis, since users self-organize themselves according to strong signals of interest and affinities. The subreddit becomes, in effect, a focus group.
We decided to take that for a very simple test ride, looking at some of the conversation around personal finance on Reddit.  
How we did this
We identified 19 relevant Reddit Communities, from r/PersonalFinance and r/CreditCards to r/MilitaryFinance and r/StudentLoans. We then set those up as a panel search, listened for a few weeks, and collected almost 20,000 posts (TRAC allows us to also access historic data).
Learn more
What conversations are taking place on Finance Subreddits?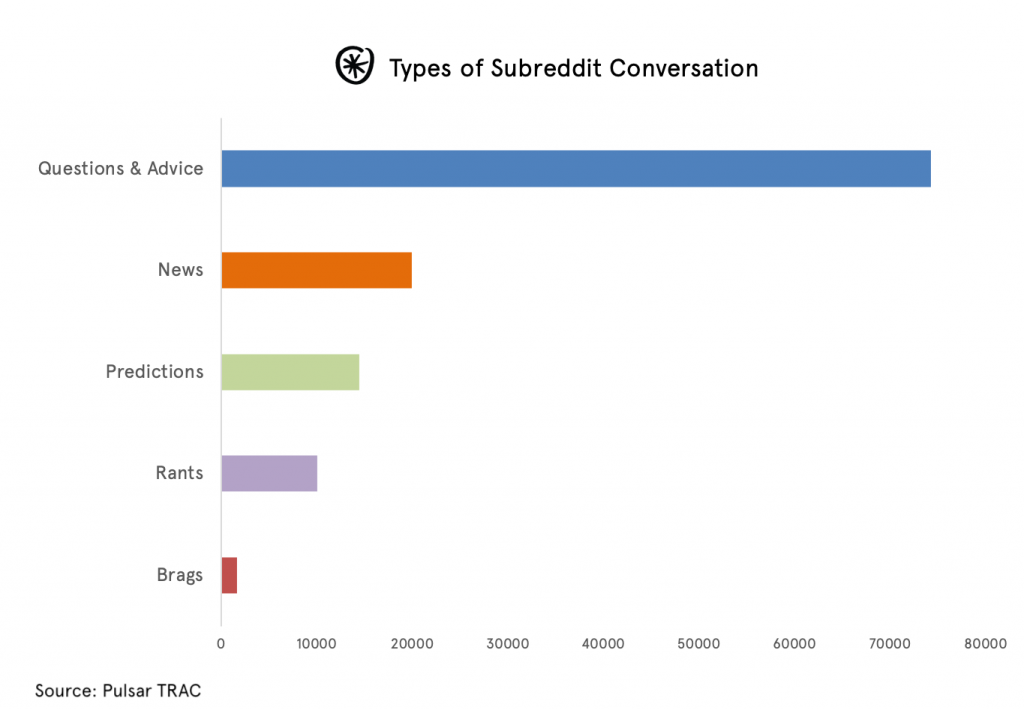 Questions & advice account for as much conversation as the other topics put together, with users happy both to give and to receive advice on all manner of different topics. This counteracts any assumptions of sharp-elbowed competition: on Reddit, there's plenty to go around. 
In terms of topics discussed, investing beats out jobs and rent as the single largest topic:
And stocks emerge within that as the most popular vehicle for investment, with 401k, IRA and other funds owning a similarly sized chunk of the conversation. 
We've seen an explosion of interest in trading over the pandemic, leading to the sudden elevation of platforms like Robinhood as young investors in particular become active participants out of boredom, status and a lack of other income streams. These ideas were explored recently, utilising Pulsar data, in the Not Boring investment newsletter.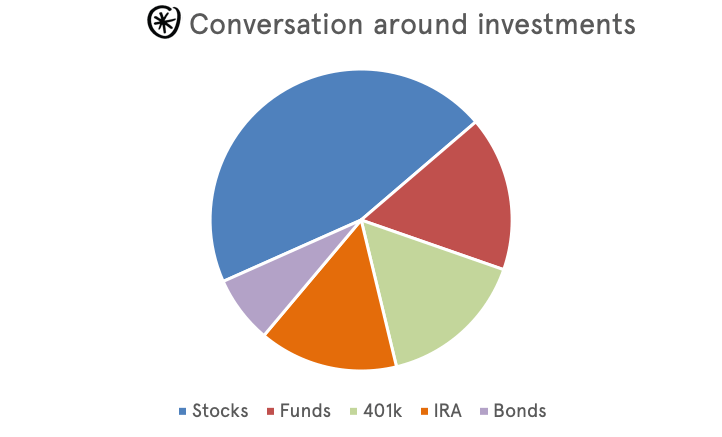 Reddit's anonymity has seen the platform sometimes associated with online trolls, while the image of the profligate, profit-before-all stockbroker is a common feature of popular culture. At the intersection of these, however, we find not a dark web The Wolf of Wall Street, but rather an engaged online community in which financial literacy is spread by mentor-type figures. 
What kind of communities do we see develop?
This helping-hand approach is epitomized by the movement around Financial Independence, or FI, the central idea of which is having enough income to pay living expenses without being dependent on a salary or individual. Mentions of the phrase account for over 5% of total posts, creating a through line that runs across multiple different subreddits. 
And this goes beyond tips on interest rates and saving strategies, with a highly engaged community eager to support one another across all kinds of life decision.

Clearly, the same anonymity that creates the conditions for open, unguarded conversation also prevents figures within the space from building personal brands in the same way they might across other social platforms. However, we still see the emergence of influential voices within the wider conversation, who treat the individual threads as their own personal classrooms, and the subreddit's denizens as eager pupils.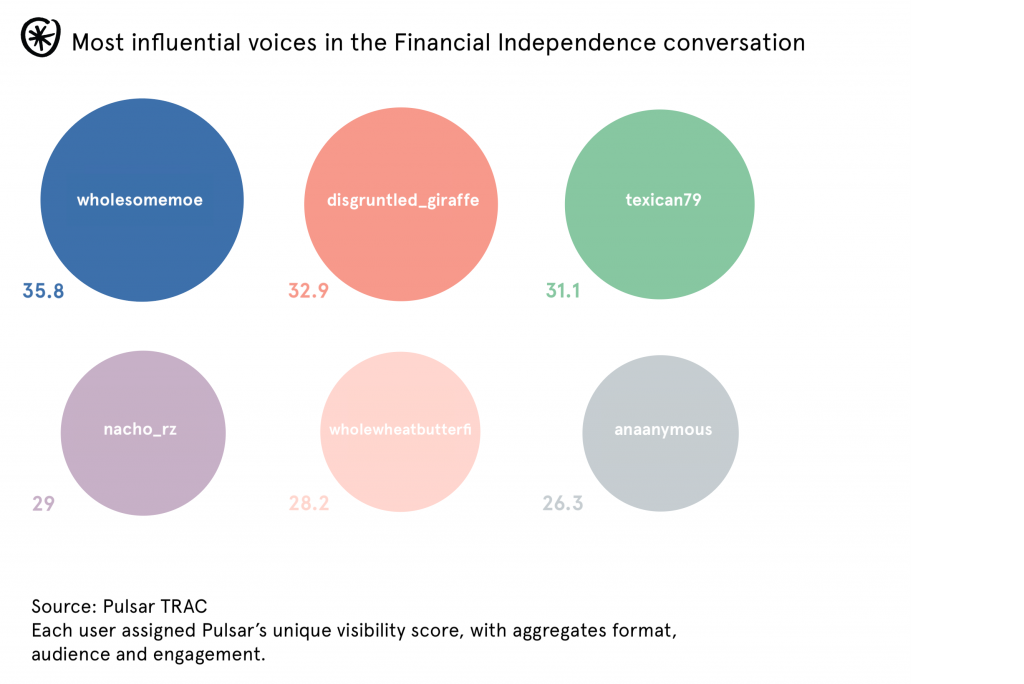 We also see levels of conversational volume remain typically steady across the period studied, with few spikes or dips except for a regular cooling off of interest on Sundays. This suggests a consistent level of interest and commitments on the part of participants, and therefore a community with a high degree of durability and stability. 

Reddit Communities are invaluable for what they can tell us about specific, interest-based communities. In this particular instance, it tells us that the enormous personal finance conversation plays host to even smaller, more specialized communities, each with their own language, traditions and concerns. 
In highlighting the extent to which overall conversation revolves arounds questions and advice, it also underlines Reddit's capacity for disseminating information at speed. In spheres where specialist information is readily offered and eagerly received, the right idea can catch and take flight.
Learn more about how Reddit listening can help you connect with your audience: book a meeting with one of our specialists 👇