How are the presidential candidates being spoken about online?
We explore how the public speaks about the candidates and policy issues – and how this compares to News Media coverage
In another inauspicious year for pollsters, we looked at the online conversation around Donald Trump and Joe Biden to discover:
Who dominates online discourse? 
How is public attention split between different policy issues? 
And how does this compare to coverage within the News Media?
Previously, we partnered with TNW to provide this data in mid-October. Back then, the New York Times' disclosure of the President's tax returns was the leading issue across online channels. It has not, however, remained front of mind amongst either the electorate or the media.
So what has? Our analysis, covering the period up to election day, flagged up a few indicators that the blue tsunami might have been overstated. 
While Trump remains dominant across online conversation, his hegemony now comes with a notable exception: foreign policy. 
Ceding this ground to Biden, however, is a boon for the sitting President, given that the vast majority of such posts suggest a complicity between the Democratic challenger and foreign powers. 
It's an insinuation that's being concurrently spread by the public: 
Breaking:

Joe Biden is up 1000 points in the Communist China province polls.

— Machiavelli (@TheRISEofROD) November 2, 2020
Conservative commentators:
BREAKING: New polls showing Joe Biden winning nearly every province in China!

— Brigitte Gabriel (@ACTBrigitte) November 1, 2020
And the President himself: 
Joe Biden must immediately release all emails, meetings, phone calls, transcripts, and records related to his involvement in his family's business dealings and influence peddling around the world—including in CHINA!pic.twitter.com/H8RSR1tljV

— Donald J. Trump (@realDonaldTrump) October 15, 2020
Within little more than a month, posts that explicitly mention both the onetime VP and either foreign policy or else a major overseas power account for 2.2 million individual mentions.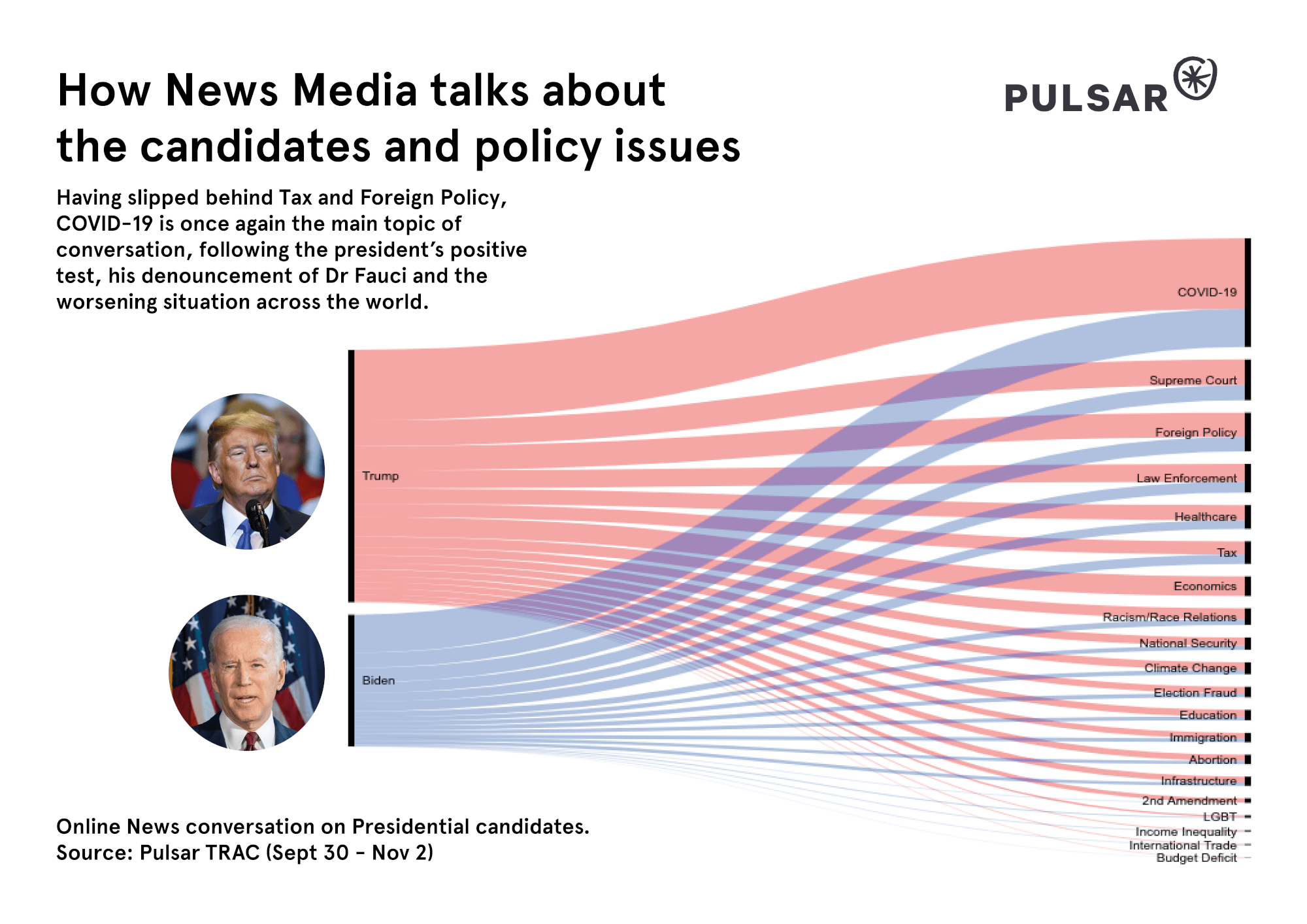 In the case of the News Media, meanwhile, we see their attention – previously split relatively evenly amongst leading issues – coalesce around COVID-19 in the weeks leading up to the election. 
In part, this has been generated by a series of newsworthy incidents, not least Trump's own diagnosis. 
Did Trump fake his COVID-19 diagnosis?

Many people are saying that he did.

— MURRAY🧢🇺🇸 (@murray_nyc) October 19, 2020
At the same time, mentions of COVID-19 have become embedded in election coverage and literature, with outlets underlining both the unique challenges posed by conducting an election during a pandemic, and also the expectations of leadership that will fall on the eventual winner.