Bernie Sanders sees explosive growth, pulls ahead of the pack in our Primary Index 🇺🇸
On his own, Sanders drove a larger volume of online conversation than the next two candidates combined
Audience interest in Bernie Sanders is skyrocketing, and the Vermont Senator has pulled firmly ahead of all of his rivals, according to our Primary Index.
As Democratic Primary voters gear up to vote in South Carolina on Feb 29th – in the last primary before Super Tuesday– online conversation about the candidates is growing, and Sanders' share of it only getting larger: on his own, the Vermont Senator drove a much larger volume of online conversation than the next two candidates combined over the past week.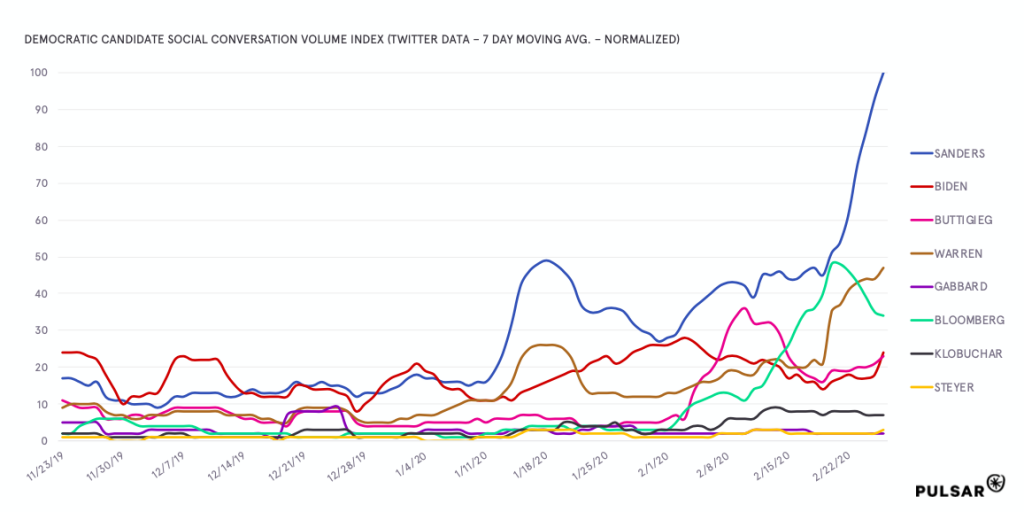 "Sanders continues to drive the most buzz and has again raised the ceiling of our index in the past week, hitting a new peak while leading on nearly all of our virality metrics," said Marc Geffen, VP of Research and US Strategy at Pulsar.
Elizabeth Warren, while nowhere near striking distance of Sanders, has also seen audience interest grow after her strong performances in the debates, and is now the second candidate driving the most audience interest. 
"Warren started to mount a comeback in the Vegas debate and has followed that up with another strong showing in South Carolina – her 125% week-on-week growth rate tops the field and puts her back in the top two in our buzz index for the first time since January," said Geffen. 
Joe Biden, after a good debate performance this week and amid expectations he'll win the South Carolina content, has managed to reverse his slide, but the data doesn't show him building momentum on a national scale.  
"Biden's buzz also jumps following the South Carolina debate – the first sign of recovery from a slide he's been on since early February – yet the numbers are not impressive enough to call it a substantial bump. Might be enough for him to win the state but we're not seeing the kind of growth or velocity that would suggest Biden's South Carolina performance is translating to game-changing momentum on a national scale" said Geffen. 
Michael Bloomberg's poor performance in the debates, on the other hand, has caused interest in him to drop.  
"Bloomberg is the only candidate to walk away from the South Carolina debate with a drop in buzz, a signal that, while his media blitz is gaining him ground in the polls, he's still fighting an uphill battle when it comes to public interest and likability across demographics," said Geffen.