The war seemed over: here are the least used emojis
How forgotten emoji found their supporters by being last
Sometime around July 2018, a vicious war broke out on Twitter amongst the least used emojis.
Users around the world started coalescing around each of the 4 least-used emoji at the time, 🚡 🚱 🔠  and 🔤, trying to save their favorite emoji from the shame of coming in dead last. 
After almost a year of struggle and now hundreds of days of subjugation (150 at the time of writing – now at 235), we can answer the question: which emoji will live in infamy and be known as the "least-used emoji"?
It was 🔤, also known as "input symbol for latin letters".
🔤 (Input symbol for latin letters) has been the least used emoji for 150 days

— Least Used Emoji Bot (@leastUsedEmoji) April 25, 2019
It spent 235 days languishing in last place in a ranking of the most used emoji on Twitter, along with its family 🔠 and 🔡 in third and second respectively, showing a sort of surrender of the whole clan to the other previously warring emoji fiefdoms. Indeed, when 🔤 surrendered its last place, it was to 🔠.
The downfall of 🔤 came after an all-out war broke out last year between 🚡 (aerial tramway), 🚱 (non-potable water) and 🔠 (input symbol for latin capital letters). Merciless factions supporting each of the three emoji banded together to use those emoji in as many tweets as possible, make the count shift, let someone else end up at the bottom, and then deride the new least-used-emoji.
Today, the least used emoji is Input Symbol for Symbols 🔣 and has been so for now for 130 days. 
The emoji rank-o-meter
The arbiter of the war is the crowd: an bot called Least Used Emoji Bot pulls in data from Emojitracker – an app that pulls in data (much like our social listening tool Pulsar TRAC does) from Twitter, and ranks emojis from most used to least used.
"At first I thought of tweeting out the least-used emoji excessively to try to sway the numbers — sort of a self-defeating concept," @LeastUsedEmoji's founder Jeremy told BuzzFeed News. "But eventually, I decided it would be better to take on an impartial, informational role."
The account went viral when the plight of the aerial tramway – which in July 2018 was languishing in last place – was picked up by the transit-memes Facebook group, NUMOT.
From there, war broke out between people tweeting to save the tramway and those who took the side of the former last-place emoji, non-potable water, and the new competitor for last place input symbol for capital latin letters 🔠.
WE GOTTA BOOST MY GUY 🚡. COME ON EVERYBODY LET'S SHOW AERIAL TRAMWAY SOME LOVE 🚡🚡🚡🚡🚡🚡🚡https://t.co/57TcBMfnyG

— Rodger Sherman (@rodger) July 19, 2018
The war intensified in late November, as the least-used emoji changed multiple times per day. For a short while during the 'battle of input symbol for capital latin letters', centrists began to emerge, trying to form a coalition:
Okay @PrismaSimon, I've taken some time to think about it and I propose that we create the Aerial Tramway Latin Input Symbol Alliance, or ATLISA for short (that worked out better than I thought) where we all endeavour to lift both from the bottom with the following conditions 1/?

— Penelope (@hatkid_) November 13, 2018
Centrists smh

— KennɅ̊n 🚡 (@KennanFrench) November 13, 2018
But both 🚡🚱 sides were so strong that eventually they neutralized each other, as all of the latin letters dropped down the chart (or in this case… up. The chart below shows the cumulative days spent at the bottom of the rankings).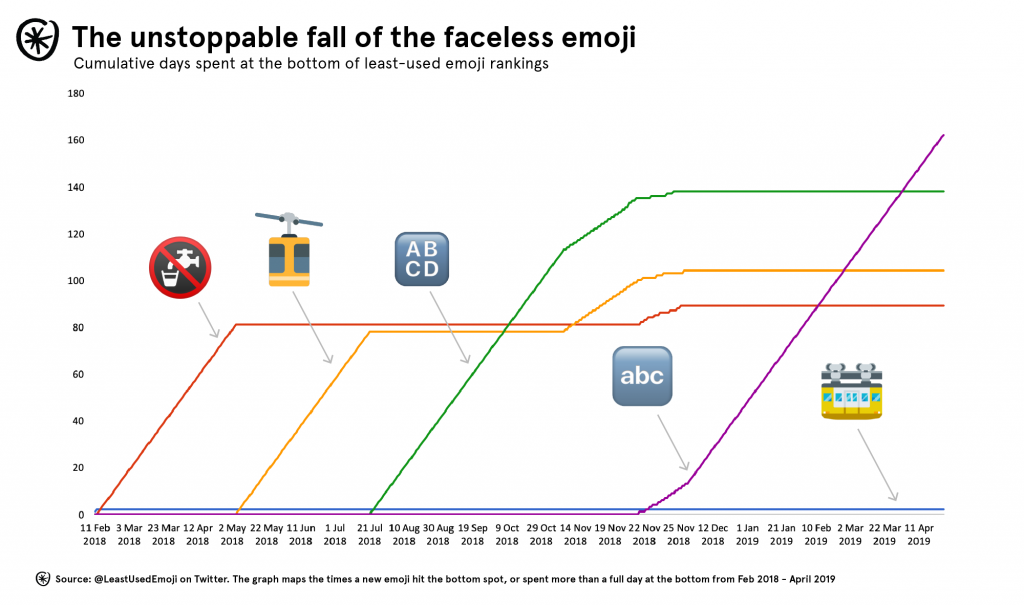 Who cares?
Least-used-emojis are least-used precisely because they are unremarkable – but any of them being anointed with the least-used status helped people personalize them and empathize with them, and turning those around the same ballpark as enemies to be taken down.  
Non-potable-water and aerial tramway came out winning partly because they were easier to anthropomorphize than the letters: both came to have a "face" that the latin letters never managed to achieve.
I think it's intrinsically less sympathetic than 🚡.

— vkap (@VJKapur) July 22, 2018
Emojis need a story. When you're up against the likes of 'cry laughing' (named word of the year in 2015), 'love' and 'recycling', it suddenly all falls into perspective.
The input letters or symbols have no faces, but aerial tramway and non-potable water are objects, and can have stories attached to them. Which might be why the boring letters emoji, that can have little attached to them have finally fallen to where they 'deserve' to be.
That is, until someone found a way to embody some meaning into 🔤, such as this clever riff on the Jackson 5 song. 
🔤
It's easy as, 1 2 3
As simple as, do re mi
🔤, 1 2 3
Baby, you and me girl
🔤
It's easy as, 1 2 3
As simple as, do re mi
🔤, 1 2 3
Baby, you and me girl

— supsup (@supsup987) July 17, 2019
The emoji tracker will still be watching.