Thrifting and the environment: an Instagram hashtag #lovestory
Interest in sustainability and thrifting is growing in lockstep: but are they related?
Over the past few years, the thrifting and sustainable fashion conversations have both been growing. 
This interest is showing up in both search data and social data for thrifting…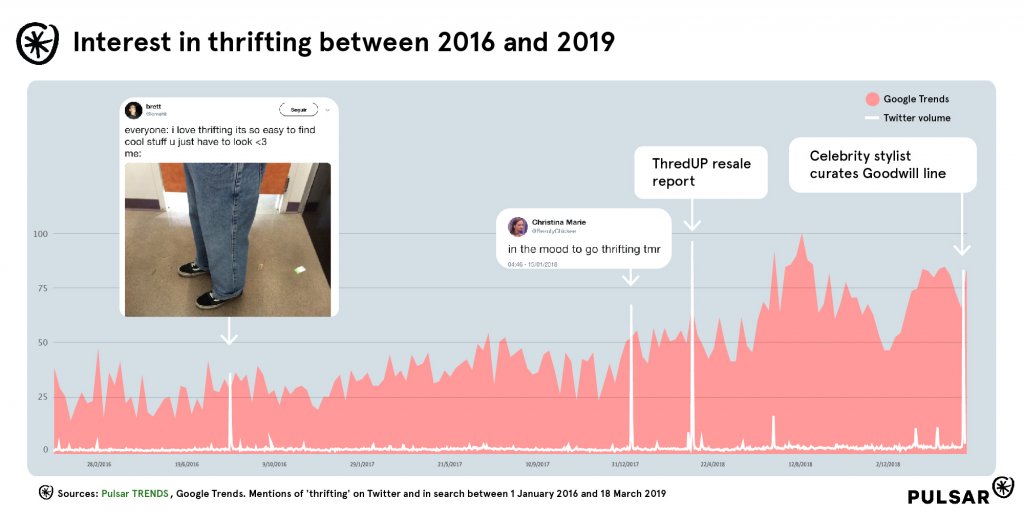 …but are the two connected?
Businesses seem to think so: 77% of millennials prefer environmentally conscious brands, and 35% are likely to switch to thrift for ethical reasons, according to a report by resale marketplace thredUP. And a study by e-commerce platform Lyst showed a 329% increase in searches for second hand luxury by ethically-minded consumers between 2017-18.
And lo and behold sustainable fashion is growing in a very similar –errr– fashion: slowly, and steadily…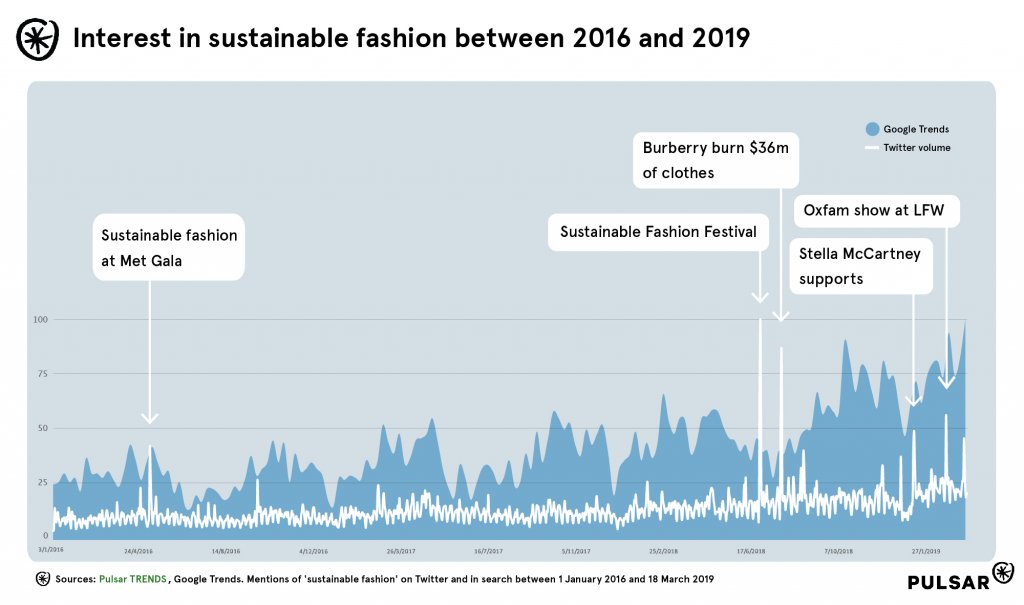 Since we recently reinstated Instagram hashtag tracking on our social listening tool TRAC, we decided to dig deeper on that social data source: after all, the clothing and fashion conversations tends to happen on Instagram.  
We singled out 8 #hashtags and ran them through TRAC, with the goal of understanding:     
what people were posting about by applying our apparel Vertical AI
the communities gathering around these hashtags
and whether the sustainability and thrifting ones overlapped.
Here were some of our findings: 
Sentiment around both thrifting and sustainable fashion is overwhelmingly positive (79%): but feelings like 'proud' generally appear alongside sustainable fashion tags, compared to 'confident' on thrift tags
The two audiences meet in the hashtags for marketplaces like thredUP and Poshmark, which show an overlap where thrifting for environmental reasons is rising as a trend
The most common items for thrifters according to our vertical AI are sweatshirt, hoodie, t-shirt, whereas for sustainable fashion fans they include: bracelets, necklaces, cocktail dresses
Our hashtag #ThriftHunting methodology
We picked 4 different kinds of Instagram hashtags, associated with marketplace communities (#SecondHandFirst #PoshStyle), sustainable fashion (#SustainableFashion #FairFashion) and thrift (#ThriftFinds #ThriftFashion), with a couple of hashtags that seemed to live at the intersection of the two (#BuyLessChooseWell #SlowFashion) for good measure. 
This was the share of voice for each hashtag: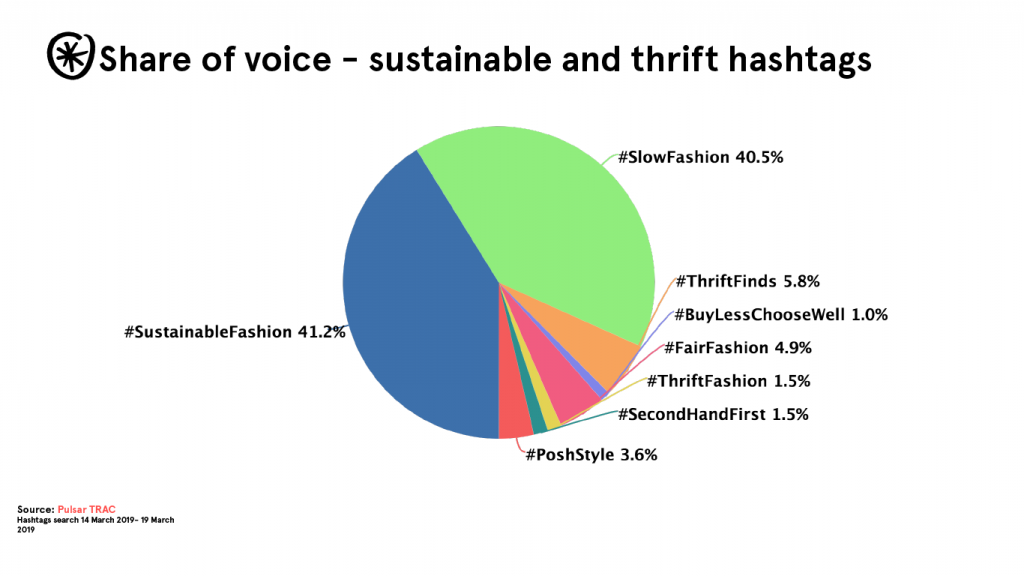 The sustainable fashion audience
The sustainability hashtags we picked defined a much broader Instagram conversation than the thrift ones. #SustainableFashion has over 3 million posts to date, and was the most used tag over the period we studied.
People using the #SustainableFashion tag make their interests clear – they also use #SlowFashion, #EcoFashion, #EthicalFashion, but they are also very interested in overall #Fashion, which appears in 22% of their posts.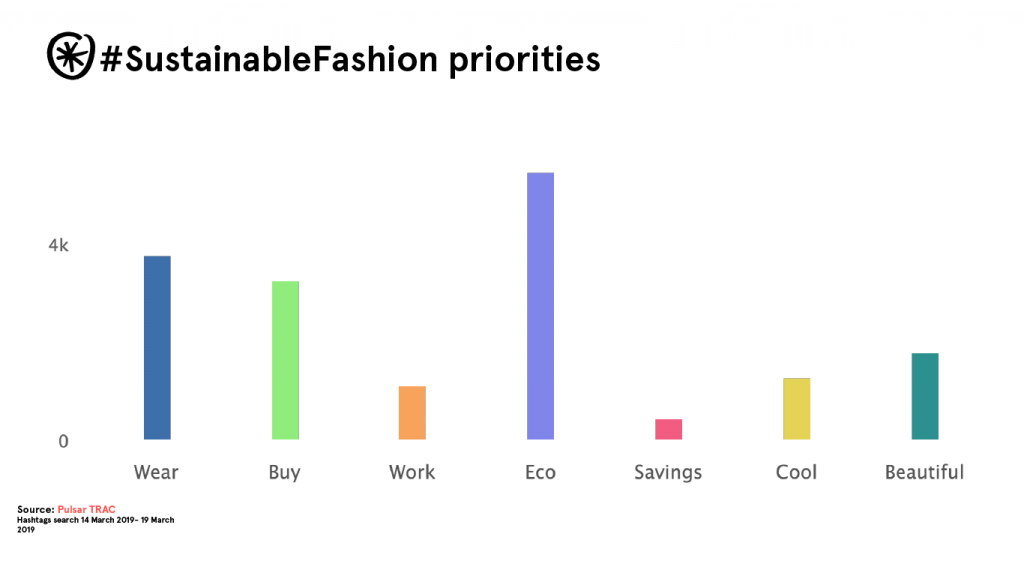 While the sentiment of thrifting is a clear theme here, the vocabulary is different – popular keywords used alongside this tag include 'zero waste', 'second hand' and 'recycle'.
However this interest in conscious fashion does not just apply to buying secondhand clothes: other popular hashtags used alongside #SustainableFashion include #Handmade #Organic #Vintage #Vegan.
The thrifting and marketplaces audience
Thrift fans use a huge number of different tags on Instagram – from #Thrifter to #ThriftHaul, taking in everything from thrifted furniture to books. We decided to focus on two smaller tags, #ThriftFinds and #ThriftFashion to get a clearer view on the thrift fashion community.
Unsurprisingly, this audience is very concerned with the cost of items. Here are the #ThriftFashion crowd's priorities: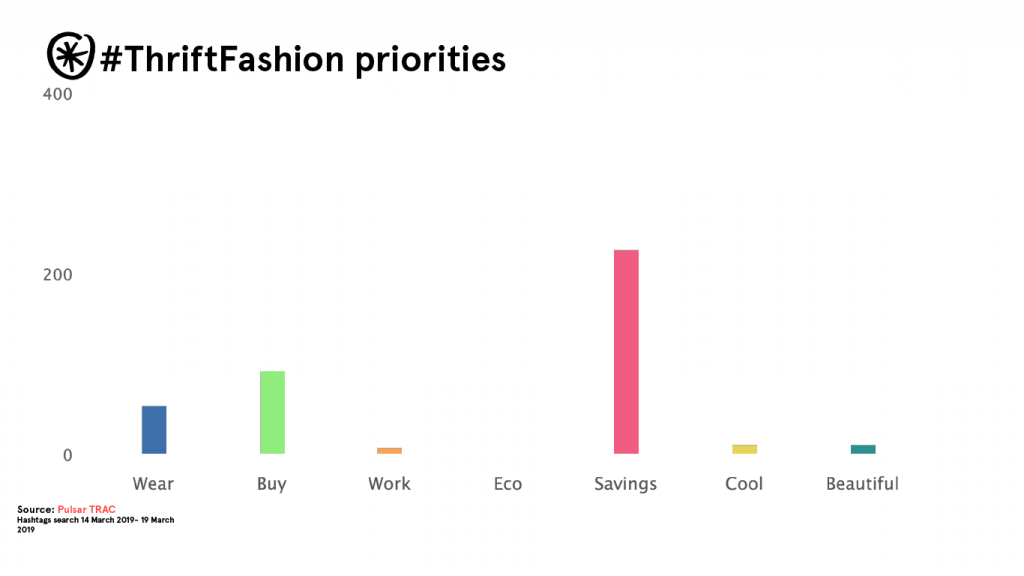 People pair these hashtags with others about selling clothes like #Reseller, #ShopMyCloset and #ForSale.
#Vintage, #VintageFashion and #VintageStyle are also highly used alongside these tags. 
The sustainable tags also show up, with #SustainableFashion on 6.7% of posts we saw and #SlowFashion on 4.7%.
Where do the two communities overlap?
New marketplaces like thredUP, Poshmark and The Real Real are creating a place where sustainability and thrift meet.
For instance, on Instagram #SustainableFashion and #Thrifted are amongst the top tags used alongside thredUP's brand tag #SecondHandFirst.
These posts look like this:
Meanwhile, tags like #SlowFashion and #BuyLessChooseWell are used by an audience who are creating a lifestyle from secondhand shopping for ethical reasons, alongside a host of other more niche tags that apply to a more conscious lifestyle #ConsumeLocal #SustainableLuxury #MinimalStyle and #ConsciousConsumer.
Their priorities in talking about their clothes are pretty evenly split between the two concerns: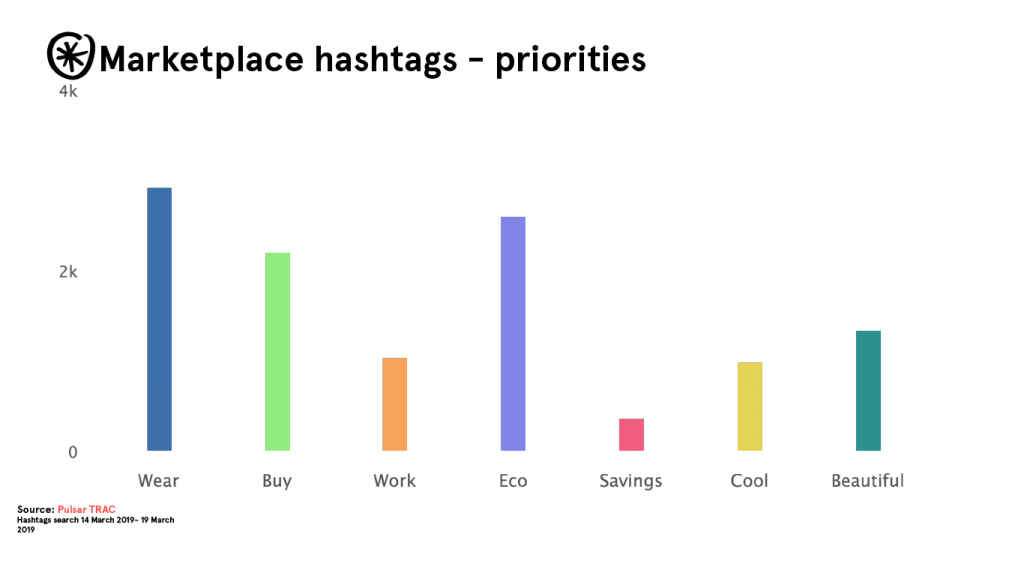 The overlap between the thrift and sustainability communities on Instagram comes in this emergence of this new community, sharing attributes of the sustainable and thrifting audiences but with its own vocabulary and priorities to differentiate it.
What items do people thrift for with the environment in mind?
Using our all-seeing vertical AI on images hashtagged #SustainableFashion, we were able to single out the items that got the highest volumes of tagging and engagement:
capris
bracelets
necklaces
cocktail dresses
jumpsuits
cardigans
women's hats
The AI also clusters the items into segments that match one another, which gives us a sense of which items are shown together.
Some interesting outfits emerged: spring jackets paired with men's hats, cardigans, overalls and robes; kimonos appeared with necklaces, earrings, maxi skirts and rompers.
But for thrifters, the wardrobe is a lot more casual. The highest volume and engagement pieces were:
sweatshirt
hoodie
t-shirt
fleece jacket
men's watch
capris
bracelet
Segments show the activewear t-shirts, fleece jackets, blazers and hoodies were often paired together, giving the impression thrifters are buying everyday items, rather than fashionable pieces.
It seems the outfits are as carefully curated as the conversation itself.