Social audience development: the newspaper edition
What news content works on social media for the global English-speaking audience?
It's been a difficult past few decades for the news business. But for some, the tide is starting to turn.
A handful of English-language newspapers with globally-recognized brands have started to see the opportunity in reaching the 2 billion English-language readers hungry for information: and what better place to start than on social media? 
In parallel, newspapers have also begun to listen to their readers more, growing in-house audience development teams, mixing analytics, editorial, and marketing strategies to understand how to broaden their subscriber base.
But how exactly are they doing that? 
We ran an analysis of the Twitter, Facebook, and Instagram accounts of 3 of the largest newspapers competing for this global audience: the New York Times, the Guardian, and the Washington Post, to see how their strategies differed. 
Here are a few of the insights we were able to glean over the short period we tracked these accounts (March 24th-April 15th, 2019):
The Guardian is doing very well with (often US) video content
The NYT is just as popular for food content as it is for news
Surprise surprise, Donald Trump still generates plenty of engagement
This is an independent assessment, carried out on their public accounts through our analytics tool Pulsar CORE, which is designed to track the performance of your owned and competitor brands. This analysis is based on our new feature, which allows you to filter all this content from the accounts you are tracking by keyword, media type, engagement, and more.  
We looked at the following accounts (follower count at the time of analysis).
Let's dive in. 
The top performing content – Main accounts
When we look at the top performing content for the main accounts, a few things stood out immediately in our comparison view: on Twitter and Facebook, the Guardian's top performing posts mainly feature videos. Its top Twitter post over the past month was this video of US congresswoman Alexandria Ocasio-Cortez: 
From here using the CORE filters we can zoom in on – and compare – all content posted about AOC: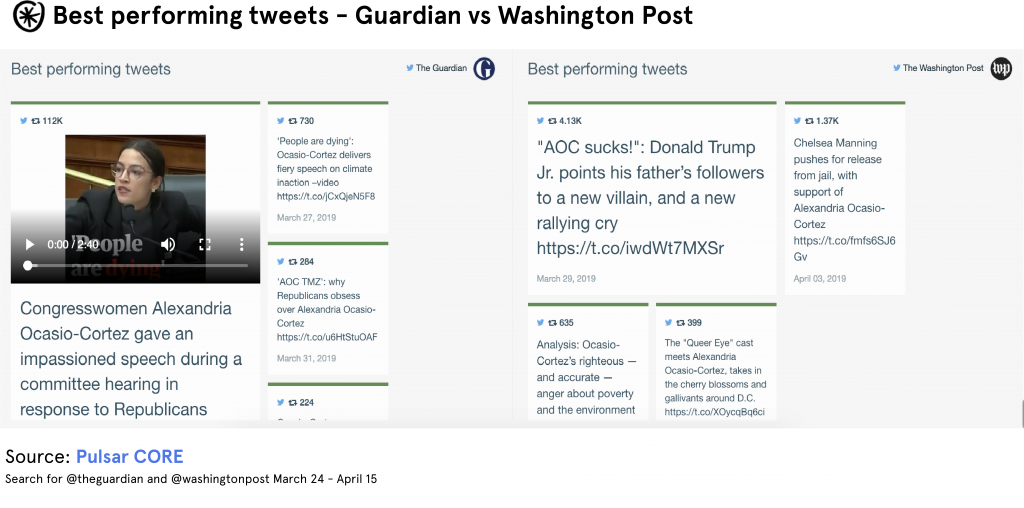 The video post most popular on Twitter, so it seems people want to see AOC rather than read about her, an important point to note as newsrooms have struggled with video distribution before.
What is interesting here is that the WaPo and NYT have not embraced a similar video-heavy strategy, instead they have concentrated their efforts on engaging audiences in other ways, like engaging 'sell' copy for their posts, so that tweets stand on their own as well as linking to news stories. 
Politics
Moving on to vertical accounts, we noticed that verticals appear mostly on Twitter, with only the NYT having a separate Facebook page for politics, arguably the biggest vertical for all 3 newspapers in this brandset.
And that might be because the Times dominates the politics set, with two standout tweets in the period we looked at. The graph below shows tweets over time, with the colored lines showing engagement for each account, and the green dotted line average engagement. The colored dots mark standout tweets – NYT is in blue.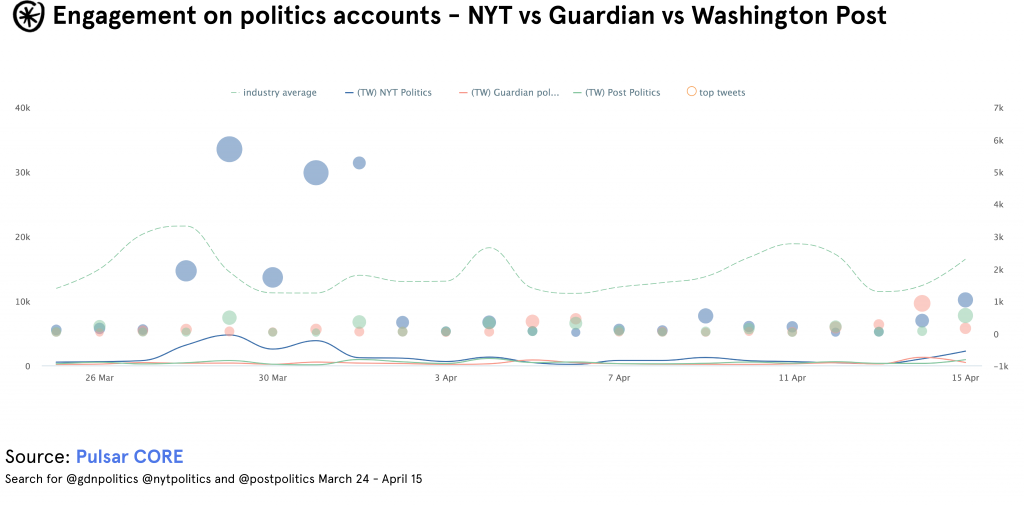 The first large bubble was about a tweet about Donald Trump:
Trump's Order to Open Arctic Waters to Drilling Was Unlawful, Federal Judge Finds https://t.co/QVPEVQYAPE

— NYT Politics (@nytpolitics) March 30, 2019
So we used the filtering feature on CORE to see how Trump-related content was performing across the 3 accounts.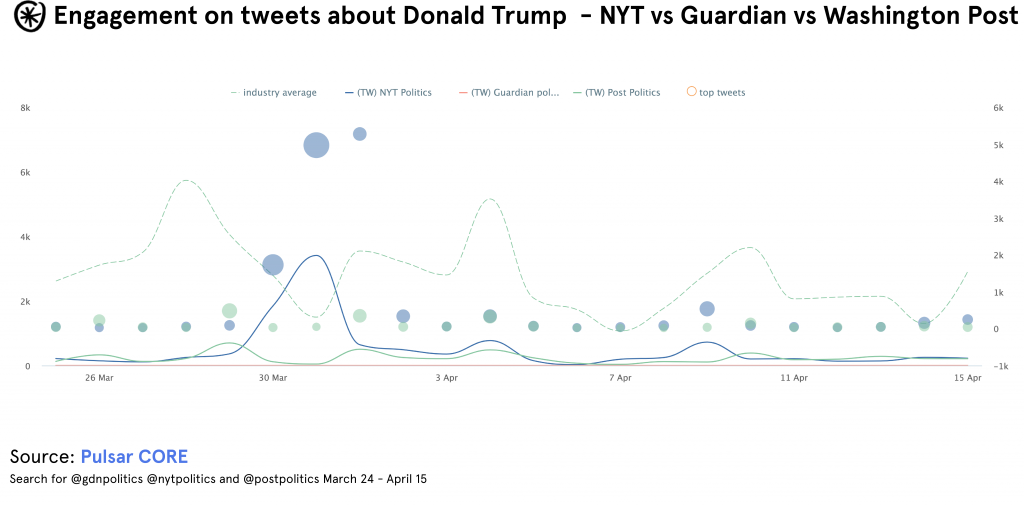 The biggest bubble here is the same tweet about Arctic drilling, but we noticed two other trends: 1) in its politics coverage on Twitter, the Guardian is hardly mentioning Trump, and 2) WaPo and NYT readers are always interested in him.
The average engagement for all 3 accounts, shown by the green dotted line, is high, perhaps explaining why there are so many Trump tweets: they will always generate engagement and traffic.
The other big post from the Times was about 2020 candidate Pete Buttigieg, who is relatively new to the news cycle and still relatively unknown: by filtering his name, we see how most stories about him –with one notable exception– are not generating much engagement. 
Obits
Speaking of verticals, let's move to obituaries accounts. Usually relegated to the back pages of the newspapers, these accounts are not nearly as large as the others, but the NYT (blue in the graph) is by far and away the most popular Twitter account for this.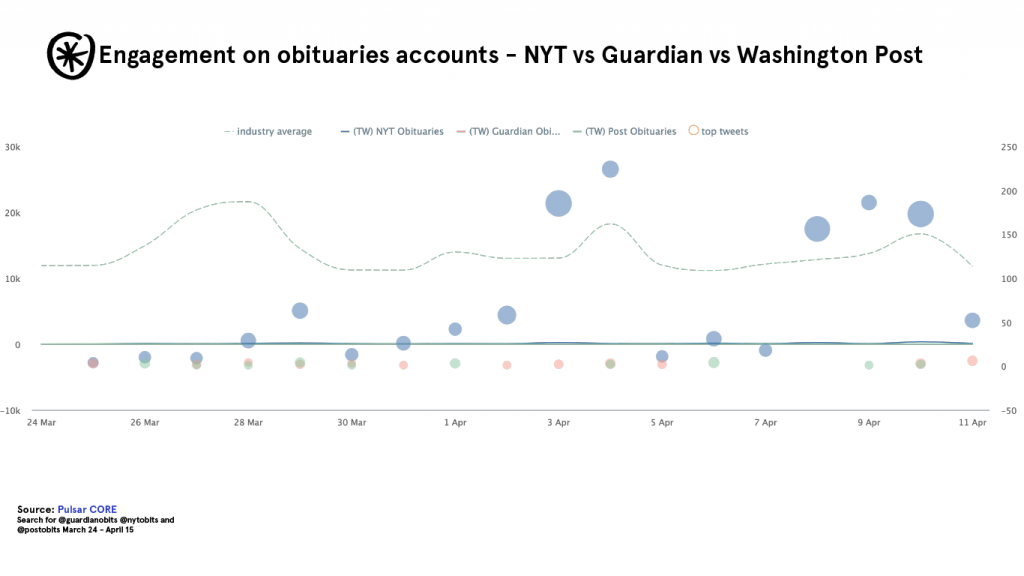 Some of the biggest deaths were those of French filmkaer Agnès Varda; Charles Sanna, founder of Swiss Miss; science fiction writer Vonda N McIntyre and the man whose life inspired the film Quiz Show, Charles van Doren.
But how are those accounts talking to their audiences about this –er.. recurring– topic? Filtering the posts by keywords that could be used in the tweets, we found that using 'dies' 'died' or 'dead' generally seemed to be correlated with high levels or reaction/engagements.
Instagram
What works well on one platform may not succeed on another. For our publishers on Instagram for instance, it's a very different story. The Guardian and WaPo seem to be having success with news content, and specifically videos on Instagram, but the NY Times' most popular post in the last month was a recipe post:
Filtering for food-related keywords we can see that food posts over all are a NYT Instagram technique, which got it above-average engagement.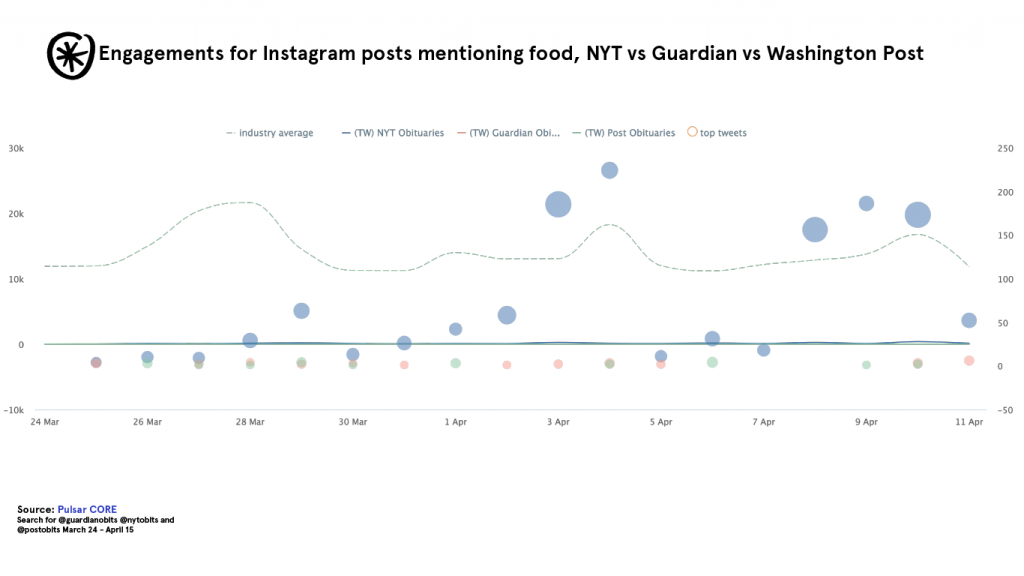 This is not a one-off: that food-related posts generally do well for the NYT on Instagram, creating a spike of engagement (in blue), and again is a strategic choice by the team, leveraging their own very popular NYT recipe content with a notoriously food-friendly platform like Instagram. One that both the Guardian and WaPo seemingly have not tried, or been able to replicate yet. 
Being able to drill down to verticals, and topics within those verticals offers a lot to learn about the sort of content to prioritize, from understanding how both your and your competitors' audiences respond to different topics. Data-driven audience development strategies start here: check out Pulsar CORE.