Prospecting college students: the California university edition
A guide for higher education social specialists for admission strategy
Why do certain students apply to certain universities?
Now that the freshman class has settled in, admission officers at colleges in the US are busy trying to wrap their heads around the many factors that influence student choices on where to apply, in order to improve their admissions strategy and student prospecting for the next academic year.
Our research team recently ran a webinar to help answer questions universities and colleges might have about can understanding student audiences online, as well as their intents for college applications, and how to market better to prospective students. The webinar followed a case study around high-schoolers who have set their sights on California as a college destination.
For admissions officers, finding people interested in your college is just the first step, understanding how they talk and what they discuss helps answer the question of what to say to them.
The California prospects audience
Segmenting the university applications conversation, we used Pulsar TRAC's Communities integration to find out more about the communities discussing California applications: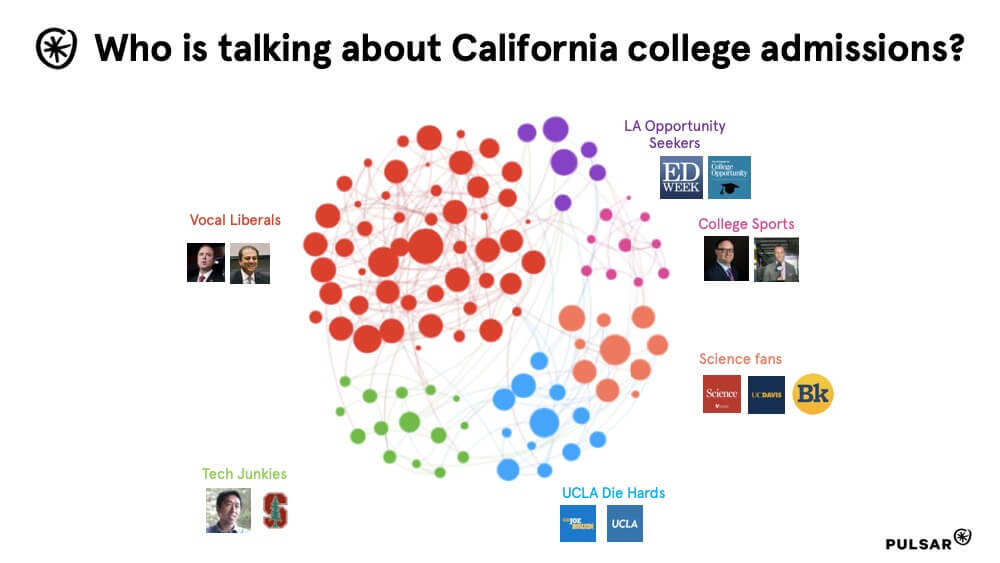 The biggest segment is 'vocal liberals', who are found talking about different schools throughout California, but are united by their politics.
Followed by a tech junkies segment, who follow key players in Silicon Valley, and talk about going to Stanford.
The third largest segment is UCLA diehards: current students advocating for the college, as well as applicants and dreamers. They follow a range of UCLA official accounts as well as student societies and student-created accounts. 
Fourth is a science fans segment, who follow and connect with Berkley and UC Davis accounts.
Next are the college sports fans, who follow college sports teams, commentators, and players, and are looking for sports scholarships.
The final segment is 'LA opportunity seekers', based in LA and seem to be exploring how to access higher education, by following scholarship advice accounts.
How we found them
In this search, we looked at Twitter, forums, Reddit and Facebook which helps us achieve certain goals: 
Twitter shows in the moment reactions to acceptance letters, campus tours and so on. 
Forums and Reddit are invaluable for a more granular understanding of student considerations, worries and the processes they go through while looking at college choices. 
And Facebook groups useful to understand parents and family members' perspectives that might affect them. 
To get an unbiased view of what prospective students are saying, and to see the authentic student voice, we searched – using Pulsar TRAC – for mentions of all California schools and keywords relating to location, and intent, like "LA" and "applying".
This allowed us to scale discussion to see which universities people talk about the most in the region, or mix and match terms and create bespoke search strategy for the most relevant conversation.
We found a range of conversation throughout the admissions journey: from people been rejected and reapplying, or those who aren't sure about their choices.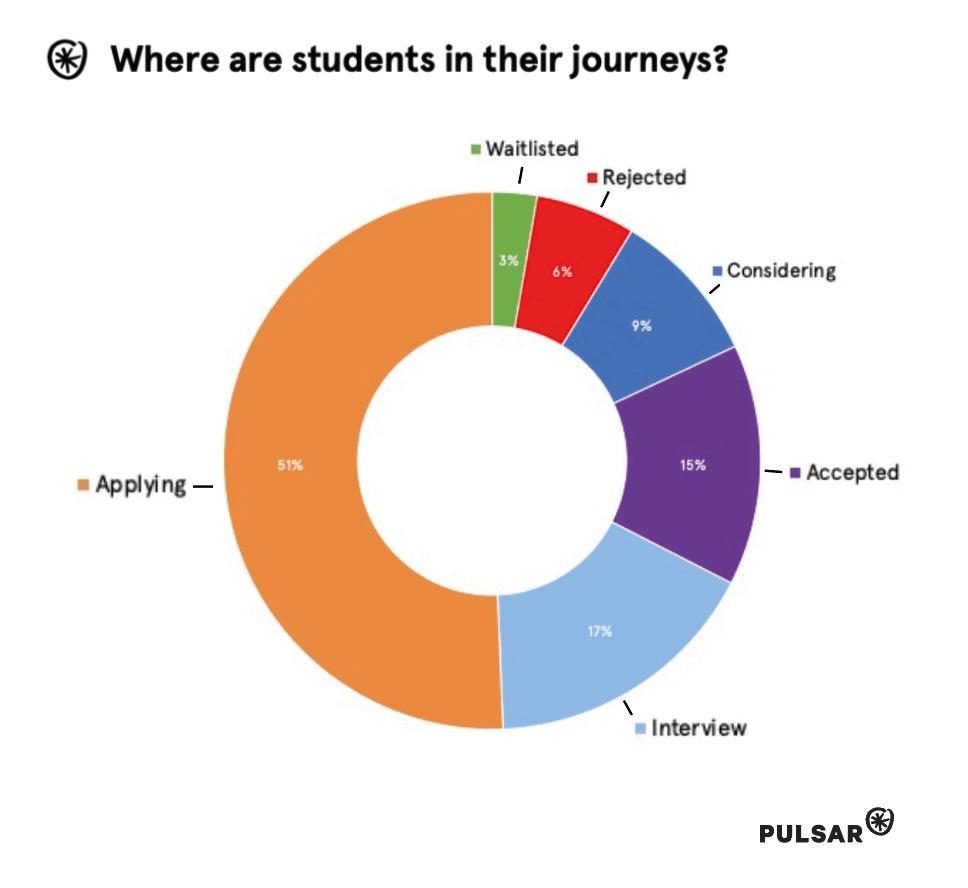 Students often compare universities, and there's a lot of discussion where they need more help identifying their next steps:  
That's great, Yuki! I got into UCLA and UCSD and those are Very good school too. Especially me, living in LA so going to UCLA makes me easier my transition. Plus, I have an internship at UCLA…. Berkeley is my dream school tho. I am stuck

— chibipan1818 (@ayapan18181) May 14, 2019
Examining keywords lets us see students at different stages of their application journeys and helps to validate and scale various hypotheses admissions officers might have.
For example, looking at people mentioning keywords around rejection, we saw that the Ivy League colleges come up most. As an admissions officer, if you can see students who have been rejected from the Ivies, it might validate an idea that they'll consider California as an alternative – something that could be the focus of marketing messages.  
Understanding the biggest areas of student consideration is vital: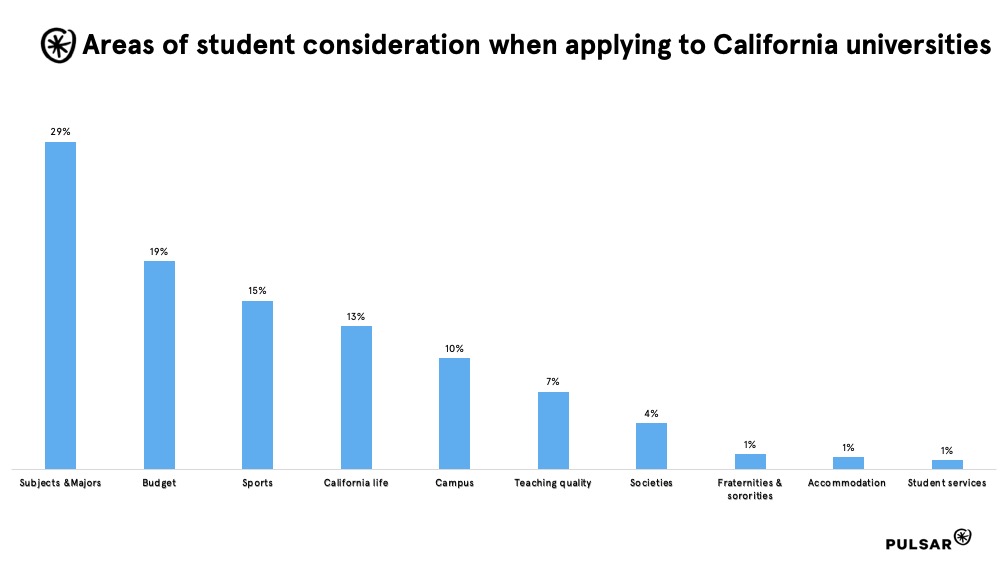 The communities filter in Pulsar TRAC allows us to identify the most important considerations are to a particular audience segment when applying to college. Admissions officers can therefore see which aspects of university life they might want to emphasise in a social media admissions strategy, depending on which community members they want to appeal to.
For instance, Stanford was the most discussed school overall, as well as amongst the vocal liberals and, unsurprisingly, the tech junkies segment, but the college sports fans discussed USC the most, and LA opportunity seekers talked about California State. 
But filtering by things students consider about getting into college, like campus life, subjects available and so on showed social life affects choices too: UCLA gets most mentions when talking about a diverse campus community, but Stanford was most mentioned in terms of fraternity and sorority opportunities, although also in terms of money worries.
And once a college offer's been made?
When researching the California university conversation, one uniting factor we saw across the different communities was the highly emotive responsive when applicants heard from colleges.
My parents didn't care when I told them so I'll just tell Twitter : I JUST GOT ACCEPTED INTO UC BERKELEY!!!! 💙💛💙💛💙

— Kathleen (@deadasskathyy) May 8, 2019
This is an important and proud moment for these students, and a great opportunity for admissions offices to be creative. Empowering students to celebrate can make them advocates for the university, their followers will see the excitement, which will have a wide-reaching impact on the reputation of the university admissions experience.