One of the biggest marketing campaigns this year was a fight
"From the United Kingdom"…to a global audience?
One of the biggest audience campaigns of the year didn't look like a campaign. It was one of the biggest boxing fights of the year. 
On 9th November, Logan Paul, one of the US' top Youtubers, squared off against KSI, one of the UK's top Youtubers at the Staples Center in L.A. 
Under the guise of a contest to see who was the better boxer, this was actually a contest to gain exposure, awareness and interest from the other's audience on the other side of the Atlantic. AKA "audience exchange".  
Dubbed as one of the biggest events in Youtube history, the event was sold out and saw very high engagement online: just on Twitter there were 287k mentions of the official fight hashtag over the 24 hours around the fight.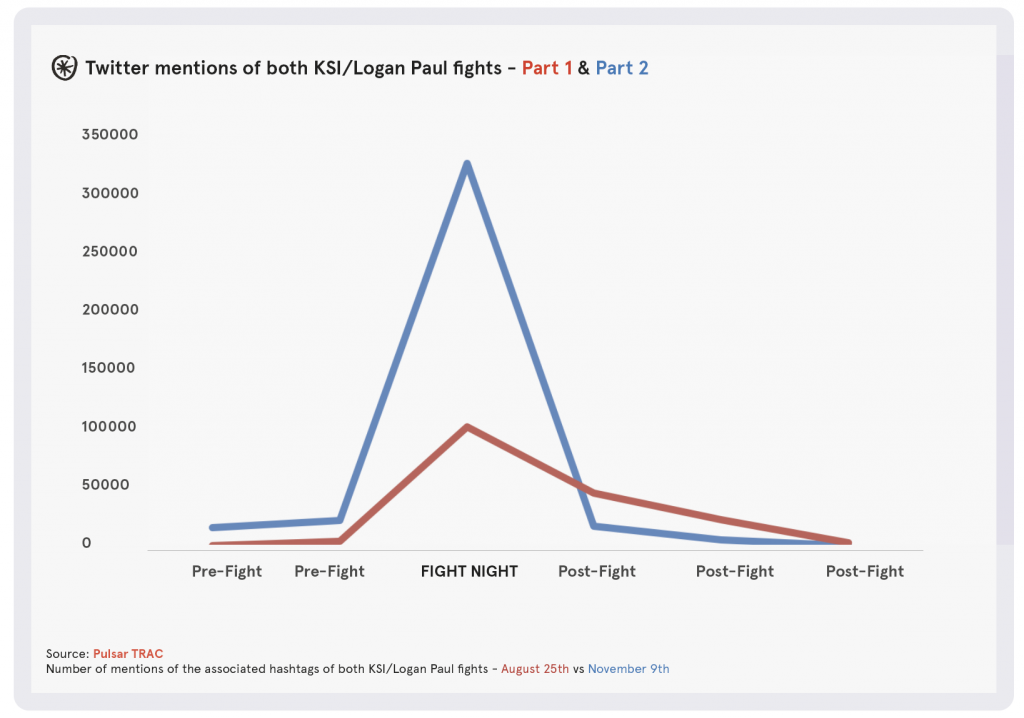 For KSI (a content creator, musician and keen boxer with over 20M subscribers on YouTube), this was his biggest opportunity yet to make his presence felt in the United States and to establish a foothold with a much larger audience. 
For Logan Paul, this was an opportunity to make himself better known in the UK, as well as a chance to resurrect a career that was severely damaged by a series of scandals over the past few years. 
Multi-millionaire boxing promoter Eddie Hearn of Matchroom Sport, very famous amongst the boxing community,  gave the fight increased resonance. Speaking to Sirius XM's Fight Nation Hearn said: "The first fight did 1.2m pay-per-view buys globally. This was much, much bigger this time around.
…You don't realise the audience these guys have. They brought our sport to reach new ground and reach new territories, new demographics and new markets."
KSI ended up winning on the ring (split decision), but if KSI was after a US audience, and Logan Paul was after a UK audience – who won on the (much more lucrative, and important for YouTube stars) front?  
We tracked the #KSIvsLoganPaul2 hashtag to see who was watching.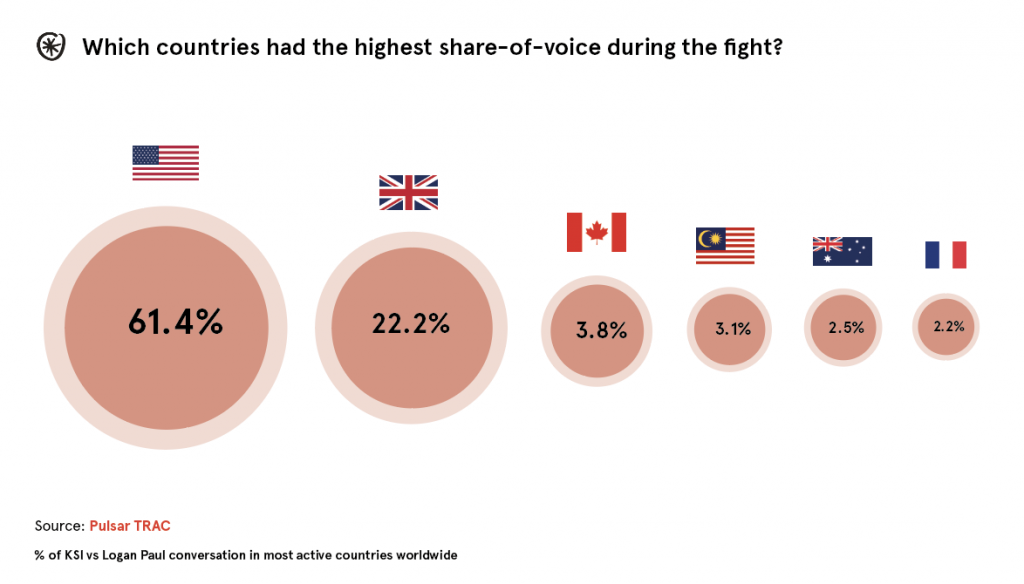 In terms of countries, KSI seemed to be getting the better deal, partly thanks to the timing of the fight, 9pm in L.A, which means 5am in the UK. 61.4% of those participating in the conversation hailing from the US, and only 22.2% watching in the UK. 
In terms of cities, the breakdown was much less lopsided.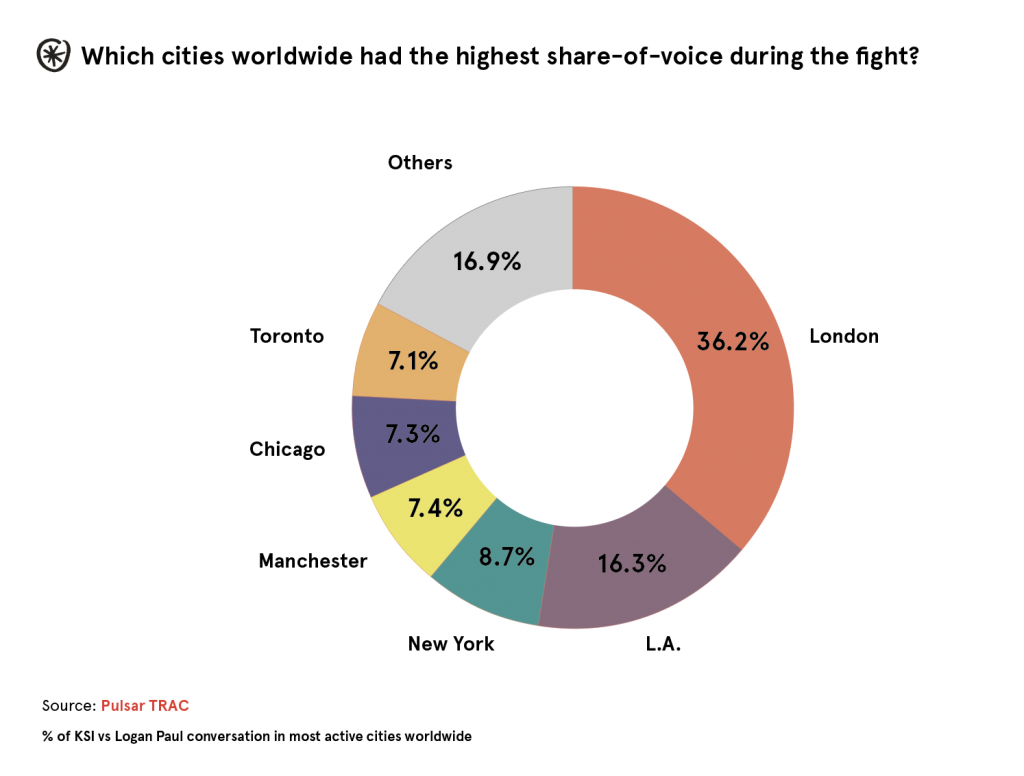 In fact, London was the most vocal city about the fight, with more than one third of the mentions (36.2%). L.A. came in second at 16.3%, followed by New York City (8.7%), Chicago (7.3%), Manchester (7.4%) Toronto (7.1%) and Houston (5.5%). 
More than 40% of the audience being from the UK is not a bad catch for Logan Paul, especially considering the timezone. 
But who are these people interested in this fight? Let's look at aggregate data from their bios.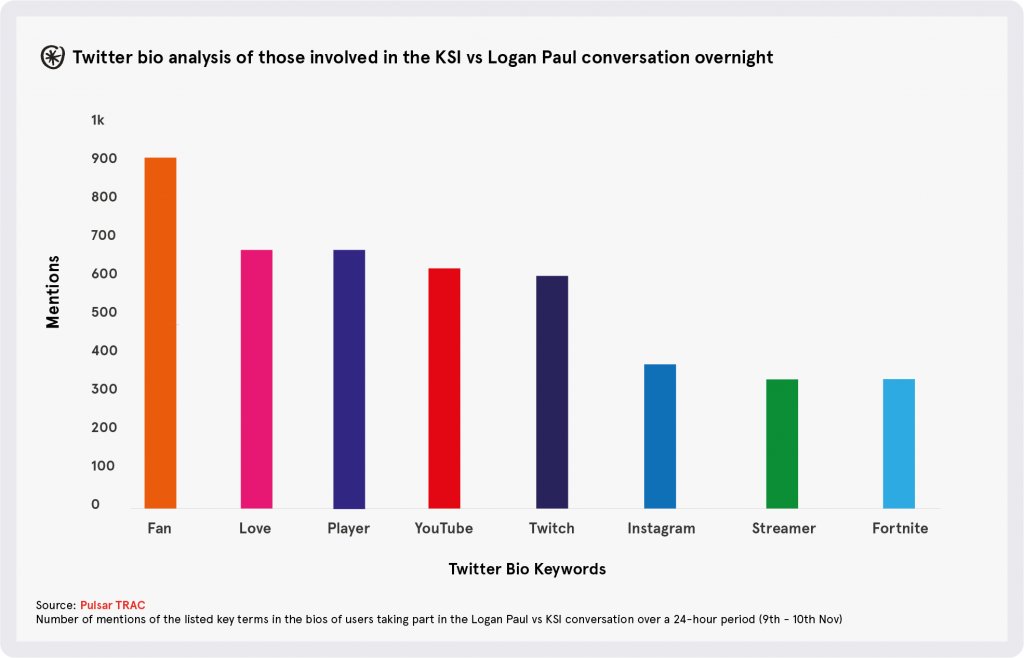 Many of those contributing self- identified as "fans," with a big presence of those calling themselves "player" and "streamer" or with "Fortnite" in their bio. Youtube and Instagram also were highly represented in these bios. 
Besides fans there is a significant lack of any sporting-related keywords in this bio analysis – the term "sports" did appear in 202 bios, much less than a single game title like Fortnite. 
This would suggest that KSI and Logan Paul retained & most importantly, exchanged the support and viewership of a community closer to the gamer ones than those of boxing or other sports. 
But what if out of Logan Paul and KSI competing for awareness among this audience, the winner was a third one, a sport? One could argue boxing got the most publicity of all amongst a video game audience.  
Here's a YouTube comment from another epic moment in boxing this year (Andy Ruiz Jr.'s shock win over Anthony Joshua).