Sundance movies find an audience well before release: how?
Tapping into the social opinion of films that haven't premiered
The Sundance Film Festival opened yesterday in in Park City, Utah.
But well before the first screening, some movies have been generating more interest than others, and audiences have begun to emerge around these titles, even if no one has seen them yet (many of the movies are premiering at the festival, after all).
So which movies are generating the most buzz? And why? And which 800-pound gorilla is heavily skewing those conversations?
Out of the 112 features, we zoomed in on a list of 20 movies by looking at three pre-festival indicators of interest and excitement: 
Critics: the movies critics were adding most often to their "most anticipated movies" Sundance lists
IMDB: the movie site, which caters to a mixed audience of film industry and movie buffs, released a list of the most viewed movie pages for movies showing at Sundance
Social media: we analyzed about 17,000 posts relating to Sundance's top movies on Twitter.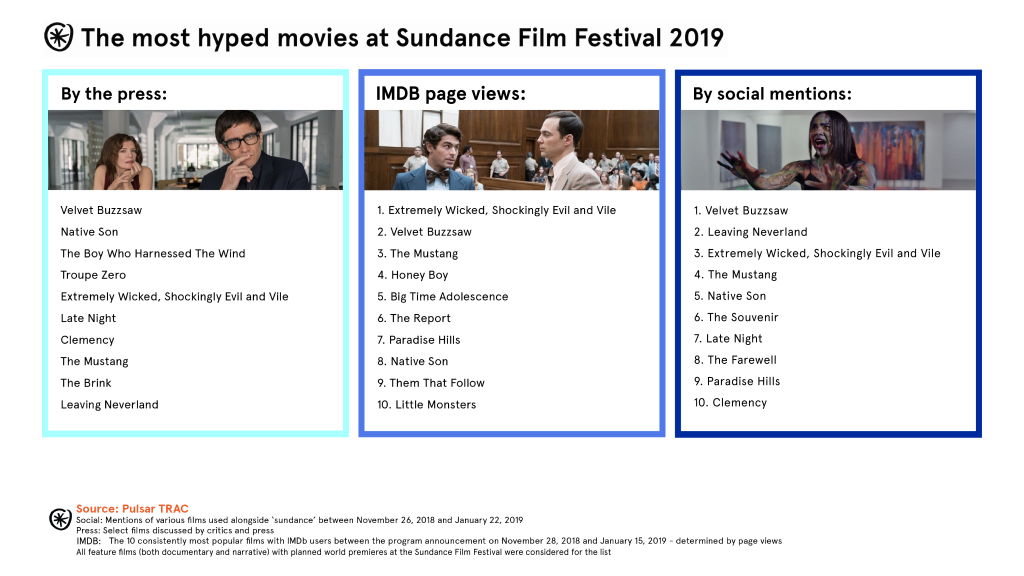 The Sundance social media audience
We then tracked conversations about selected Sundance movies on Pulsar TRAC, beginning around November 28, when the full list of films showing at Sundance was released.
As the festival's opening draws closer, standout films with strong marketing or a controversial subject matter have come to dominate the conversation among this audience.
Out of all of these, two dominated:  
Velvet Buzzsaw (35k tweets): a horror-esque movie with Jake Gyllenhaal and John Malkovich about the art world
Leaving Neverland (9k tweets): a documentary about two (now) adults who allege Michael Jackson sexually abused them as children
This chart below shows how many conversations revolved around each Sundance movie: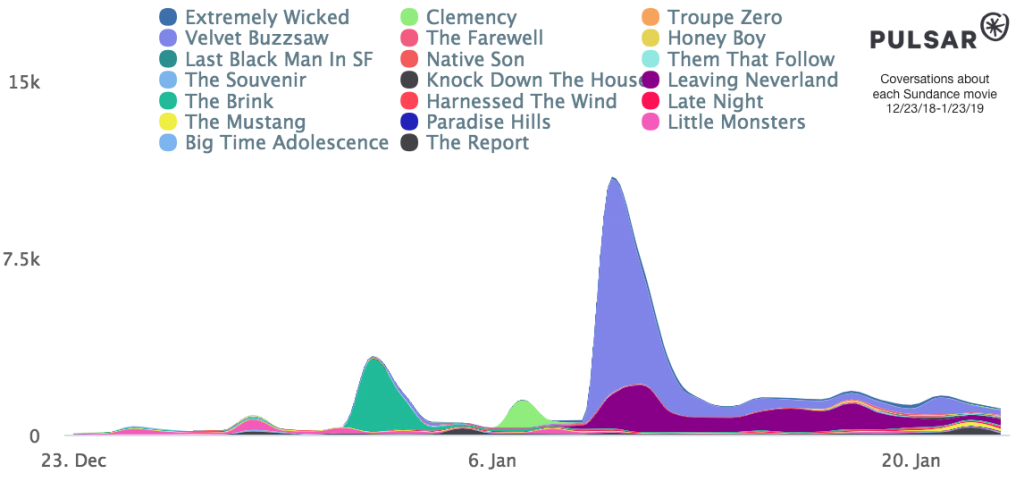 Other films generating substantial conversation volume included:
Extremely Wicked, Shockingly Evil and Vile, a biopic of serial killer Ted Bundy
The Mustang, a movie produced by Robert Redford, who also founded Sundance
Native Son, an adaptation of the classic novel by Richard Wright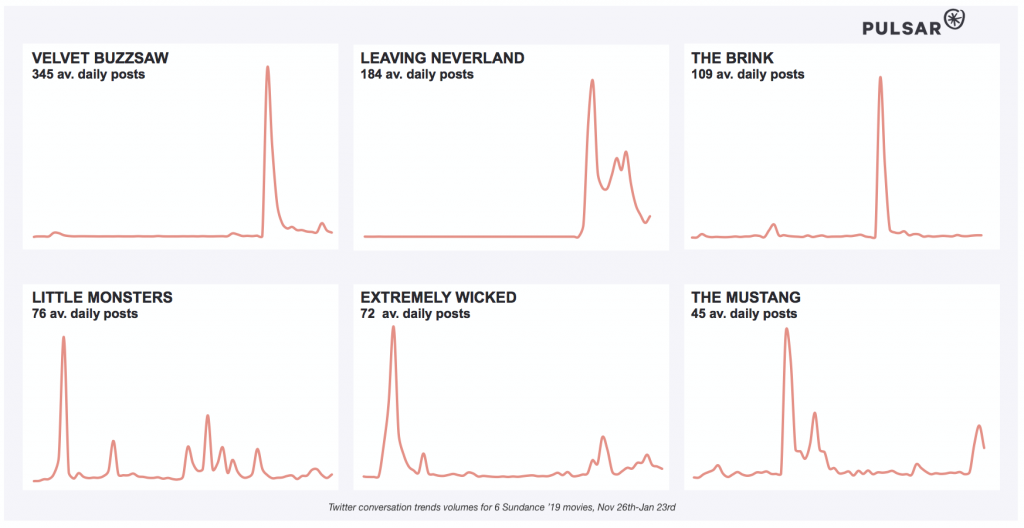 What kind of conversations?
If they haven't seen the movie, what could people possibly be talking about?
On Twitter, the prevalent subject of the conversation revolved around movies' marketing, trailers, intent to watch, and its participation at Sundance.
Other conversations included speculation about the film, and a very small percentage of people talked about distribution deals for that movie – a conversation more tied to industry members who likely made up the lion's share of those IMDB pageviews.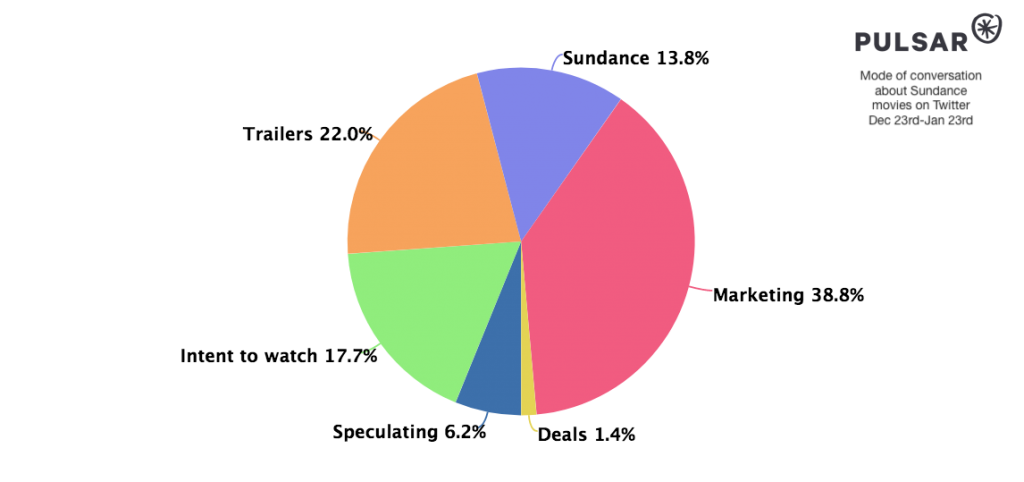 Overall, the audience talking about Sundance movies is fairly single minded in its interests, which center around film. Segments included indie film fans, horror fans and people who work in the industry.
The movie buffs community are influenced by big stars, studios and movie writers, and of course Sundance itself, but also follow a lot of publications that track indie film, as well as producers and industry insiders: their interest goes beyond blockbusters.
Other segments include French cinema enthusiasts, creatives tied to the African-American Twitter community, and a group of Michael Jackson fans who have found themselves in this audience through their virulence about Leaving Neverland (more on that later).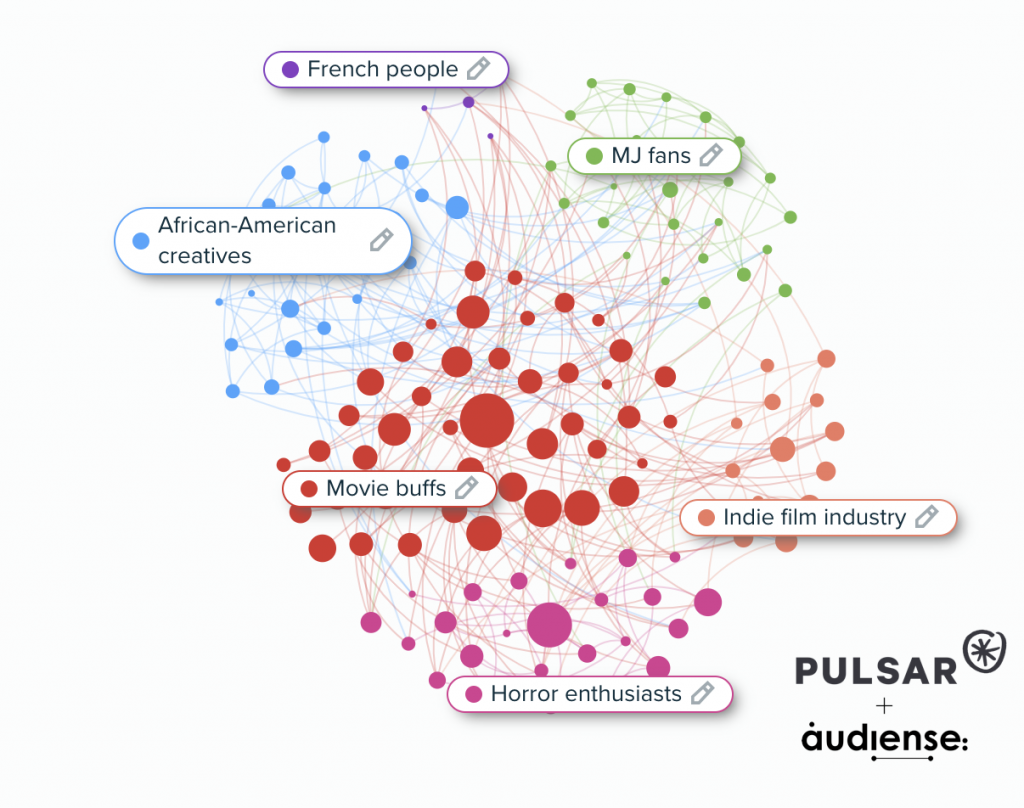 Velvet Buzzsaw
Velvet Buzzsaw, the leading title on social media (and, arguably, among critics) was the most popular among movie buffs – people who had "film" and "movies" in their bios, and who often also identified as gaming and podcast fans.
Opinion was generally positive, people are excited to see the film and mention they "can't wait" to stream it.
Marketing for Velvet Buzzsaw, which is produced by Netflix and will be released on the platform on February 1, has been substantially higher than for any other movie at Sundance, and a lot of conversation we saw was around its official trailer, released on January 10th.
Leaving Neverland
The controversial documentary about Michael Jackson has attracted a very different audience, identifying much less with the world of movie buffs, and much more –of course– with that of Michael Jackson fandom.  
They split into 'diehard' fans with bio keywords like #justiceformj, and generalists who identify as "specialist" and "realists", comparing the documentary to the one scheduled about Harvey Weinstein and the recent Surviving R. Kelly documentary series aired by Lifetime.
This is a case of sharing very strong opinions about a movie that hasn't yet been seen by the vast majority of this audience. Here is a chart breaking down the positive/negative split of conversations about Leaving Neverland: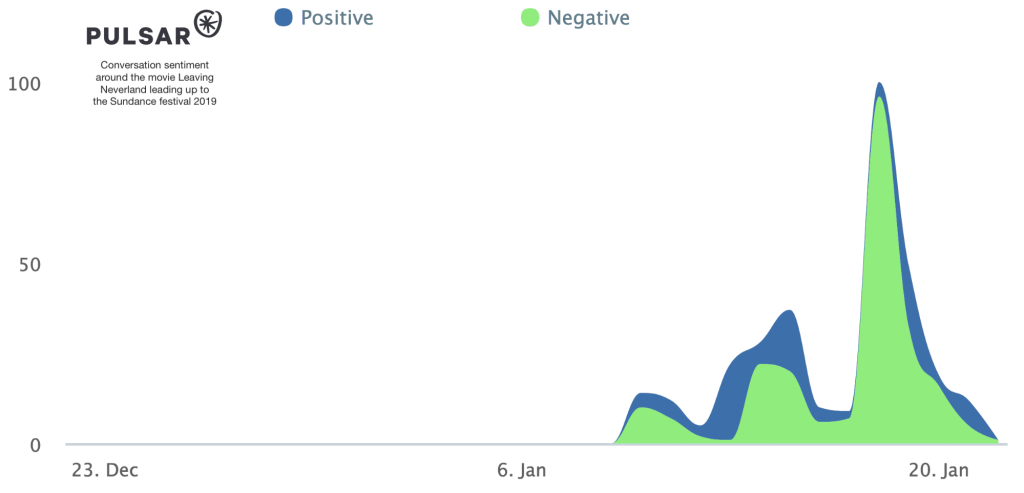 Extremely Wicked, etc.
Finally, one more notable film is the Ted Bundy biopic Extremely Wicked, Shockingly Evil and Vile, which is ranked #1 in terms of IMDB pageviews and noted by critics. Its long, complex title made it hard to track on social media – since we could only expect the most meticulous fans to write out that title.
A good 60% of people talking about this movie also mentioned Bundy's name: its subject is clearly more memorable, or shareable, than its title. But mentions of Bundy in relation to the movie were dwarfed and taken over by another Bundy conversation when Netflix –again– released the trailer for a documentary series on Ted Bundy on January 16th, dominating that conversation throughout the period.