How big is the spoiler conversation?
With the Game of Thrones saga finally coming to an end this Sunday, the online conversation about spoilers is reaching fever pitch.
Fans and franchises alike have propelled the social media conversation about spoilers to its highest level yet, with peaks in recent weeks of up to ~500k tweets per day (compared to ~160k last year).  
Here's the past 12 months, compared to the previous year – via Pulsar TRENDS. 
Concerns about spoilers have become increasingly important over the past years, as TV shows have become more central in the culture(s): producers and directors have mastered the art of the unexpected cliffhanger, and social media has become the place where we collectively go and share surprise, outrage, and shock at what is witnessed on screen.
But it's not just GoT, or TV shows for that matter.
In our graph above, the red spike in late April (right before the huge, current one) represents conversation about Avengers: Endgame.
As the final chapter in the Avengers saga, it generated more than triple the amount of conversations about spoilers in comparison to its predecessor, Avengers: Infinity War, released the same time last year.
A good part of the reason had to do with a leak.
In April, fans of the Marvel Cinematic Universe (MCU) franchise were left walking on digital eggshells, as news of leaked Avengers: Endgame spoilers started to trickle out on April 15th, just a week before the release date of the final chapter.
A day later, Endgame directors the Russo Brothers, tweeted out a printed letter to fans, begging them to not give away any spoilers. By doing this leveraging the positive word of gamesmanship – and make the spoiler fiends feel guilty.
#DontSpoilTheEndgame pic.twitter.com/YZhbrwcijJ

— Russo Brothers (@Russo_Brothers) April 16, 2019
#DontSpoilTheEndgame was shared 261,000 times in 24 hours – a significant & profound response to the leaks. To this day there have been over 2 million tweets promoting #DontSpoilTheEndgame.
It's not just creators, of course. Fans and viewers are trying their best to stay away from social media when they haven't seen the latest episode of their favorite show, while those in the know do their best to be careful with the details they share, and try to dutifully tag it as spoiler alerts.
The alert conversation is only a fraction of the overall spoiler conversation, but it follows a similar pattern.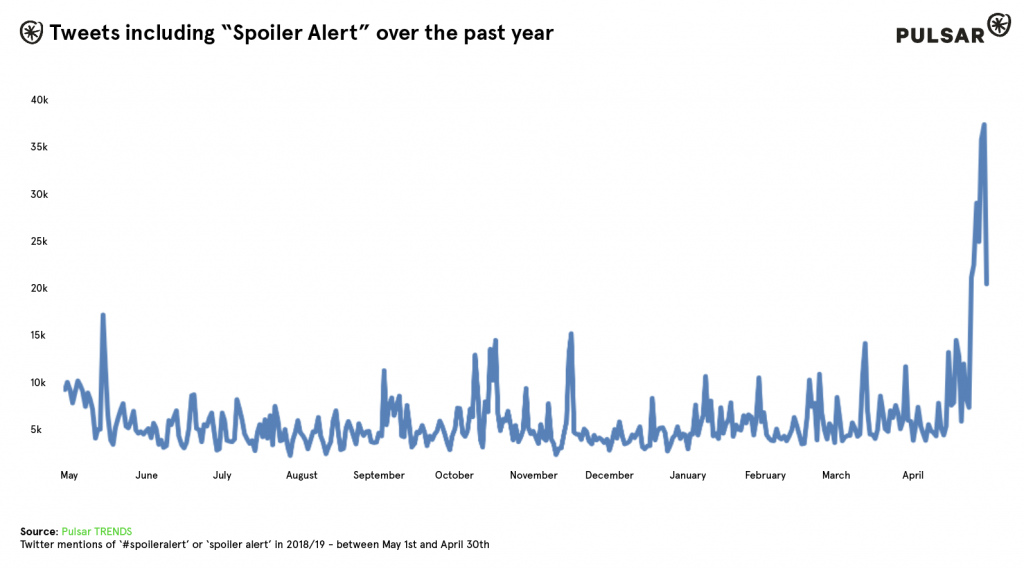 But now that we're all aware of the dangers of spoilers and social media, new questions are popping up. For instance: how long should one wait until it's safe to talk about it publicly?  
Poll: Should we lift the embargo on Avengers: Endgame spoilers in twitter discussions?

— Venkatesh Rao (@vgr) May 3, 2019
There's yet no clear answer for that, but for holdouts wanting to preserve the narrative tension in the stories they follow, a Twitter feature might come in handy: muting keywords to avoid spoilers.