Twitter Passion Report: how the Cook for Syria campaign provides foodies for thought
We've been running a series based on our research work with Twitter, uncovering a set of passion communities on the platform using analysis of 800,000 randomly selected users.
We found that those who identified with these passions do not make up monolithic audiences, but gather into a series of sub-communities. Each of these have a very specific cultural footprint, clustered around geographic, ethnic or interest affinities. This month, we're taking a closer look at the community whose main passion is identified as food.
The important thing to learn here is that the Twitter food community who identify as liking 'food' is too wide a term to categorize as one interest – while they all exist under an umbrella of liking something edible, many sub-groups are often completely different from one another. For instance, people who like fast food are very different from those who like clean eating, but both would come under food. Therefore understanding foodie audiences is about getting to grips with local food scenes, and the ins and outs of different stories around cuisines.
A network view and the breakdown of the food community on Twitter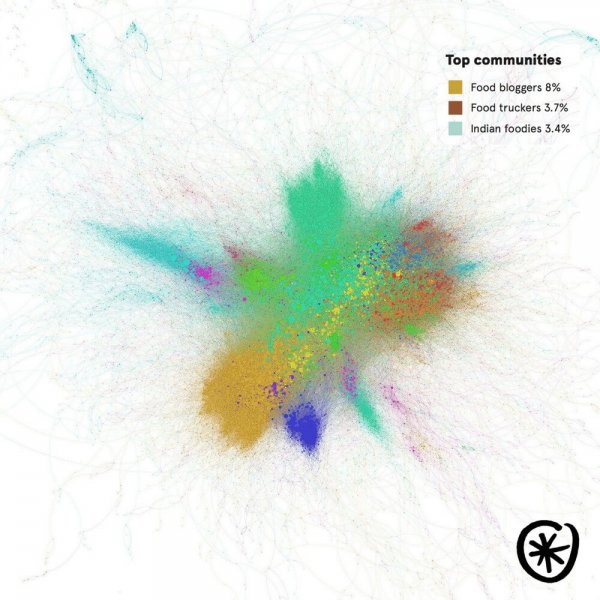 Key observations
Food communities are clustered around geography and ethnicity – both are hugely important areas to food identity
On Twitter we found 44,000 tightly interconnected small communities based around food. This formed our Twitter food community
The average mutual follower-to-following degree was 3.1, meaning each foodie has around three people they regularly connect with
Network connections drill down to city level, although the people with this interest are generally also interested in travel, so while they have a key knowledge of their own network, they are also interested in exploring food scenes in other places
Some of the top sub-communities include: food bloggers, making up 8% of the foodies on Twitter, food truckers at 3.7% and Indian foodies taking up 3.4%
The remaining 84.9% of the community exist in thousands of even smaller groups.
So what does this mean for brands?
Our research tells us that the food blogger sub-community on Twitter are 59% female, and 93% based in the UK. This means food bloggers are ideal for micro-influencer campaigns – it seems like a win-win from a strategic point of view.
But getting it right is not that easy. Brands must understand that food bloggers need to truly love a product to feature it: keeping on brand for the blog is just as important as it is for the product or service.
The research tells us that food bloggers are also interested in travel and books, as well as 'exploration' so it's likely that a connection around a new cuisine they haven't tried from a different culture will help them broaden their horizons and explore new ways of cooking. These campaigns are only a success if the brand help the blogger experiment and explore.
Two good examples recently include collaborations by Chang Beer and M&S with two of the biggest food bloggers in the UK, Eat Like A Girl, and Tinned Tomatoes respectively.
Preview: Chang Sensory Trails at LAO Café https://t.co/6DosQRnQ7S pic.twitter.com/uQNo5nBDUy

— Niamh Shields (@eatlikeagirl) May 1, 2018
Love pasta, you'll love this! Rich spaghetti sauce, sweet with the flavour of tomatoes, warmth from spice & smoky flavour of roast red peppers & red onions. (Pasta & jar sauce buy one get one half price in @marksandspencer this month) https://t.co/zNXCGi7KcI #vegan #pasta #ad pic.twitter.com/1lX6nGeWDU

— Jac -Tinned Tomatoes (@tinnedtoms) April 21, 2018
Both sponsored posts included a genuine testimony by the blogger – Niamh from Eat Like A Girl is interested in the Chang Beer event Sensory Tales because she's enjoyed travelling in Thailand in the past, and Jacqueline from Tinned Tomatoes is keen to endorse M&S's pasta range because it's the exact sort of high quality but undemanding food she writes about on her blog.
Cooking for a cause
Another incredible example is the Cook for Syria campaign. This was created by the London Instagram influencer @clerkenwellboyec1 with Suitcase magazine, originally as a supperclub to raise money for the Syrian refugee crisis in late 2016 but what was meant to be a one-chef, one-night event quickly became a sold-out banquet headlined by six famous-chefs and the basis of an entire fundraising campaign.
With participation with hundreds of restaurants across London it has developed into a movement, with hundreds of restaurants participating, two cookbooks, and a series of pop-ups at major foodie events – all shared numerous times on social media, and all encouraging donating money to Unicef. 
"This couldn't have happened in this short time without social media and we'll try to raise as much awareness and money as we possibly can," Clerkenwell Boy told the Guardian in 2016. "I feel we are producing a bit of a model here; it's a model that other places could easily follow. We haven't spent a single penny, just produced a campaign with people's time and passion."
While what is appealing about the Cook For Syria campaign is that it was a genuinely organic idea, that grew from interest around it rather than a cynical pre-mapped out strategy, from a brand point of view it is an interesting case study. It not only taps into the food blogger impulse to explore, travel and recommend, but it gives a chance to understand Syrian culture beyond the terrible refugee crisis, creating a genuine connection with the Unicef campaign.
Food is incredibly personal, and what worked in this movement was each chef and restaurant who joined adding their own twist to Syrian cuisine, allowing an intersection between each restaurant's own identity or ethnicity – which is incredible important to foodies – and Syrian food. Similarly, taking advantage of the bold, experimental London food scene and its army of passionate fans created an authentic buzz, showing how making the best of hyperlocal culture is essential for getting people excited about food.
The takeaway:
Campaigns trying to appeal to foodie audiences can be a huge success, but choosing how to communicate to this audience is about getting granular. Foodies are highly influenced by people they respect, but as these affinities are tied to local and ethnic passions so the connections need to be authentic to resonate. Marketeers, strategists and planners should take note of these cultural affinities while trying to target these self-defined audiences. Some key takeaways on how to speak to the food-loving audience:
Find local passions: people really care about the food hubs near to them, so finding passion communities by tapping into a local favourite will make your campaign infinity more successful
Identify micro-influencers: there aren't any huge foodie influencers because they're all so specialized in a type of cooking, or culture. It's important to find the people who appeal to what you're doing
Tell true stories: the Cook for Syria appeal was such a success because it began as a genuine desire to help with the charity appeal, and grew organically
Download the full Twitter Passion Networks report. Keep checking back for more in this series about Twitter passion networks, and how brands are connecting with them