Monitor the success of your Instagram stories on CORE
About the update
We've launched Instagram Stories into owned-channel insights on Pulsar CORE: so for your Instagram accounts that have been plugged in, you'll be able to get metrics and analysis on your Instagram Stories. Use our Instagram Stories analytics tool to see how your stories measure up to the rest of your posts.

Why this update?
Stories play an integral role in the Instagram campaigns of today. The full-screen feature lets users connect with their audiences using totally visual posts. A recent survey conducted by social media marketing firm Mediakix showed that influencers in North America overwhelmingly preferred Instagram Stories to its closest rival, Snapchat.
We're making it easy to track the success of these stories. When you create an Instagram Story, people will only see this for 24 hours before it disappears. CORE saves this data, which allows you to look at a previous catalogue of Instagram Stories and compare their success – something you can't do on Instagram itself – which is an especially helpful Instagram Stories analytics tool for tracking ads or sponsored content created on Instagram Stories.
What can I use the Instagram Stories analytics tool for?
Instagram Stories offers an exciting way of promoting your brand. You may be interested in trying out new content ideas and varying the content from what you post to your Instagram page. By tracking the success of your Instagram Stories, you can figure out what content works best in which medium – posts or stories.
For instance, a restaurant brand who are keen to show the atmosphere inside their venue.  So far, they might have been able to generate engagements from images of their food already plated up – but might be keen to try and put a face to the brand.
CORE allows this particular brand to monitor the success rate of their new Stories campaign in comparison to posts on their Instagram page – and in future, pit different Instagram Story campaigns against each other using historical data to see what is working best.
Where can I find the update?
Instagram Stories data will contribute to your overall Impressions, Engagements, Visibility, Engagement Rate and Reach metrics for any plugged in Instagram account on Pulsar CORE. We classify an Engagement for Instagram Stories as a 'tap back', where a user has tapped the back button to watch the story again – this is classified as Engagement for that story because it shows they are so engaged that they want to see the content again.
With this Instagram stories analytics tool you'll be able to see exactly how many 'tap back' engagements you've generated in the stats engagements graph in the content tab on Pulsar CORE. Here we plot your 'tap backs' performance and the number of times your story has been viewed over time.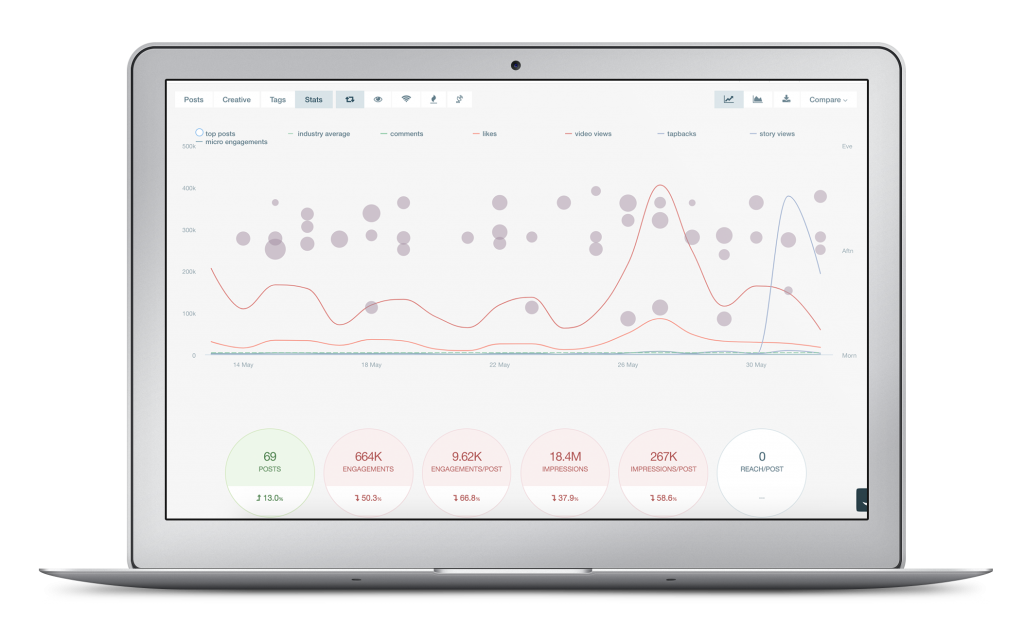 We've added a new icon to differentiate whether the post is an Instagram Story or regular post, so just look out for that when analysing your content performance.
Brand and brand-set exports will give you a full breakdown of your Instagram Stories metrics for that profile.
If you're already a Pulsar client, you can find out more about our Instagram Stories update in our What's New area, under Resources.
If you haven't tried out Pulsar yet then get in touch with our team by requesting a demo to find out more about how this Instagram Stories analytics tool can benefit you.