Muting words for a better Twitter
Users are muting words to brag, avoid spoilers, politics, triggers
One of Twitter's most advanced options – muting words – is slowly growing, as users try and wrest control of what appears on their timelines. This is spite of the fact that the process of muting words is much harder than blocking users.
Conversations about muting words have grown from just 4k mentions on Twitter between 2015 and 2016 to over 134k mentions in the past year, as the feature was discussed, and then introduced and improved.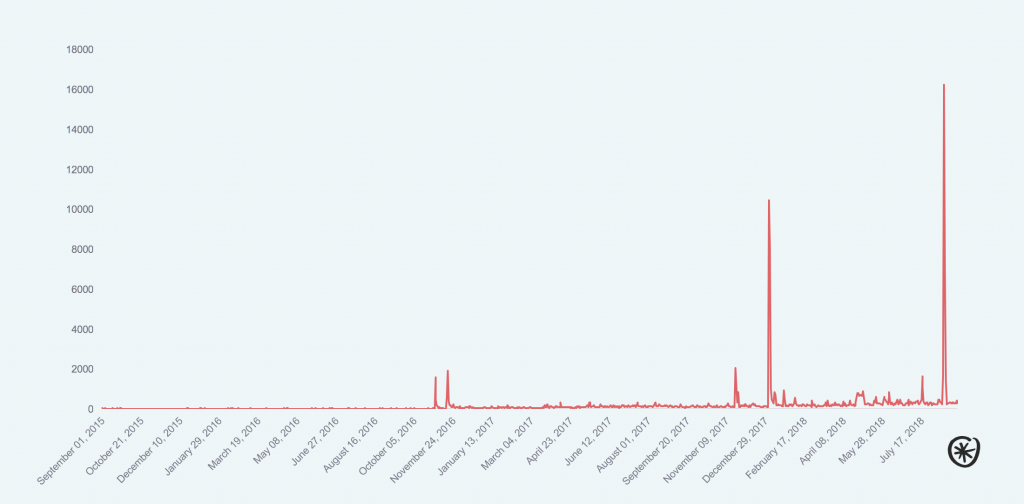 Spikes in muting conversation were triggered by the introduction and modification of the feature in October 2016 and November 2017 respectively. Conversation spikes were triggered in late December 2017 as comedian Sarah Silverman entered into a dialogue with a troll instead of muting them and July 2018 when soccer team AS Roma posted about muting Barcelona (who had recently signed a player who had passed Roma over at the last minute) before the teams played one another.
And while our guess is that the percentage of users actively muting words is likely in the single digits, Twitter publishers can be sure that certain keywords are guaranteeing that certain users will never see your content.
Users are turning to muting in order to protect their awareness from all sorts of information they don't want to be exposed to, for instance:  
tuning out of news conversations, whether that's the top news story of the day, celebrity Twitter, or ongoing outrage;
TV spoilers (incidentally, this is the company's favorite use case, since it was the use case that was supposedly driving users away from the platform, and was used in their messaging for the release of the feature);
Swearing and crude language
Twitter of course does not share information about which words users are muting, but volumes of conversation about muting words shows us that certain terms are more likely to get your tweets flying under the radar.
Searching on Pulsar TRAC for conversations about muting words, a series of discussions of use cases came up: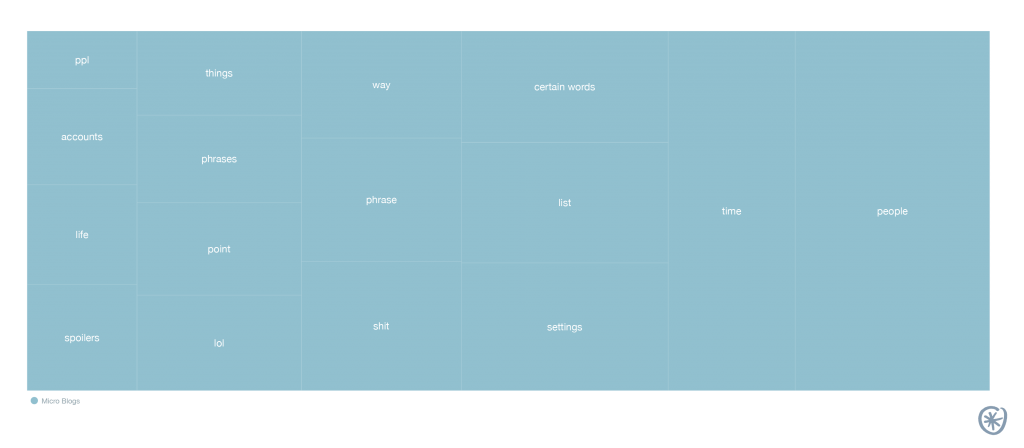 "People" and perhaps or more specifically "guys", comes up in muting conversation often, showing many mutes are about behaviors from people and used in tandem with the ability to mute accounts. Obvious topics like "spoilers" and the "word Trump" also often come up.
People talking about muting are concerned about their "safety" and "privacy", and want to get rid of things they "hate". Interestingly, two of the only topics that came up with positive sentiment were "thanks" and "word Trump", implying users are sharing information about how to mute such upsetting topics as the US President and thanking one another for it.
A lot of users discuss muting also like to flaunt the fact that they muted a word, often by showing a screenshot of their muted words list. This is either for bragging rights, or to make a joke – as the constant appearance of "lol" as a topic alongside muting indicates.
But what specific words are people muting? It's hard to tell, for precisely the same reasons that it's hard to truly mute the words: spelling.
As well as talking about what they mute, users spend a lot of time complaining their mutes don't work, because if you misspell, don't pluralize, or forget about a synonym, things will slip through the crack. This makes it as difficult to pick up the actual words people are muting as it is to mute them on Twitter.
But a sample from an online crowd-sourced muting app ran by serial entrepreneur Pieter Levels, shows Trump and the Kardashians at the top, while also surfacing some less predictable terms like "white male," "diversity" and "sjw" – short for "social justice warrior."
The app allows users to submit terms they want muted, and the list includes:
Trump
Fake news
Kardashians
Kardashian
Donald
Game of Thrones
Covfefe
Make America great again
White male
Fox news
Diversity
Politics
Putin
President
Sarah Sanders
Muting words is not a straightforward action on Twitter, hidden several screens away from the home page of the app. To mute a word:
Go to settings, and scroll to the very bottom of the page
Add a word, phrase or hashtag to mute
Choose how long you'd like to not hear it for (24 hours, 7 days, 30 days, or just forever -the default)
Sit back and enjoy the filtered version of the Twitter!