Google Analytics launches on Pulsar CORE
Connect the dots between what your audience says, thinks, and does
Our digital audience insight platform just got more powerful.
After adding search behavior to social media data, we are now adding web analytics data, allowing you to connect the dots between what your audience says on social media, how they think while conducting a search, and what they do on your website.
What part of your social media content is driving customers to your website? What content is converting best? Is your content strategy on social synched with your website's? What topics is your audience engaging with?
By linking your social media data with web analytics, you can now measure the effectiveness of your social media marketing and answer these questions. Let's dive in.
Here's the highlights
The Google Analytics integration with Pulsar CORE will help you tap into your audience in real-time and at scale, whether you are working on social media management, content creation, audience development, or marketing analysis and research.
The new integration allows you to monitor the ROI of your social activity by showing which spikes in web traffic connect with social posts in one, holistic view.
Both Google Analytics and social media only give a partial view of what how your content is performing. Comparing the two side by side, you can understand the true reach of your content, see who your audiences are for different platforms to inform content creation, understand what sort of content is shareable, and whether you could use different keywords, topics or imagery. Similarly, you can get inspiration from topics and imagery that are getting higher reach on your website.
Here's two views to help you get a sense of what this integration is about.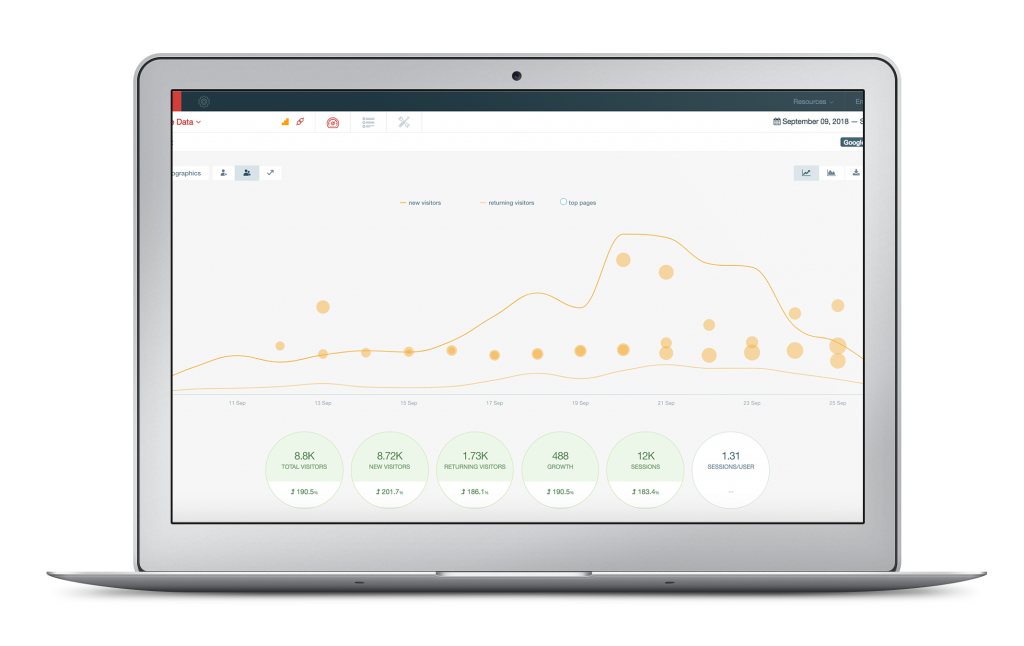 Instead of drilling down through lists, you can see the breakout pages that are performing above average in a simple, beautiful visualization.
Connected with the social insights CORE already offers you can see organic social shares of your web pages, something that is not possible within Google Analytics itself. You can now discover if there are webpages you didn't realise were resonating with your social audience and help you understand what could need promoting in a paid campaign.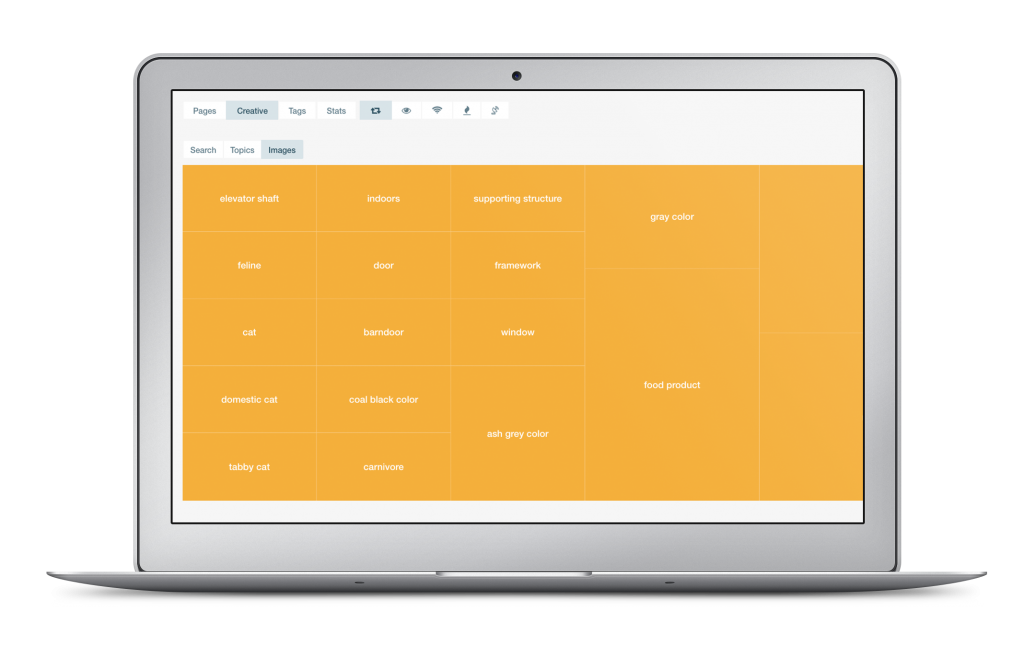 What's going on under the hood
The integration with Google Analytics allows you to measure the performance of your website content and audience, in tandem with your owned Twitter, Facebook, Instagram and YouTube channels' performance.
It includes the following capabilities:
Audience Analysis
See a detailed breakdown of new and returning visitors to your website, which you can compare to your social channels' audience growth;
Discover your breakout pages and see where the majority of your audience is landing on your site;
Analyze the demographics of your website audience, such as their age, gender, location, language and devices they use.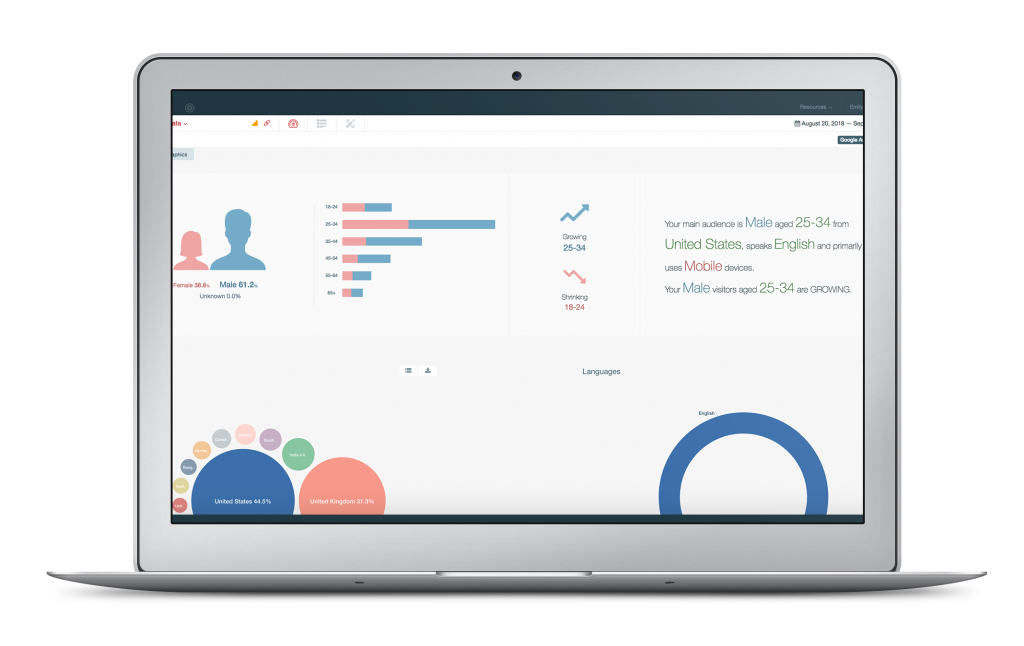 Content Analysis
Discover the best and worst performing pages on your website over a specific period, and see if the high-performing pages are the same ones being shared on your social channels;
Understand the most popular search keywords that brought people to your site;
Discover the topics driving the most engagement on your website;
Identify which images on your site are working best for you, and whether they match those you are using on social media;
Tag pages as part of campaign tracking to understand a specific campaign's performance;
Track your performance metrics (engagements, visibility, impressions, engagement rate, reach) over time, and see how these measure up to your social channels.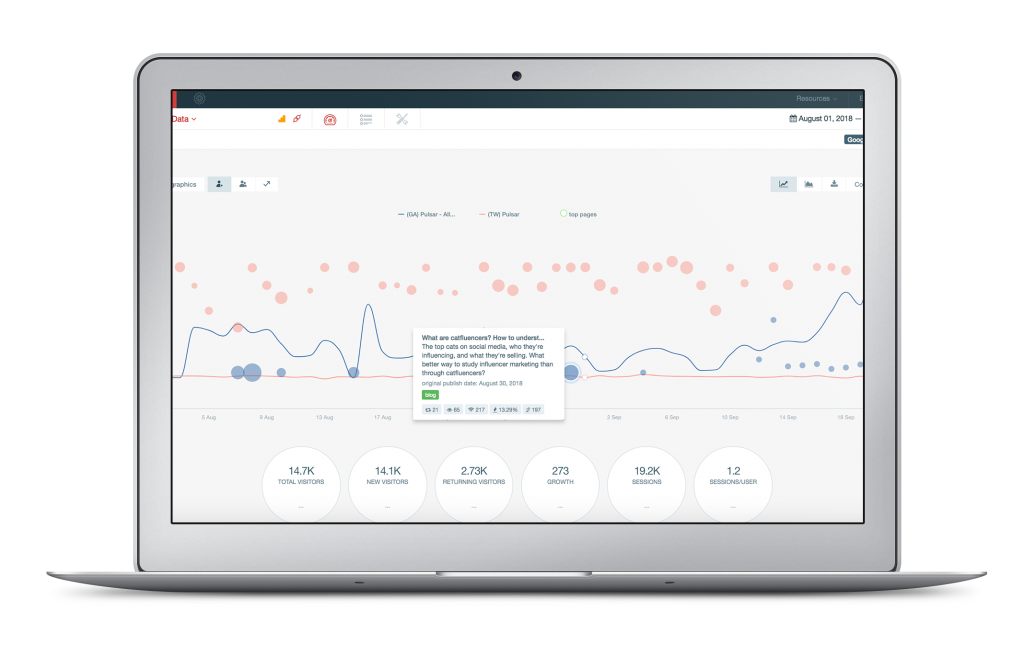 Where do I find it?
Google Analytics is now available in Beta for all existing Pulsar CORE clients who use Google Analytics for their website analytics.
If you are a client, you can find more information here on how to connect your Google Analytics account and how to use it.
Or if you would like to find out more about how to understand all your digital audiences in one place, please request a demo.