Western-themed porn searches just grew by 730%. Why?
Gaming insights where you least expect them
Red Dead Redemption 2, the sequel to a best-selling Western-style shootout game, is on track to become one of the most successful games of all time. 
It garnered $725 million in sales from its opening weekend, as game publisher Rockstar Games shipped over 15 million copies to stores in the first two weeks.
But game sales are not the only thing that have shot up.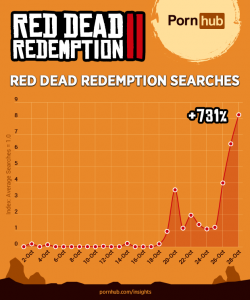 On Pornhub –one of the leading porn streaming sites– searches for Western porn increased by over 730% during the release weekend at the end of October.
This is not the first time we have seen this correlation.  
"Fortnite's biggest search increase occurred on March 15 [2017] after Drake played the game live on Twitch. Not only did it break records for concurrent Twitch views, it caused searches on Pornhub to increase 824% above average," according to Pornhub Insights.
But what on earth are porn site users searching for that is related to games? Well: "fortnite hentai" (anime & manga porn), a less imaginative "fortnite porn" and "fortnite sex," as well as an unspecified "fortnite ass."
Because Fortnite fans are not just silent voyeurs – they're also vocal about the game on social – we know there is a strong geographic correlation, too.

Comparing where US searches on Pornhub happened with social media mentions of the game, as seen through Pulsar TRAC, shows the two are quite consistent with each other.
It's not just gaming, either.
At the height of the fidget spinner craze in May 2017, searches for the term on Pornhub increased 250%, again consistent with the skyrocketing mentions on social media.
Games, products, as well as movies and tv series (try searching for Game of Thrones porn): if people like it, there's likely a porn audience for it.

So what does this mean? For starters, it shows how the porn industry –which has long driven innovation in technology helping pioneer more efficient streaming and online payments– is ripe for producing genre-bending remixes of culture catering to emerging audiences.
Secondly, it might point to how games' cultural influence is growing. While the industry has long surpassed Hollywood in revenues, its cultural weight is often underestimated.
But if you're trying understand how culture resonates, finding out whether it's made it to porn is a good indicator of a hit. It remains a highly untapped method of tracking audience behavior.
The gaming audience is a good one to try and understand: Esports communities, for instance, are very close-knit on social media, and our research shows tight-knit online communities facilitate virality.   
Gaming and pornography remain both at the frontier of culture or  –some would say– the Wild West.