The audience talking about leftover food is heating up
How people use (and post about) what they don't eat
Christmas dinner recipes have gotten longer of late: there's the picture and social post you'll be creating about making, it, and then the one about serving that Instagrammable sparkly gravy.
One more extra step is gaining ground: posting about the leftovers.
Conversations about spare turkey, brussels sprouts, and cranberry sauce are growing:  in late December 2017, 164,000 tweets were posted about leftovers worldwide, 35% more than in 2016 and over double those posted in 2015 over a similar period.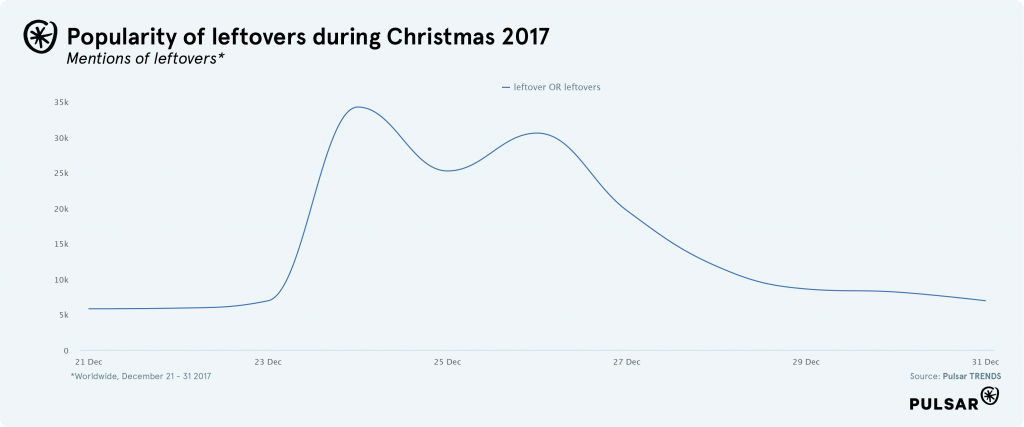 And of course this isn't the only key time for leftovers chatter – Easter sees a spike in leftovers discussion, as do holidays like 4th of July weekend – and in the United States (where most of this conversation takes place), the true leftover-fest is actually over Thanksgiving, with over 150,000 tweets during the weekend following Thanksgiving this year.
But how do people feel about leftovers?
People love 'em: 66% of tweets were tagged by Pulsar's algorithm as joyful ones (compared to 21% for sadness and only 2% for anger), and a lot of these posts seemed to be an extension of the kind of braggy posts to show off the Christmas dinner itself.
Gradually using up all the leftovers. Made Green Chile Turkey soup last night. Making green chile turkey enchiladas tonight. – https://t.co/4Y5J3DIsnt#NewMexico #food #foodie #cuisine #southwestern #spicy pic.twitter.com/ObBVl6EzSt

— NewMexicoNomad (@505Nomad) December 28, 2017
There's something magical about #boxingday lunch using leftover turkey, it was yum x pic.twitter.com/Cx7QBCCbx1

— Leigh Farm (@LeighFarm) December 26, 2017
In fact, people have such an involved relationship with leftovers that, we might be starting to enter 'leftover meme' territory:
Tfw you run out of Christmas leftovers pic.twitter.com/bOe2rYcIPF

— Caity (@caitychats) December 27, 2017
Me after two and a half plates of Christmas leftovers pic.twitter.com/OxwhvXHlkr

— Emily Whitehouse (@EmTheLost) December 27, 2017
It wasn't just people. Companies, brands and even nonprofits were eager to get in on this conversation.  
Food and lifestyle accounts of course offered endless ideas for what to do with them:
Love Christmas leftovers? Make the most of them with our deliciously simple recipes: https://t.co/CFYWBdh2lK pic.twitter.com/ckezok5ZFn

— Waitrose & Partners (@waitrose) December 26, 2017
While historic conservation groups tried to get current
When someone asks if you'd like any more leftovers. pic.twitter.com/7sTZ9I9BAx

— National Trust (@nationaltrust) December 26, 2017
And American football teams experimented with meme-ish, Twitter-native humor
When you see there are still leftovers in the fridge pic.twitter.com/onxqN9I8oa

— Carolina Panthers (@Panthers) December 26, 2017
Those in the internet radio business turned leftovers into an opportunity to talk about top artists…
Already thinking about leftovers like… 🍝🎄 | @Camila_Cabello pic.twitter.com/40jQyI0luK

— iHeartRadio (@iHeartRadio) December 26, 2017
And others promoted a kitchen giveaway…
Does your kitchen need a revamp this #BoxingDay? We've teamed up with @HotpointUK & Jamie Oliver to give away a kitchen worth £10,000 full of Hotpoint appliances! RT & tell us your tips for making the most of your Christmas leftovers for a chance to #WIN! pic.twitter.com/1LxXH47Jsn

— ao.com (@ao) December 26, 2017
As a promotion, this last one seemed particularly successful. For the price of a few appliances, this last tweet earned UK electrical retailer AO a 3.33% share of the Twitter conversations we saw about leftovers.
International leftovers?
We also searched on Pulsar TRAC for 'leftovers' in several non-English languages and countries after Christmas 2017, and then looked at what foods people were talking about and used our vertical AI (courtesy of Clarifai) to analyze images posted.
The most left over foods were:
In the UK: turkey, vegetables, cheese
In the US: turkey, ham
In Brazil: chocolate, cake
In Nigeria: meat, chicken, beer
In France: vegetable, tomato, salad
In Spain: cake, beer
In Japan: sauce, chicken, meat, rice
Overall though, the UK and US discuss leftovers far more than the other countries searched…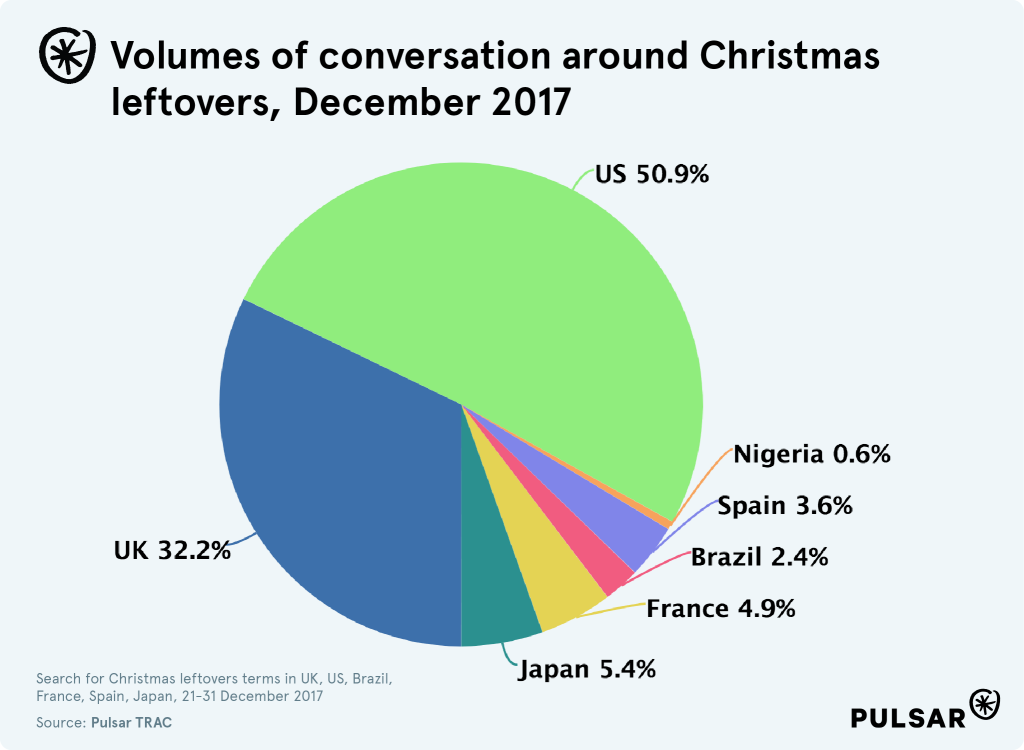 It wasn't just leftover food either: 14.3% of images shared related to leftovers featured wine, and 21% beer.
Where's it all going?
But besides talking about it, what do people do with those leftovers? Making up bubble and squeak is the usual solution in the UK, but does it translate around the world?
The most-paired word with leftovers was, appropriately, "use" as people begin thinking of what to do with all that food.
Where to keep leftovers is also a dilemma. Most people are sensibly going for the fridge, although 41.5% of people choose to leave them on the counter and 3.4% on a plate (whether that ends up going in the fridge, we don't know).
Disappointingly, only a small number of conversations mentioned the obvious tupperware solution (Disclosure: not on the payroll of big tupperware, just sensible!).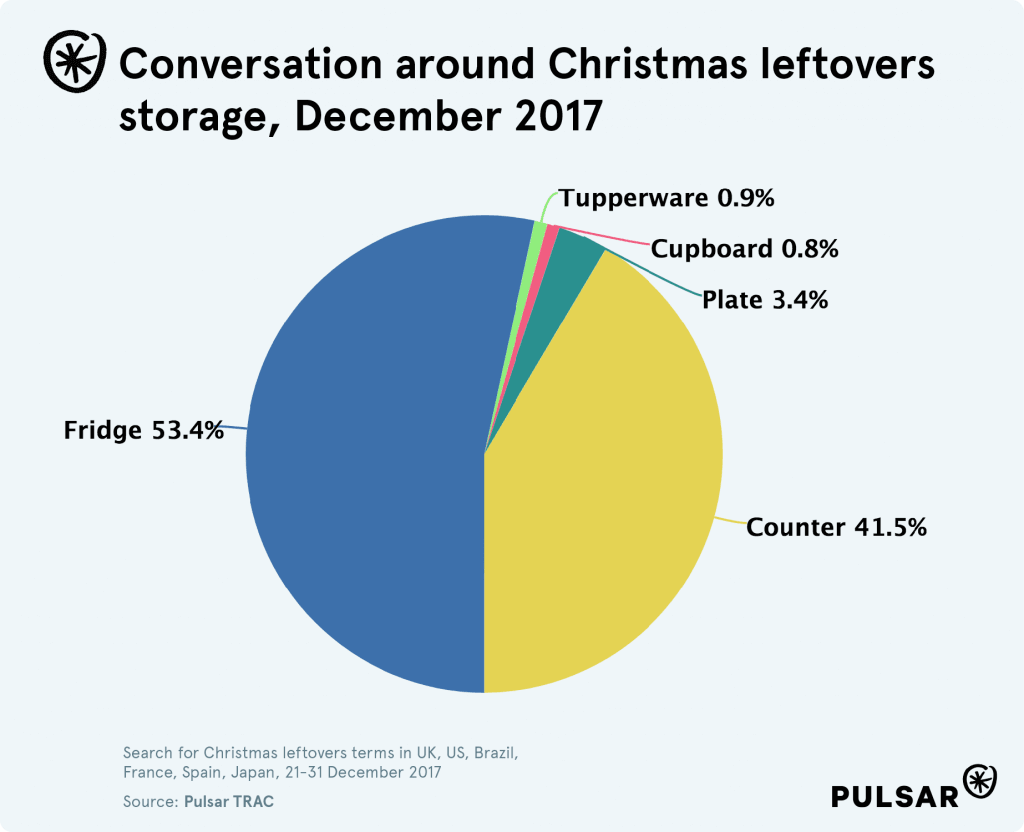 In UK conversations, leftover cheese seemed to go hand in had with the mention of "pie", "recipe" as well as positive words like "tasty" and "delicious".
With turkey leftovers on the other hand, Brits mentioned ideas for "sandwiches", "pie", "curry" and "cold", giving a pretty clear picture of what will happen to spare turkey the next day.
People in the US who were posting about leftover ham were looking for the "best" uses or the best "recipe" but although turkey in the US is more strongly associated with Thanksgiving, the Yanks offered  the Brits several ideas for new ways to include it in new dishes such as "soup", "rice", "casserole", served with "potatoes" and "greens".
In 2018?
As the Christmas season swiftly approaches, we can expect a growth of the leftover conversation along the lines of previous years (which has steadily increased 20/30% year on year).
But there's a change we'll see more concern about food waste.
Posts about completely wasting food were few and far between last year – only 1.8% of the tweets we saw specifically mentioned something going to waste, rather than being used in a new recipe. Then again, we don't expect those throwing food away to broadcast that.
But discussion of the problem of food waste overall increased by 20% on Twitter over the past year, mirroring the increased interest in leftovers.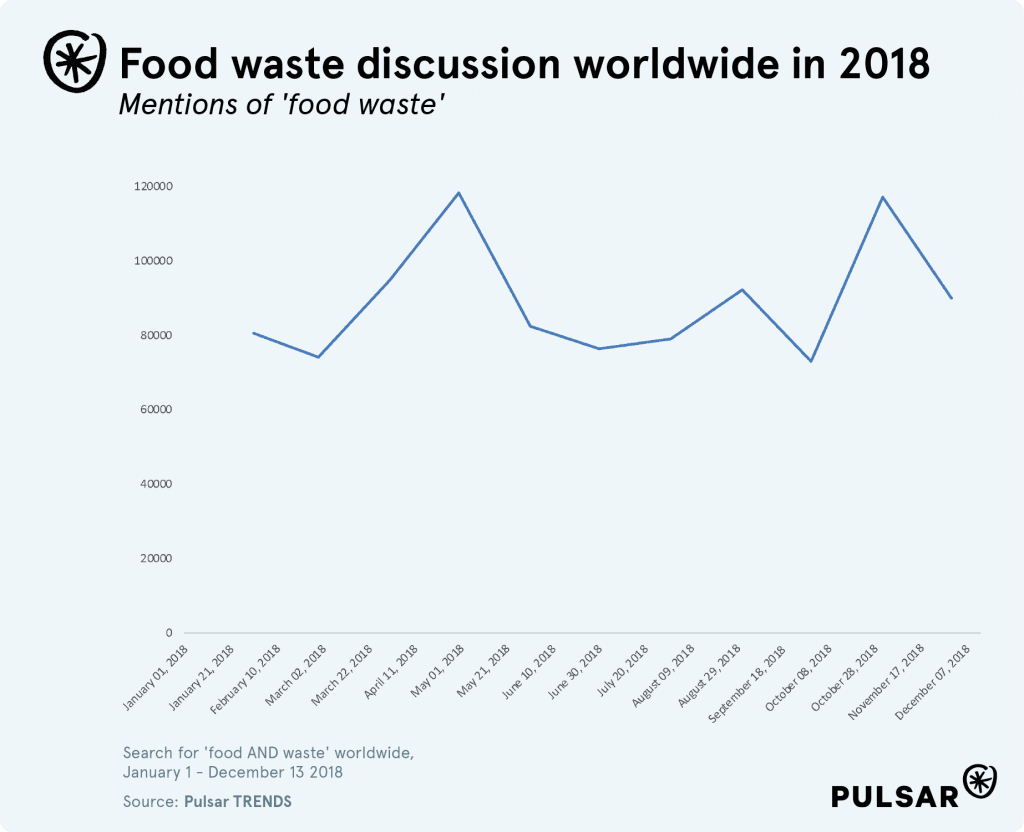 With the equivalent of 4 million meals end up wasted each Christmas in a country of 66 million like the UK, we hope that awareness will keep growing.