Are you living in the year 3017? Welcome to the crap life-hack craze making a splash online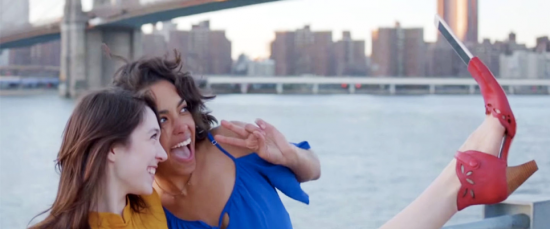 First we had the Ice Bucket Challenge, then batmanning – now the latest craze in social sharing is sarcastic images of life-hacks we might use in 1,000 years. If this craze has not so far passed you by, panic not, Pulsar are here to explain all.
To give this trend its full and original name would be 'Y'all living in 2017, but this guy already in 3017'. However the catchier 'living in 3017' or #3017 is usually used – these two terms alone have raked up almost 200k mentions in the last month.
The images or videos showcase ingenious but mundane improvements to every day life, i.e. 'in the year 3017 we will be doing this so much better, and I'm ahead of the curve'. Solutions to every day problems are cobbled together from items around the house, a technique sometimes called 'kludges'.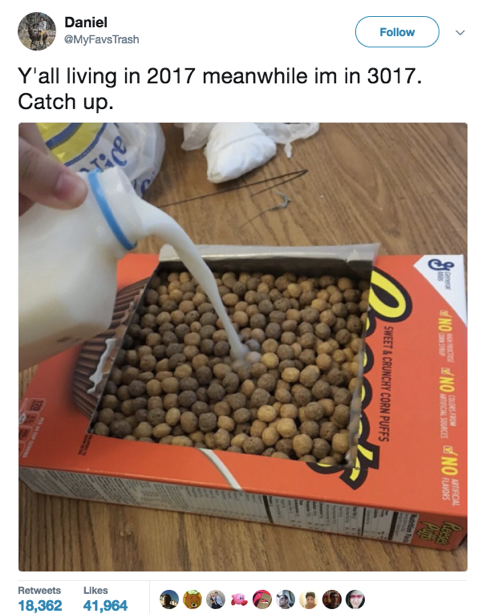 In this earliest example of the trend from May 2017, you can see the ingenuity displayed in using your cereal box in which to pour milk and use as a bowl. The popularity of this post is incredible – 18K retweets and 42K likes. From this catalyst people quickly began to post their own 'future self' life hacks. The more mundane the better, with the best examples including –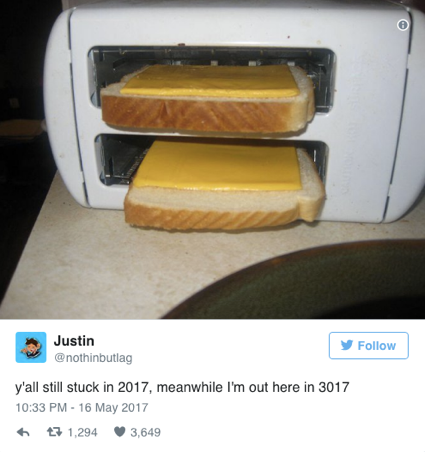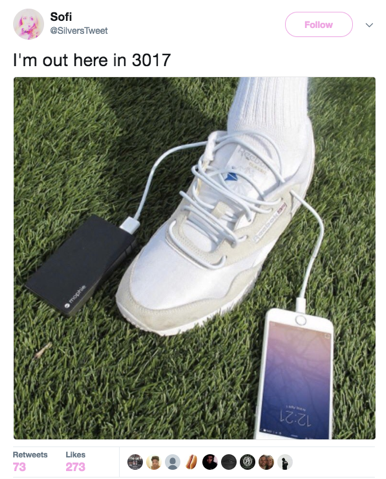 The trend originated as a reference to musicians who are so ahead of their time, they are already living in the future. Black Twitter, a movement within the main platform, is said to have propagated the term – with the rapper Wintertime often described in this way. However the phrase has quickly spread into the mainstream. In the last month it has raked up 317K mentions across Twitter, news, forums and blogs alone. The below chart also indicates that people are taking an increasing interest in searching for related terms on Youtube: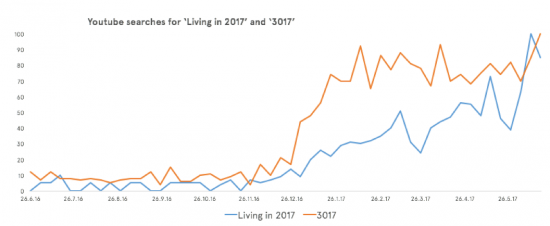 The trend saw its highest climax so far last week, this time with a post which showed a business card with a scan code to the owner's social media accounts. The card was also an exact replica of his mobile phone, including picture of himself.
Such is the popularity of these posts that the trend has been covered by Time, The Daily Mail and the Guardian, amongst others. However it has yet to be picked up by a brand or adopted by a celebrity, adding to its home grown charm.
With the seemingly never ending advancements in every day tech, its refreshing to see real people develop crap hacks to make light of how we might live in the future. With all the terrible news around the world at the moment, it can feel unlikely that we might even make it to the year 3017 sometimes- but at least these people are preparing for the best (or worst). With 1,000 years of practice, they are bound to come up with something that actually works in time. With this trend only in its infancy, who knows were it will take us?
If you want to live in 3017 and get insights like these for your brand or client, get in touch at info@pulsarplatform.com or call 020 7874 6577 today.