How Adidas managed to embed themselves in the heart of a cultural movement
"I don't get how people can be SO obsessed with trainers"; these are words that you have more than likely been exposed to if you've been anywhere near the queue of a trainer (sneaker if you're across the pond) store on a launch day of the latest Vapormax, Yeezy Boost [https://www.gq.com/story/yeezy-boost-sneaker-350-design-influence] or Vapormax x Yeezy boost v3 (ok this doesn't exist but I almost had you). It can get more crazy than Walmart on Black Friday. If there's one thing that the trainer subculture does better than pretty much anyone; it's building hype. In light of this fact, I thought it would be interesting to track discussions on one of the most "hypebeast" brands going: Adidas. Adidas has relaunched its EQT range which originally came to fame in the 90s. Since then a lot has changed. We have phones that take pictures, I'm older than 7 and we now have a wonderful thing called Twitter.

Analyzing the social hype surrounding EQT
The above graph is showing tracked mentions of "EQT" from the beginning of 2017 until the last week of August. As you can see there was a spike on the 28th January when Adidas released the news that a "new era of EQT" had arrived-and they didn't stop there; this was accompanied by the restock of the Pusha T x Adidas EQT 'King push' trainers in Europe. This news was met by fans that could not contain their excitement and exclaimed how "lit" the new trainers looked.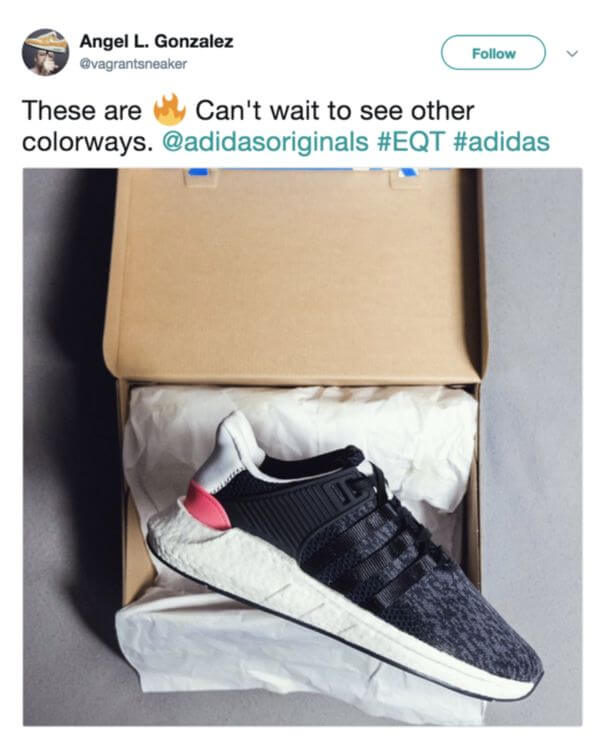 A 'lit' pair of Adidas EQT's
Adidas' stand-out partner 
Now you may be wondering just who this Pusha T guy is. He's an American rapper that has collaborated with Adidas on several trainers with painfully long names so I won't include them. Adidas have also collaborated with a fair few artists for their EQT line, so I thought it would be interesting to take a look at how some of these partners fared against one another.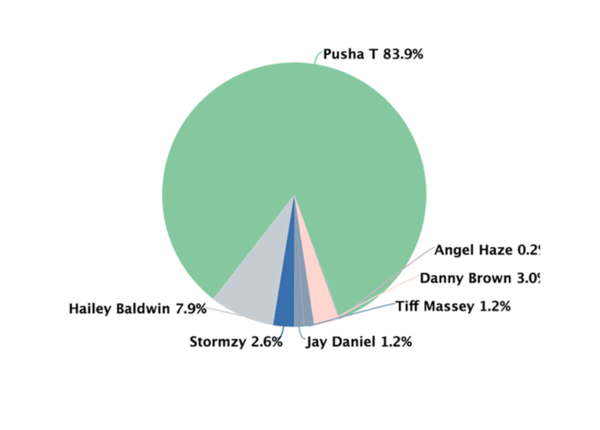 Unsurprisingly in light of the fact that he has several EQT trainers named after him, Pusha T has dominated discussions over the last six months. However, more interestingly Stormzy and Hailey Baldwin both collaborated with Adidas UK and JD Sports (a large British retailer), but her volumes were a much larger portion of the discussion. Our analysis shows that this is largely the result of a "Q and A" video released on Twitter that showed the model answering some classic 'which do you prefer' questions which included "Birthday or Christmas?" Since this is a highly interactive and engaging way to reach out to millennial fans and more fun than text (who has time to read), this post was shared by a number of Hailey Baldwin fanpages as well as Hypebae.  This contributed heavily to the difference in discussions.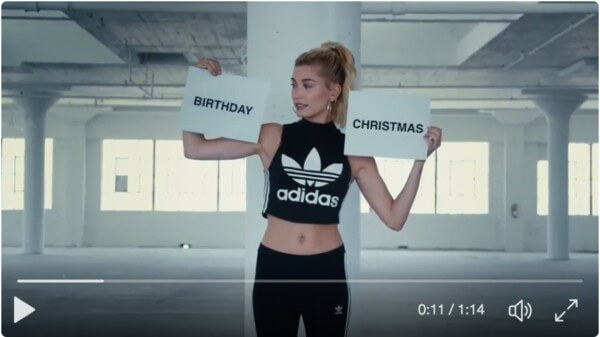 Building a connection with Adidas fans
Whilst celebrity partnerships are a great way to increase exposure for the brand by appealing to the figure in question's fanbase, I often feel like there is something disingenuous about them. Don't get me wrong, this is Adidas we're talking about so they have got some "lit" partnerships with talented rappers, artists and models that are doing great things. But I can't help but feel like there's always something slightly off with them.
This brings us to the question of: How should a brand like Adidas go about creating a closeness with fans? The EQT Creator studio. This was an immersive pop up space that ran a week-long programme of free gigs, workshops and talks. The real value of this is the fact that it called for fans to interact with the brand; they came and experienced the EQT concept first hand rather than passively reposting about news on their social channels.  Adidas brought together a few different subcultures and united them to learn together. This is an excellent way to get fans organically posting about the brand as they shared posts that sufficiently created unmistakeable feelings of FOMO to all of their followers that didn't manage to get down to the events. This therefore created a dynamic where attendees were genuine, unpaid endorsers of the brand. Authentic.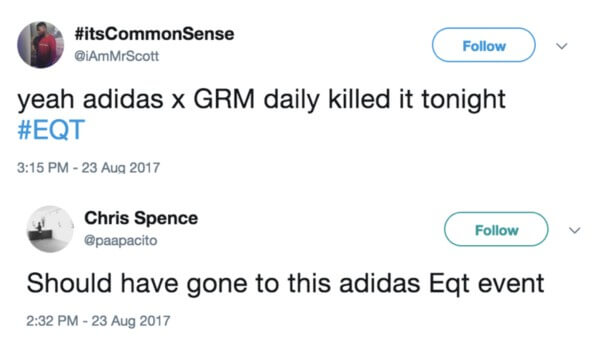 (This is social proof marketing at its best-FOMO is no joke)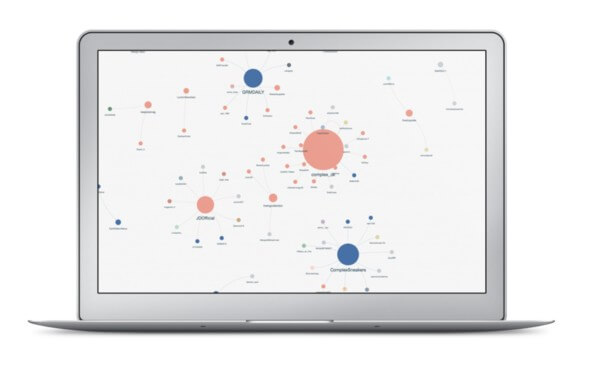 Like the jam in a doughnut, Adidas have placed themselves right in the middle of a cultural movement. This visualisation of the key influencers responsible for posting about the EQT Creator studio conveys this; in this instance, you have "Grime Daily" and "Complex Sneakers" collaborating with Adidas to put on events and posting about this on social, therefore effectively bringing together fans of both music and trainers. They effectively unite cultures and in so doing become a melting point for creativity. This is when brands can truly engage audiences; when they successfully embed themselves in the culture and don't try to dictate to it.
If you want to get insights like these for your brand or client, discover Pulsar TRAC and other solutions we have to offer by contacting [email protected] or call 020 7874 6577 today.