#Match4Lara: how Lara found her match
In December 2015, Lara Casalotti was diagnosed with Acute Myeloid Leukaemia. In an effort to find a stem cell donor match, she launched the campaign #Match4Lara which aimed – and still aims – to diversify the stem cell donor registries worldwide. The campaign benefitted not only Lara, but also thousands of others in urgent need of a stem cell transplant.
#Match4Lara shows how a successful social media campaign has the potential to inspire and encourage others to get up and do. By spreading her message across social networks, in just four weeks Lara was able to find a rare stem cell match, and help get 30,000 people globally to sign up to the registers.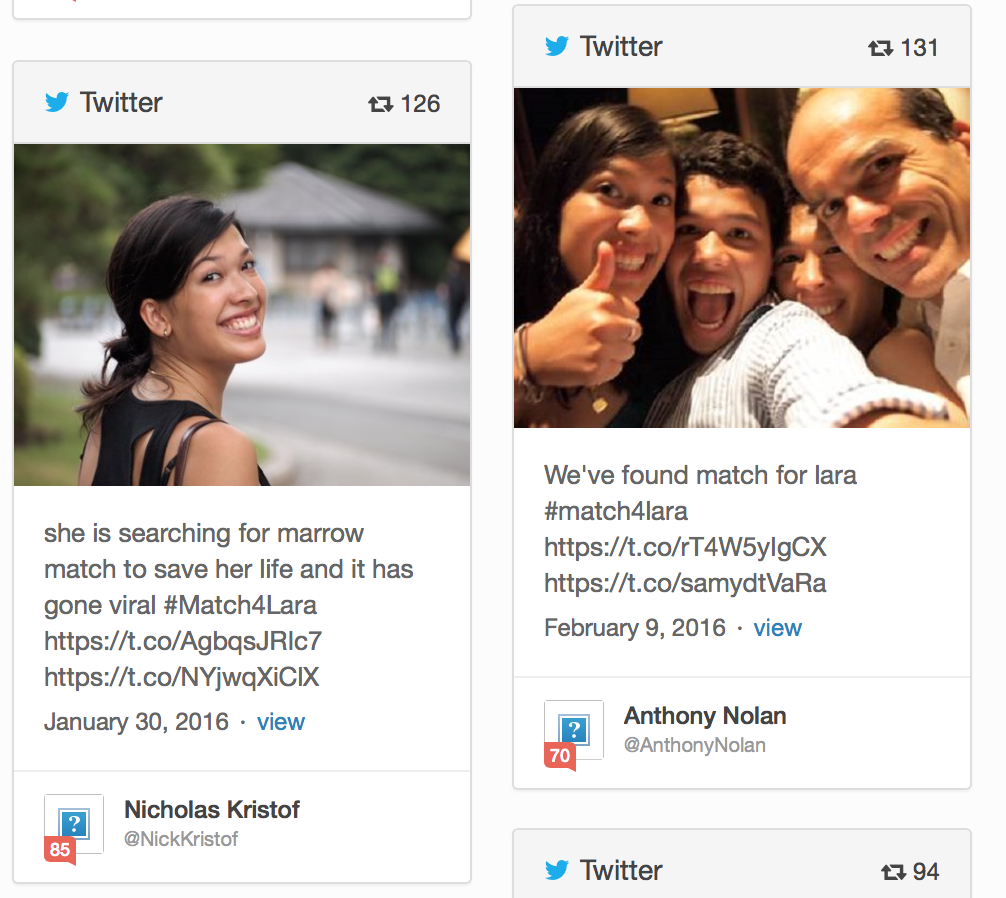 We first heard of the #Match4Lara campaign when it was in its infancy. Pulsar was asked by Hannah Haddad, our freelance social media researcher, to track the campaign from the very beginning (her brother is a good friend of Lara's). This meant we were able to visualise how it spread across social networks and follow the growth of mentions and shares. Hannah and Ed Hawes, Pulsar's marketing executive, have teamed up to analyse the campaign and understand how we can ultimately use social media for social good.
Says Hannah about this campaign: "People act when they are inspired; when they see that they have a part to play. #Match4lara did just that; connecting with the potential in everyone, to save a stranger's life. #Match4Lara linked the power of social media, with the visceral natural resources that do the clicking, the tapping, the swiping. This happened 88K times, taking the campaign to over 1.5 million people across all networks including News, Social, Blogs, Forums, and Facebook."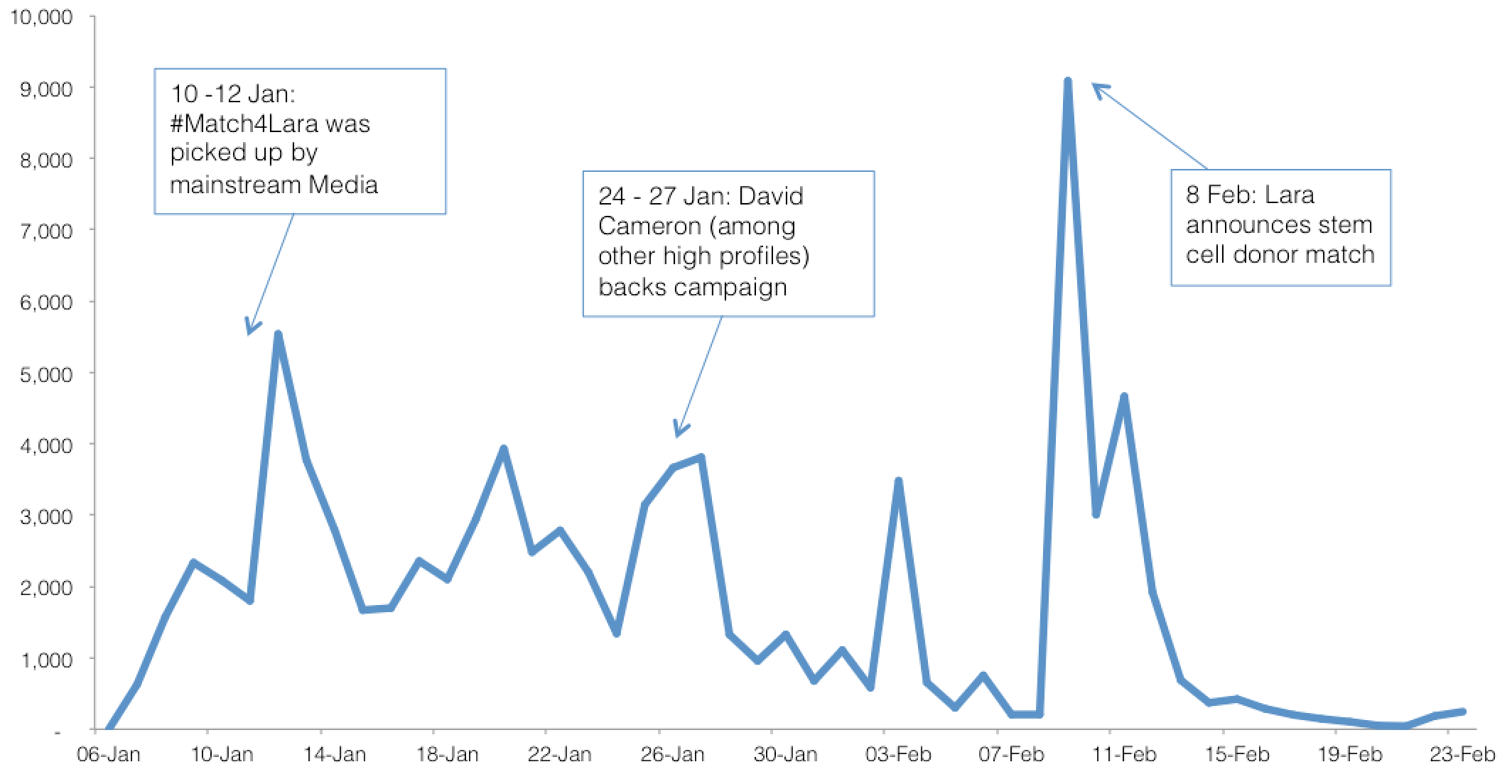 We identified three major peaks of chatter throughout the campaign's lifespan. The first was just after #Match4Lara gained momentum, attracting mainstream media. David Cameron and other high profile figures endorsed the campaign resulting in the second peak. Finally, on 9th February 2016, the world received the news they were waiting for. Lara's match had been found.
Hannah continues: "I refreshed the Facebook post continuously, watching the likes skyrocket by the second. It certainly felt like the whole world had been waiting. And in line with the inspired-leads-to-action rule, donor sign ups jumped once again."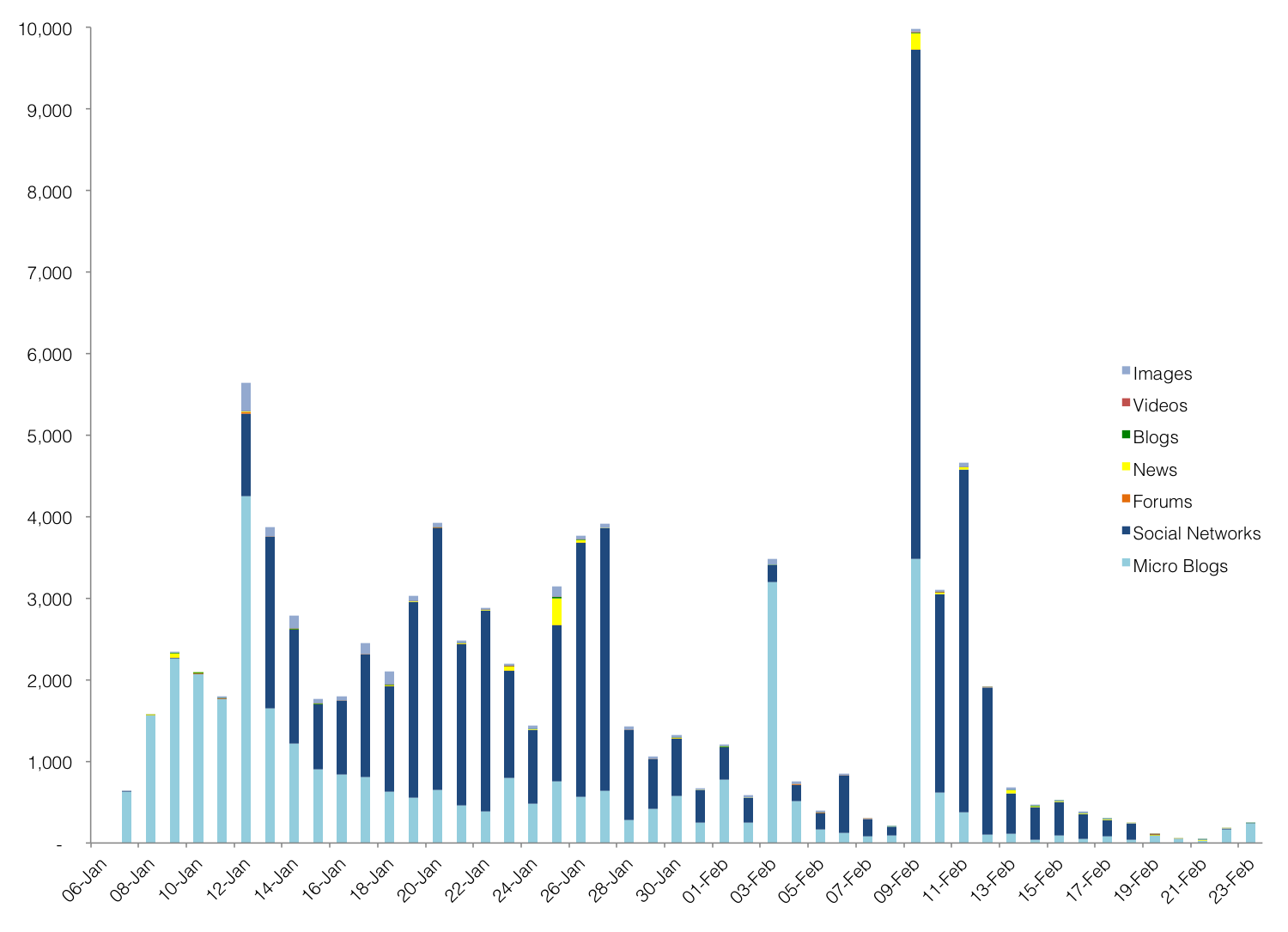 The chart above visualises channels by volumes. The campaign was fuelled by social  media (Facebook: dark blue, Twitter: light blue), where news and other outlets paled in comparison. Mentions of Lara's match announcement was dominated by Facebook.

The Audience dashboard breaks down the dataset by gender, age, country and language – a crucial feature to identify who's behind the mentions. From this we can see that the story was picked up by 66% more females than males. Lara is only 24, and the campaign largely resonated with the age range, 35 – 44, a group likely to have their own children as well as more experiences with devastating plights like Lara's, perhaps contributing to a surge in empathy.
Lara is British with mixed ethnicity; she's part Thai, Chinese and Italian – this had a direct impact on where the story was shared. Using this data we identified the main countries spreading Lara's message: the UK – 29.9%, Italy -28.2%, the US – 13.8%, and Thailand – 14.8%.
Looking at the bigger picture, Hannah says: "#Match4Lara is a key example of how social media and the proper use of social data can make content go viral. Pixelated faces aren't just mere identities: behind every swipe and tap breathes a human being. Social media for social good means everyone doing their bit on the ground. The spreading of messages, opening of discussion, garnering of support is certainly important."
"But likes and shares that convert into action truly embrace the potential of every human being behind the profile. This campaign meant Lara found her bone marrow match and it is continuing to encourage others to join the bone marrow registry. The campaign has already found potential in 30,000 possible lifesavers, and counting."
"Virality allows a campaign to spread its message even after its initial objective is complete. Why stop here? Let's bring social media down from the clouds."
Please convert your reading / sharing / liking of this post into action, by making sure that you and every one around you are signed up to the global stem cell registers. You might be – or know – the match for Aary, May, Zara, Vithiya, Tommy… just a few of 37,000 people waiting for their match to sign up to save a life. Thank you.
If you want to find out how you can make your content go viral or would like us to help track a campaign, send an email to: [email protected].