Which car features are most-discussed on Facebook, and by whom?
In the second part of this series, social media researcher Sameer Shah takes a closer look at Facebook to find out what people say about certain automotive brands. Look out for an interesting finding about women…
With its 1.4 billion users, Facebook is a vast and incredibly valuable resource for human thought. Facebook topic data allows you to mine topical information that is anonymised and aggregated, and the key thing to get to the best insights is to ask the right questions of your dataset. Pulsar can do this adeptly with its Clusters feature. For our recent research, we have compared different car features and what topics appear most on Facebook:
You can see that Style is the overwhelming leader, with people posting or sharing content about automotive aesthetics in almost a third of the entire car-led conversation. This is followed by Running cost at 12%, and then an array of topics such as a performance, mechanical specification, environment, practicality and price. These types of insights are key to informing creative and planning strategies, and car brands can improve their visibility if they tie into the topics of the naturally occurring conversation online.
Using the new Audience dashboard, you can also filter this by gender: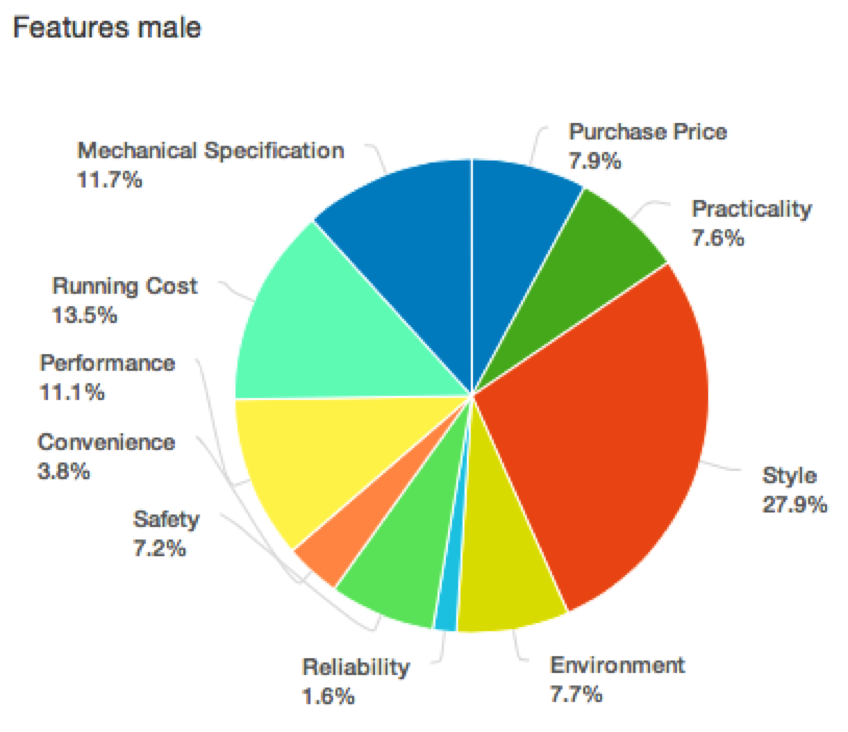 Looking at the graph above, male discussion focuses less on style compared to the overall picture, with more practical and "petrolhead" aspects such as running cost, mechanical specification and performance relatively more prominent.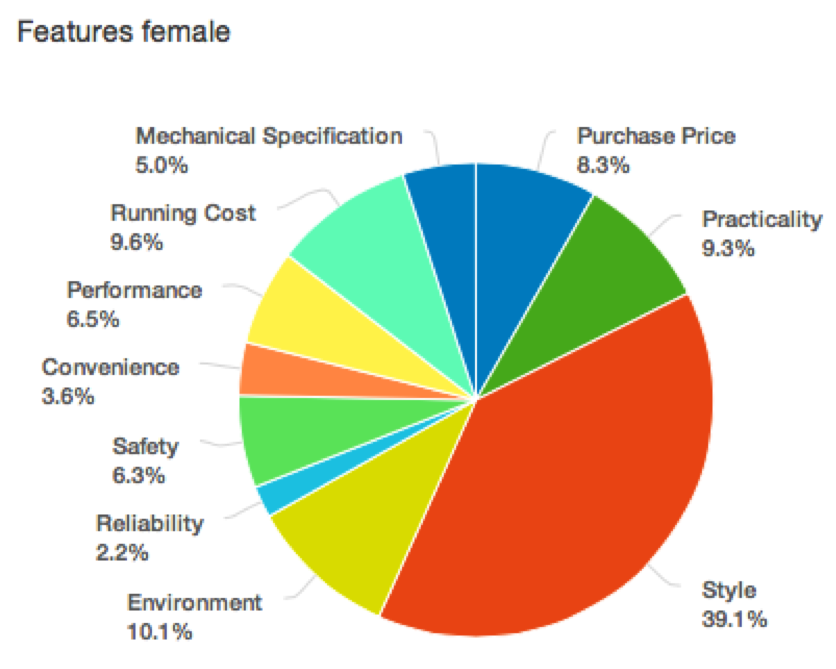 On the contrary, females over-index on style and also on environment – a topic that has been in the news with the much reported-on Volkswagen emissions scandal.
You can dive even deeper: what if you look at into the Style feature category, but showing a split in the age groups of both genders discussing this?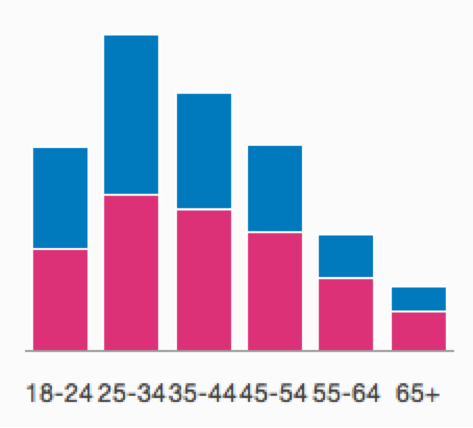 While the Style topic has a 50:50 gender split in the first two cohorts, it's the female group that becomes increasingly more prominent – comprising 60% of the chatter from the age of 55. This is greater than the more general Facebook user split by gender in this age range (circa 52% female versus 48% male – Statista).
One possible explanation behind this is that, as children grow up and are no longer dependent on their parents, women trade in the bigger family car for something more convenient as their needs change. Cars can also become a fashion accessory during this later stage for those with a higher disposable income.
Combining our age feature with Clusters also allows you to investigate which features are most-discussed by certain age groups: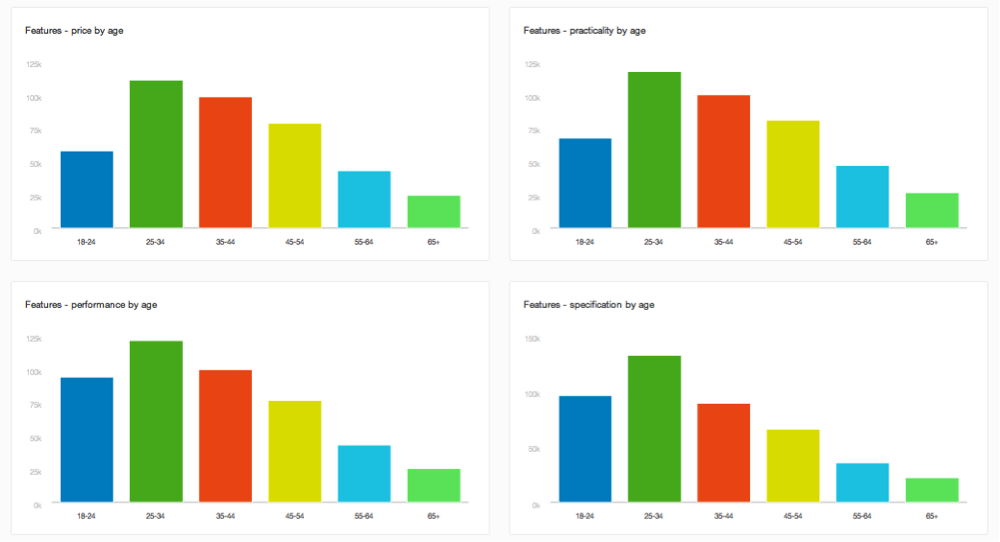 We can see that the 25-34 age group finds the following four features the most important: price, practicality, performance and specification. But the key comparison here is with either side of this group: 18-24 years olds tend to discuss "performance" and "specifications" more, but their 35-44 year-old counterparts focus on price and practicality, as the transition from petrolhead to pragmatist takes place.
Explore the power of Facebook topic data in full and request a software demo by contacting us on [email protected].