#Brits2015: How to track a global music event in real time and what you do with the insight
Last night was the BRIT Awards, the British version of the Grammys and UK pop's top get-together.  Here's how it played out on social.
We tracked the #Brits2015 hashtag for a client of ours in the music industry. Why'd they want to track an awards show? It's all about producing better content on their owned social channels:
Ensure that they are posting about the

top trends

on the night 

Gain inspiration

from the posts, pictures & videos that were gaining popular interest
Identify

 influencers

discussing the Brits, in order to engage with them from their owned channels
Here's a snapshot of how that looked on Pulsar:
1. #Brits2015 Trends
One woman accidentally stole the show at the Brits this year: Madonna, with a stonking  63,000 tweets just from UK-geolocated viewers.

We built a Brits celeb-o-meter using our Clusters custom charting, and were shocked. One Direction came third?! This upsets everything we thought we knew about British pop fandom.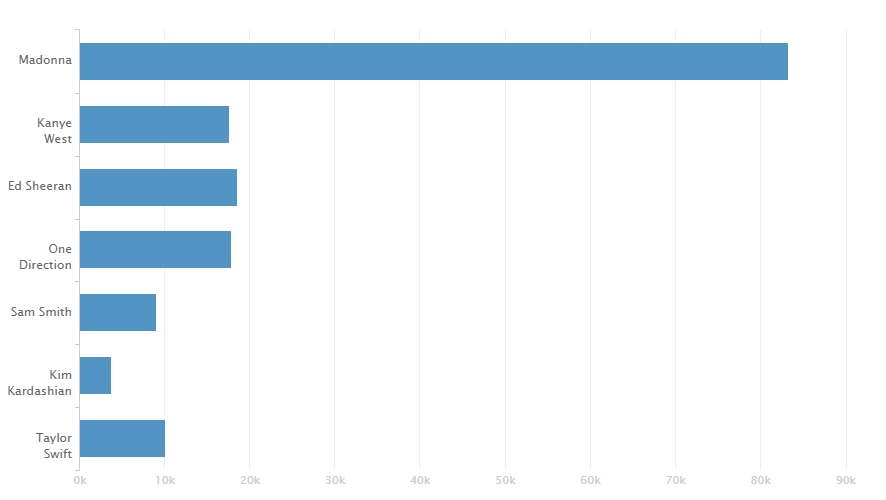 So forget London Fashion Week – falling over is clearly the top trend for 2015.
2. #Brits2015 Inspiration
Getting inspiration for content is easy with Pulsar – just click on our 'Content' tab.
View the most popular posts by Reactions to see what kind of content is getting the most Twitter engagement & retweets (posts about Madonna, Ed Sheeran & One Direction):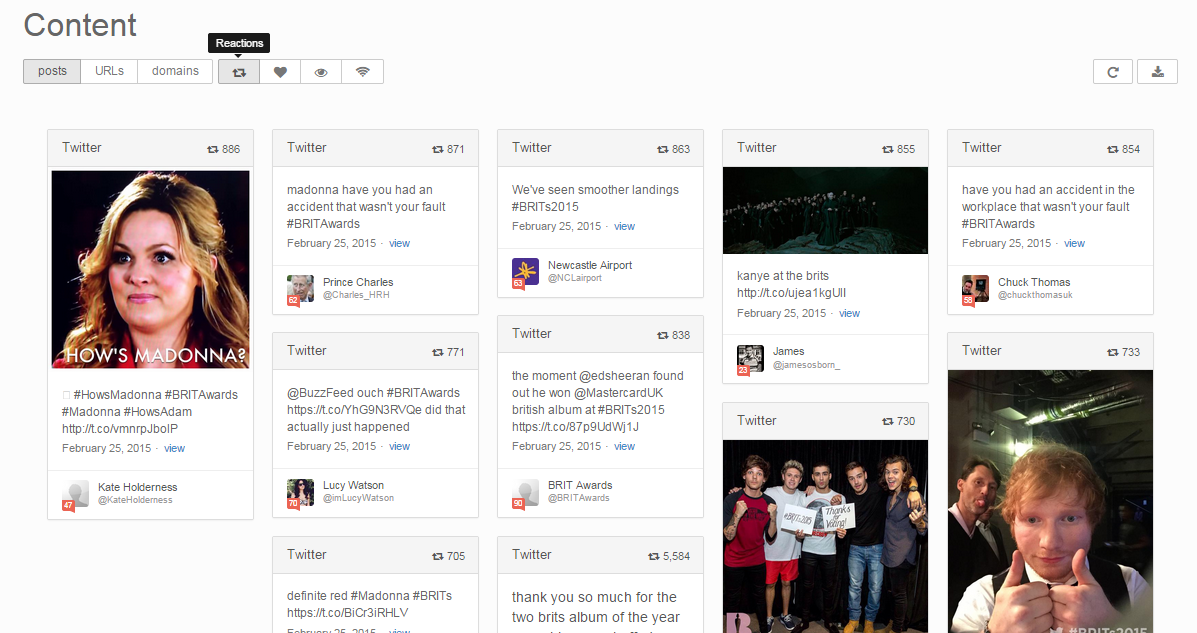 Or view  the posts getting the most Likes to see what's going down on Instagram (aka Kanye):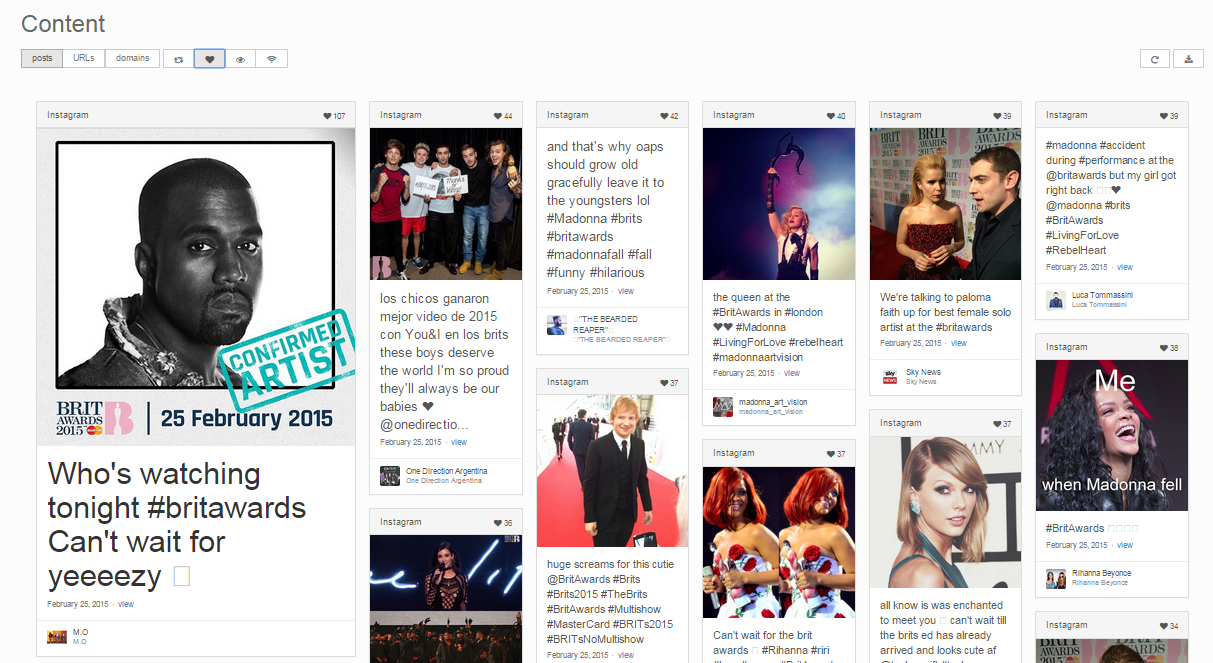 Interesting variations between the two channels help music industry social teams work out who the right celebs to talk about, where.
We also give you most-shared URLs (the Madonna falling over video, unanimously) and most-shared Domains, so you can understand where to host your content to maximise social shareability on to Twitter (answer: Vine. Not YouTube.)

So that's your content plan sussed. Now how'd you seed it out there into your customers' eyeline?
3. #Brits2015 Influencers
Who got the most reach in the #Brits2015 conversation last night? The official @BritAwards Twitter account, at least within the UK slice of the conversation we were tracking. Score one for company owned channels! In fact commercial accounts make up 7of the top 10 with highest reach, with Capital Radio, BBC Radio 1, The Guardian, Heat magazine, and even Vogue (!) featuring.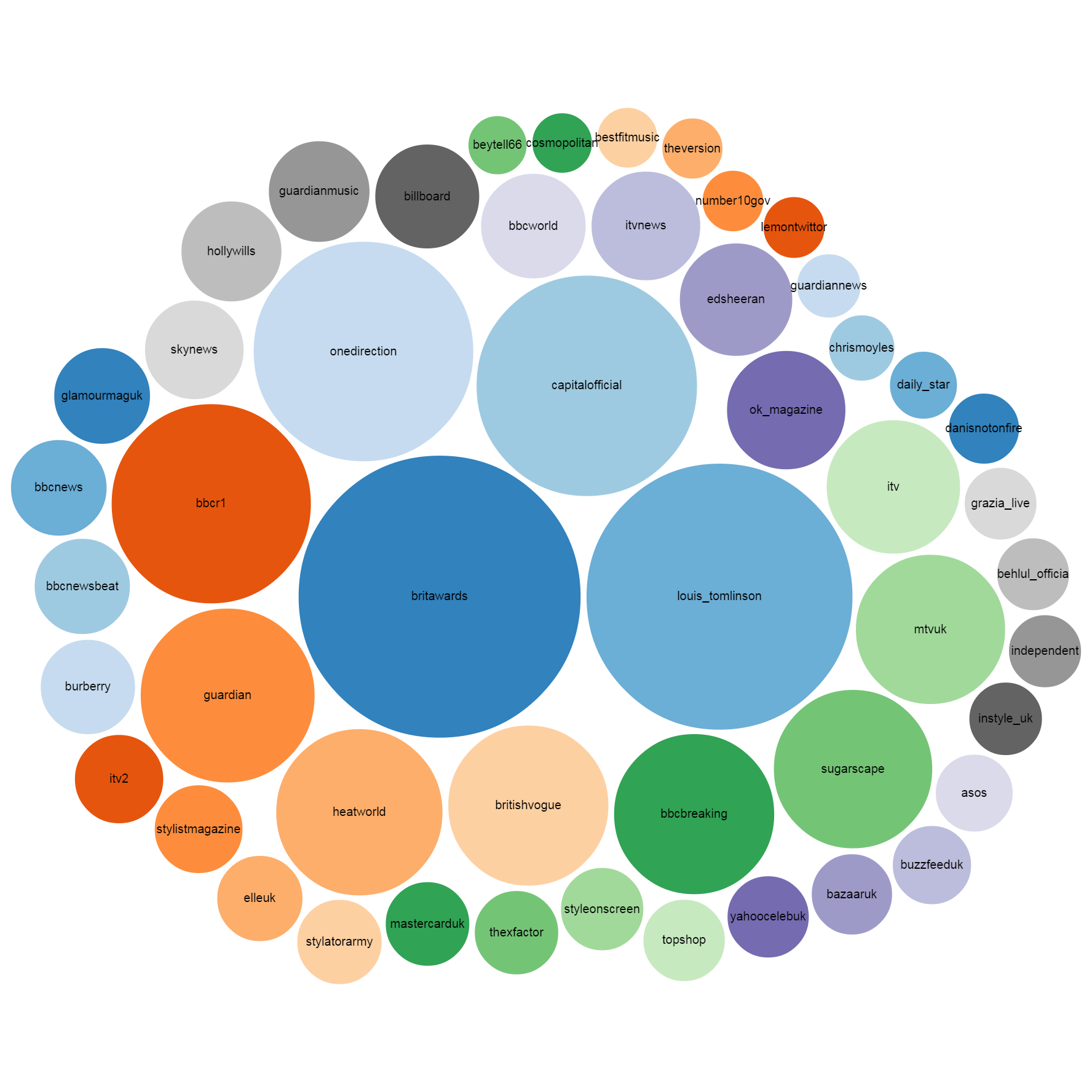 The official Brits' top tweet was about One Direction with a stonking 52,600 retweets.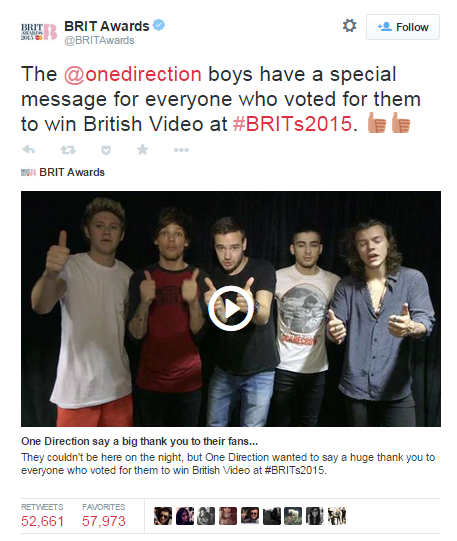 What the retweet means in pop and TV fandom culture is worth a blog post of its own – individual fans will retweet and post tens of thousands of times about their idols (literally). I had a chat on Twitter with Hazel Robinson (@piratemoggy), author & fandom expert, who described it thus:
"I would compare it to, say, using a rosary, psychologically? It's interesting but much more gentle than it might seem. These fans are often doing it as almost a rhythmic, soothing habit, a reassurance that they *could* contact their idol. […] It's a little, hopeful prayer."
So that's how The Brits' account got the most retweets – an act of devotional meditation from 1D fans. Fact of the day, poptimists!
4. Bonus fourth visualisation: #Brits2015 Locations
Twitter themselves have shared a geo data visualisation tracking the tweets in both time and space, visualised using Carto DB, a web-based mapping platform.
As the visualisation moves from minute to minute, the more tweets coming from a location mean the lighter/brighter that place is on the map. Note the white-out at 22:11 when Madonna falls over and cross the UK people take to Twitter to exclaim.
So that's a snapshot of what you get when you track a live event in social media. And it's how a tool like Pulsar – designed for surfacing the most inspiring conversations and understanding visual content – can help social media managers produce the right social media content to fit with the national conversation.
Interested? Got an event coming up you need to know about? Get in touch for a demo – my email's [email protected] and I'd love to help you out.

Or for another musical case study, check out our work on Gangnam Style…