Being Social: Rising to the challenge of interpreting social media data
Impact Magazine's October issue features a special report entitled, 'Being Social: Rising to the challenge of interpreting social media data'. Our VP of Product, Francesco D'Orazio (@abc3d) was one of the experts called upon, by author Tim Phillips, to discuss how researchers need to embrace the change that comes with social media data in order to progress market research. If you're a MRS member you can download the full magazine here.
"Social media data can provide valuable insight into people's behaviour, and research agencies have the analytical skills to take a lead in interpreting this information stream as long as they embrace the challenge"
In this blog I will summarise the article by drawing on the key arguments from the industry experts.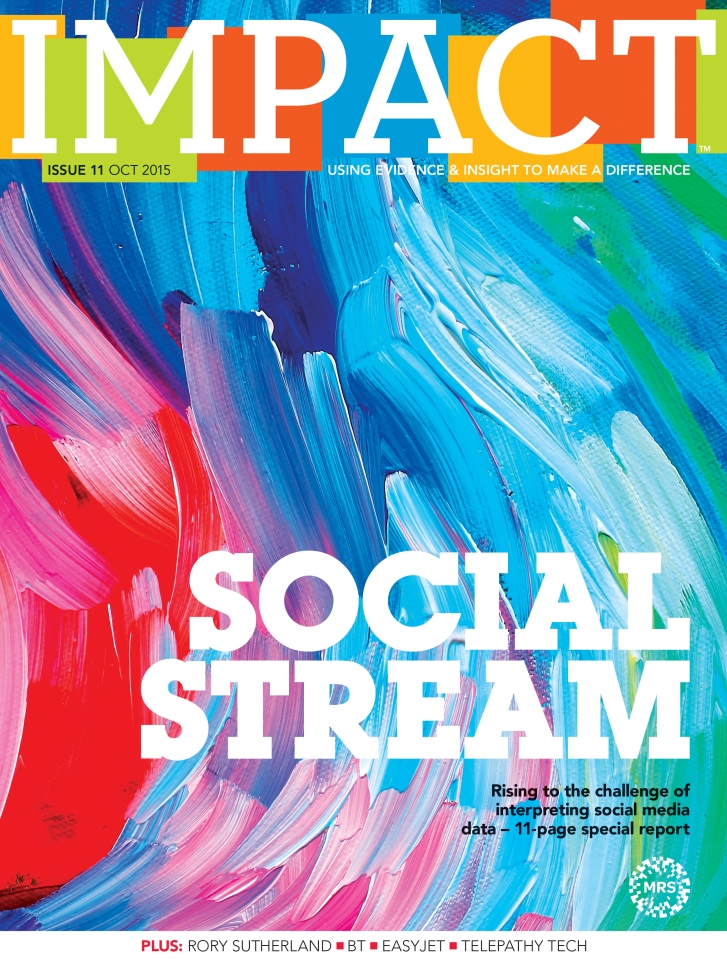 What the experts are saying
Francesco D'Orazio, VP of Product at Pulsar:
Fran discusses the challenges faced with the uptake of social media data and his "frustration" with why researchers aren't using social data more in research projects.
Fran believes clients' are limiting themselves to PR and marketing related social data research briefs, even though the possibilities with social media listening can go far beyond that. Social media monitoring is no longer just about text and sentiment analysis – the majority of posts feature some kind visual language. Social media analysis is capable of recognising images, so research briefs need to evolve to include this.
Stephen Maher, Chair of Institute of Practitioners Advertising's (IPA) social media group:
IPA believed social media measuring was the future so they began showcasing peer-reviewed social media measurement case studies on the IPA website. However,  90% of the entries failed. They failed "because we couldn't see any casual relationship between the social data and business goals". Clients were asking "how do we measure social ROI?"
Maher argues that the industry is yet to learn to 'measure, not count' social media's impact. Maher agrees there are elements of social media measurement that are standard practice and everyone can adopt, but believes non of which are innovative.
Simeon Duckworth, Global Head of Business Planning at Mindshare:
Duckworth argues that it's easy to get attribution wrong when social media activity correlates with sales:
"Social media measurement has a rigour problem. Partly, this stems from the construction  of the sample. This is no different from the 'biased sample' problem in every other branch of statistics, and arguably more obvious"
"The availability of numbers, however – and excitement around social media – create more subtle cause-effect inferences, which are massively overstated in social media."
There is confusion with social ROI and conversion to sales. When a social media user engages with a brand on social and it results in that user purchasing a product, the likelihood of that pool of engagers buying a project is clearly higher than those who are not involved in the brand.
Olesya Mossman, Head of Research at Twitter
Remember when it wasn't easy to hear or even understand the customer voice. Mossman reminds us that this is a modern day luxury. Take Twitter for example, 500 million tweets are sent every day – that's half a billion thoughts, opinions and expressions.
"This is the largest public library of consumer opinion ever amassed and opens up opportunities to understand, anticipate and meet customers' needs."
Although the research team areas vary on what they measure, social media monitoring is often spread across the business. Mossman argues that this is the perfect time for research teams to co-work across departments and innovate with social data.
Six innovations in social media
In the article Fran highlights six areas he thinks widespread innovation should be occurring, but isn't yet. I've highlighted them below:
Don't listen for keywords, listen to your target audience – being able to define a community helps create a benchmark of exception, so results are easier to translate into action
Predictive behaviour redress agility – web-server activity allowed a concert-ticket seller to predict demand for tickets a few hours ahead. Social activity allowed to predict a few days ahead. If the company can adjust its behaviour to account of the data, this could have value.
Social, meet analytics – few retailers don't integrate their Google Analytics and social data tracking. By doing this, you can begin to see a ROI model for social data.
Social, meet share prices – few companies are supplementing their stock forecasting with social data.
Social, meet loyalty data – joining the dots between a customer and their social media presence can give public context that might help with segmentation
The internet of images – according to Citrix, 63% of social media updates are images. Companies need to start understanding and analysing these images.
Being Social highlights that researcher attitudes need to change – by embracing the challenge that comes with using social media data as a tool will slowly change industry perceptions and concerns.
If you have any research briefs in the pipeline and you'd like to see how you can integrate social media data, then contact our Commercial Director James on [email protected] or 020 7874 6577.