Penguins, Fairies and Lightshows Oh My! The UK's top Christmas ads in social media
A few weeks ago, if someone asked you who Monty the Penguin is, chances are that you would have guessed a children's book character or maybe that villain in Batman… And probably not the star of a new TV advertisement for John Lewis.
This is the power of advertising in the digital age. Stories and characters once confined to the television screen are now enjoying entire second lives online thanks to social media. Cross-channel or "transmedia" storytelling, a buzzy idea during the 1990s and early 2000s about telling stories across multiple media channels, has quietly become credible as a real, mass-market  advertising approach. TV ads now fuel a whole host of online interactions too. This makes social media monitoring a great way to look at what makes Christmas campaigns tick.
In this blog post we take a look at four of the UK's biggest Christmas adverts. We've used Pulsar to dive into the ways that these ads don't just live online, but thrive.  Using data visualizations on the platform, we've sought to provide some insight into why that Sainsbury's ad makes you teary-eyed every time you watch it and the theme song from the John Lewis ad with the boy and the Penguin is just so darn catchy.
We're not the only company to do a Christmas ads analysis, we know that much! But what we're doing differently here is recognizing that different ads have different strategies. Instead of analyzing the ads with a one-size-fits-all approach – measuring them all in terms of volume of buzz generated, or sentiment stats – we wanted to understand what each is doing best.
Sainsbury's: Christmas Day Truce 
Strategy: Use strong emotional content to get people talking (and sharing) online
Released the day after Remembrance Day and the centennial anniversary of World War I, Sainsbury's incorporates the themes of war and peace with an ad depicting the fabled Christmas truce between British and German soldiers.
Relying on powerful imagery to associate the brand with a story that pulls at the heart-strings, this ad had a tremendous amount of conversation online, generating more than 20,000 messages on Twitter and public Facebook in the first 24 hours after its November 12th release.
This is due to that fact that on social networks, people share content that they find emotionally resonant, and that they believe may resonate with their network as well.
The fact that just so many people did indeed get choked up by the Sainsbury's ad is seen on Pulsar in the Keywords visualization below. The keywords visualization shows the words that appear most frequently in the online conversation about the Sainsbury's ad. The dominance of words like "cried", "choked", 'tear" and "omg" demonstrate the strength of emotion felt by viewers:
This emotion was not confined just to happy viewers however, as the ad was perceived as a stunning piece of advertising by some, and exploitation of veterans by others, making it quite controversial on social media (see example below). This controversy proved important to the lifecycle of the ad online as viewers continued to weigh in and debate.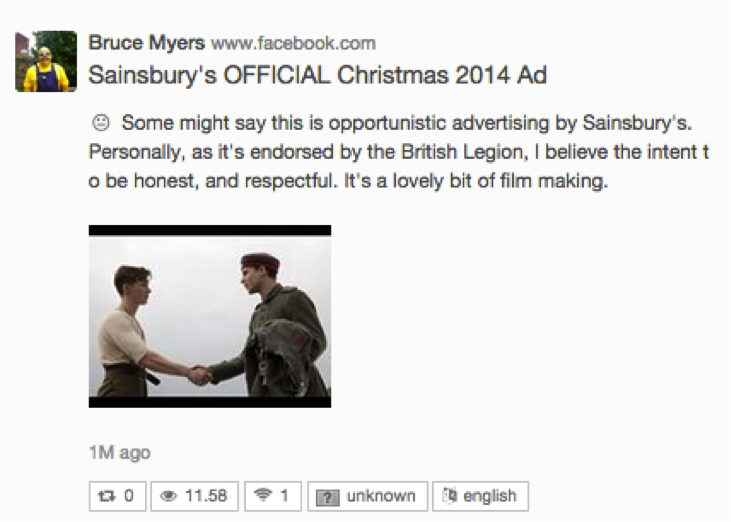 Regardless of whether you loved it or hated it, Sainsbury's ad has succeeded in producing a lot of online chatter both during and long after its release on television thanks to social media.
Tesco: "Lights On" and "Wigan Light Show"
Strategy: Use social media as a platform for direct audience interaction on local and national scales
Tesco's primary advert Lights On sparked curiosity from viewers by offering a sneak peak into an online "behind the scenes" advert, Wigan Light Show. In this clip the brand showed its response to a 2013 holiday "mishap" in which they forgot to give the Wigan Tesco store its signature green hat during Christmastime.
By creating content around a local Wigan woman's tweet reporting the missing hat, Tesco champions its ability to engage personally with its customers and seeks to establish itself as a community-relevant retailer, not just the big, impersonal out-of-town superstore.
This local engagement of Tesco's advert can be seen in the location map below in where Wigan had an exceptionally high level of engagement with the brand online (notice the high density in the northwest corner of the country, between Manchester & Liverpool).
As viewers went online to see the full-length version of the "behind the scenes" advert, many commented on Tesco's social networks that they wanted to see it televised. Tesco responded to viewers with the post below, and aired the new advert on TV during the popular television show, X-Factor.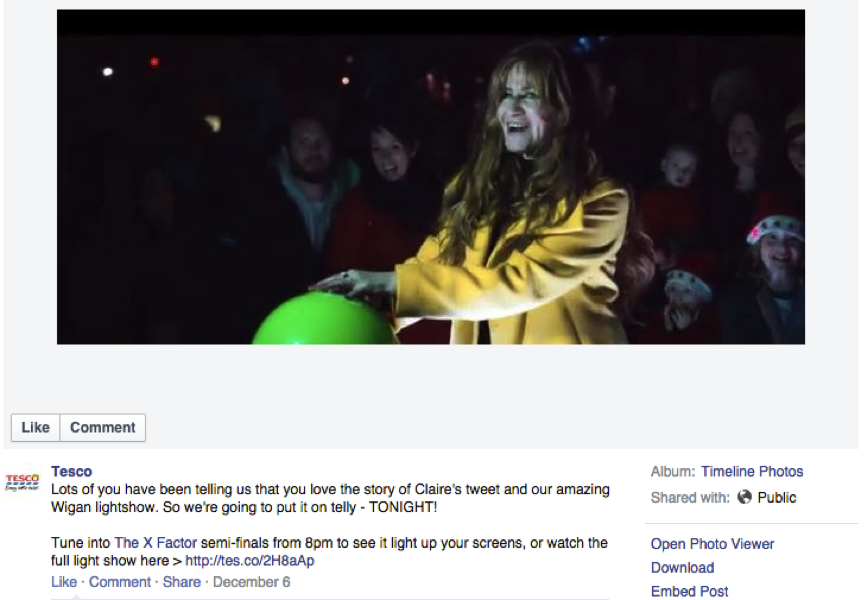 Not only does the Light Show overshadow the original advert in terms of YouTube views (Lights On received 881k views whereas Wigan Light Show gained 916k views), it was also lauded for Tesco's ability to heed customer feedback and be flexible when deciding which content to publish online and on TV. This double-feature strategy proved useful as Tesco now enters the holiday season with renewed TV momentum.
John Lewis: "Monty the Penguin"
Strategy: Make people cry (again) – high emotion advertising for high brand engagement
As King of the High Street, John Lewis does not disappoint in giving their viewers a magical experience for the holidays – not only by creating a visually beautiful and emotional advert but most notably by bringing their Monty the Penguin character to life  – not just in video, but on Twitter!
The Twitter handle for Monty (@Monty the Penguin) has given the TV advert a second, more adult-focused and humorous context online by engaging in conversation with fans from all over the world. Multiple celebrities, such as Little Mix and Russell Howard have interacted with Monty, boosting visibility for the brand and extending the advert's reach from a national to international scale.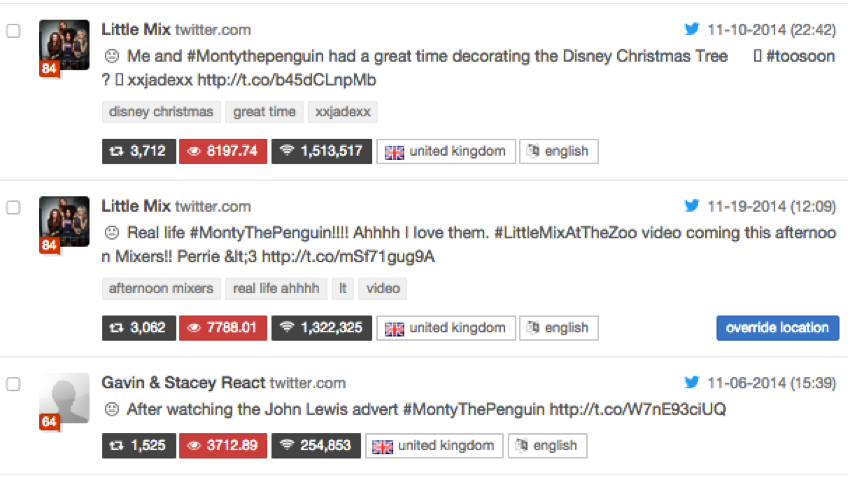 "Marks & Spencer: The Two Fairies"
Strategy: Use social media to build anticipation prior to releasing their advert
If storytelling on social media is a successful strategy for building conversation, M&S has taken this one step further. This year the traditional British retail brand kicked off anticipation for their Christmas ad by creating online characters that not only interacted with fans online but in real life too. Prior to the launch of the ad, buzz built around a Twitter handle @thetwofairies which was anonymously pulling off charitable acts and surprises around the country. The 'Two Fairies' brought snow to a primary school and donated food to people in need during the holiday season. Who were they? Press coverage followed.
When the ad was broadcast on television, this exposed the two fairies as Magic and Sparkle of Marks & Spencer. Following this big reveal, conversation about the brand peaked on social media as viewers were eager to connect M&S back with this specific Twitter account @thetwofairies.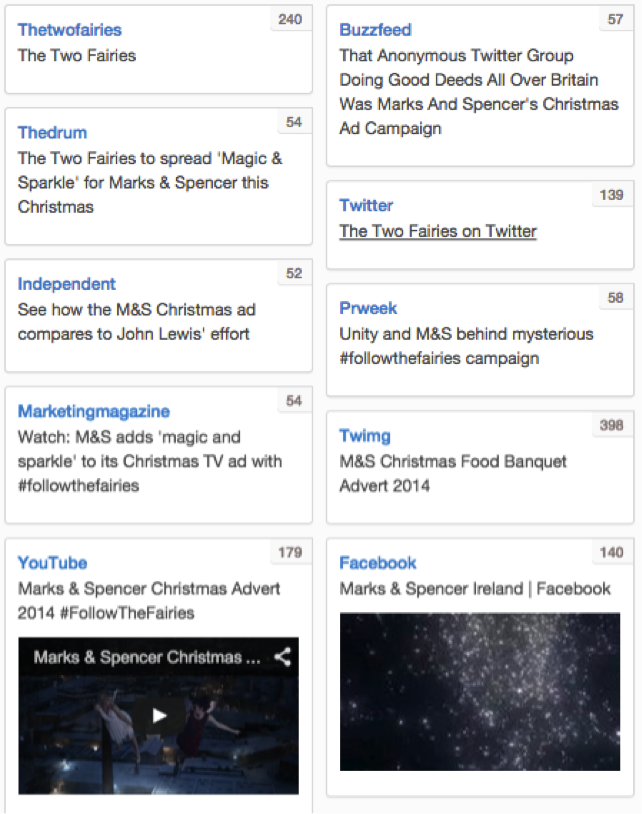 By generating prior social momentum to back up their TV advert, Marks & Spencer has positioned themselves well on social media, where conversations about the Two Fairies and their good deeds are still ongoing.
Final thoughts
When it comes aligning traditional TV advertising with social media strategy there is only one rule and that is simply that there are no rules. This Christmas we've seen two brands get interactive and creative in connecting their TV and social media communications (as displayed by Tesco and M&S), and two other retailers go back to basics with highly emotional storytelling (as per John Lewis and Sainsbury's).
Though these four advertisements use different strategies to garner attention online, the end goal is the same – to release engaging and exciting content that gets viewers talking… and talking… and buying.
Social buzz is ultimately useless if people just stay on their phones tweeting rather than heading in-store or online.  The real test of these 2 different strategies – transmedia storytelling vs. artistic traditional narratives –  will be in the supermarkets' Christmas sales figures.  Can Tesco arrest their falling market share? We await the evidence in early January.
If you'd like to discover how Pulsar can boost your social media strategy, then get in touch at [email protected]