How are brands and agencies using Pulsar?
Over the summer we surveyed Pulsar users to see what you thought of the platform, and where you want us to take it next. We would like to thank everyone who participated – this feedback is invaluable for our customer understanding and product development. It was also great to see your comments about how you're enjoying the tool and getting meaningful social and customer insight.
Ever wondered if there's a new way you could be using Pulsar? Read on to see some survey highlights: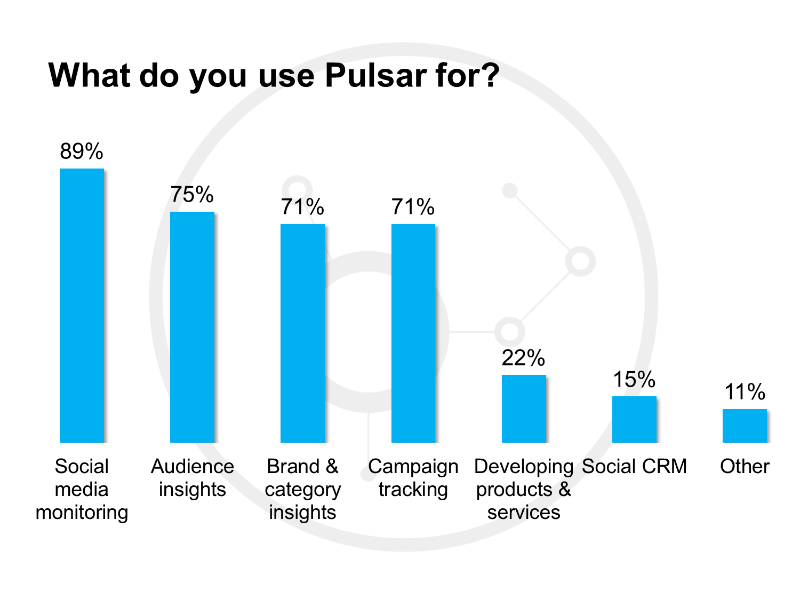 Everyone secretly worries – am I normal?  Well, if you're using Pulsar for social media monitoring you certainly are! It's our top usecase, attracting 89% of customers.
We're also happy to see fully 3 in 4 people using the tool to mine audience insight – through audience tracking searches, social panels, & analysing user bio data.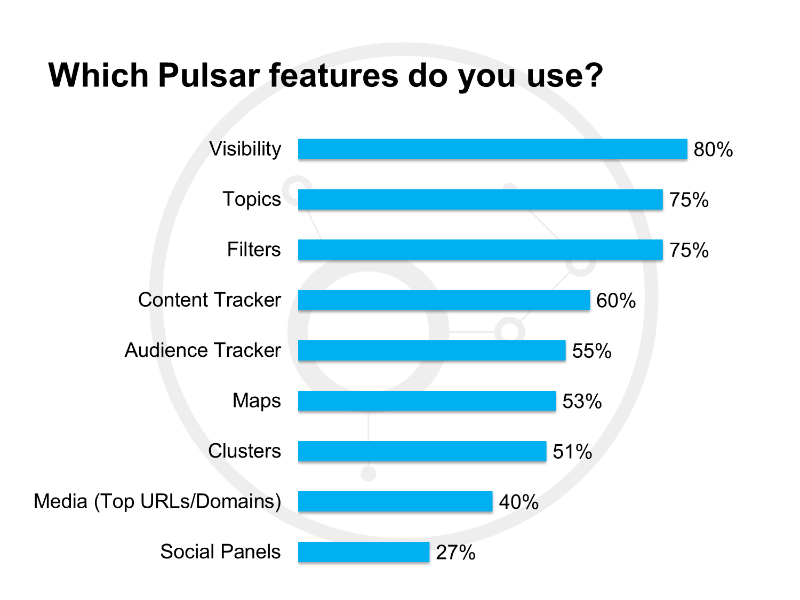 What's your top Pulsar feature? 80% of customers use Visibility – our algorithm for assessing the reach and influence of every single piece of content, from Twitter to The Telegraph.
And half of you (51%) are using Clusters, where you build your own charts for easy access metrics. Our in-house researchers find these super-useful, so if you're in the 49% not using clusters yet, contact your Account Manager for a personalised tutorial.
Other notable survey results include many shout-outs for our fantastic Account Management team: "Cierra is incredibly supportive and offers excellent service – far beyond what I've received from other services in the past!"
And: "You guys are awesome. Don't ever stop evolving & improving."
We certainly don't plan to! On the basis of your feedback, we are happy to announce that as some new features will soon be released onto the platform – keep an eye out for:
Understand your audience impact better with our new Reach estimates
A boost to Location analysis: search for just geolocated content
Improved data management tools
Better querying for Asian language content
And there's much more in the pipeline, which we'll update you with each month as development is confirmed.
When we asked for your help with our survey, the deal was that in return for your time and insight we would enter you into a prize draw for a brand new gadget. Congratulations to the team at Global Radio! You will be receiving your new Kindle Fire very soon.
If you would like a demo to discover the power of Pulsar, send us an email: [email protected]